24-Official Team 24/7 Thread
10-10-2007, 06:57 PM
RE: 24-Official Team 24 Thread
---
Hey guys, I got a doe (fawn) this afternoon.Ixx-lunged heron a 17 yd shot, and shewent only 30yds before Iwatched her pile up. More importantly, I shot her on the Navy Base, so my "earn-a-buck" doe is now out of the way there - I'veseen a fewvery nice bucks in the past few weeks. We had a cold front go through last night, and deer were moving well...

-fsh
10-11-2007, 04:19 PM
RE: 24-Official Team 24 Thread
---
I went this morning and it was a bad morning!!! I got to my tree, get ready to go up and nothing is there. Someone stole steps andstand. Thisis on public landand I am tired of going to a tree and everything is gone. It was a cheap stand but it still pisses me off.I just sat back on a pit dump and seen a doe and fawn. It was a cool morningand it still felt good to be out there. Waldo
10-12-2007, 11:25 AM
RE: 24-Official Team 24 Thread
---
Tough break Waldo, too many lowlife's out there...
My hunting partner and I have been using decoys, here are a few pics from yesterday's hunt. The bad part was the three racked bucks that came into the field and stared at us while we were setting up. It wasn't all that bad as two of the 8'ers (non-shooters) did come back into the far part of the field after sunset - they just wouldn't approach our position. A 3 ptr did comeup to the decoy pair from the woods, stomped a few times and departed. A lone doe also didn't care for the early breeding going on... lol.
My partner sat over the pair: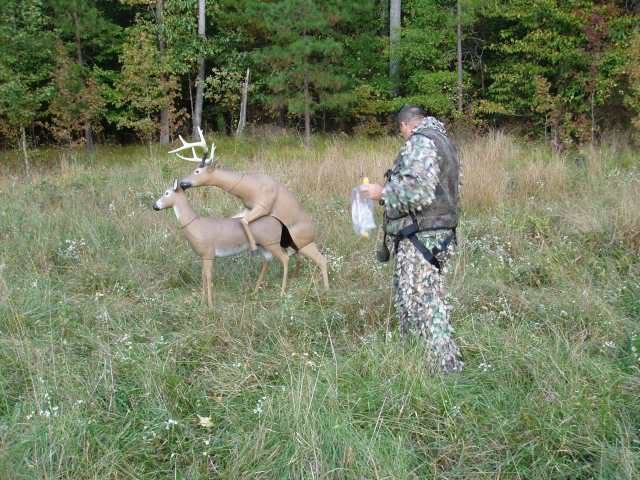 I sat about 60 yds away from my partner with a bobble head buck (22 yds away from me, I am up ~20 ft)looking at the pair (very windy, that bobble head was doing its trick):
(If you notice the cages andbit of fluorescent orange -- two of the threeEdward Fort trophy pears I planted on the field edge last Feb; this is going to be a great setup).
The Experiment continues...
-fsh
10-15-2007, 08:20 PM
RE: 24-Official Team 24 Thread
---
We finally had a mature buck come intoour mating decoy pair this afternoon, it was kind of neat to watchthebuck'sreaction. He approached the pair with ears laid back and hair bristled, but bolted out of there when he likely picked up some of ourresidual human odor (or possibly failed to detect the odor he was expecting). I already had the 18+" buck (3 1/2or 4 &1/2 yrs) at 10 yds from me while he was facing the decoys - an easychip shot, but I decided to let him go. He had pretty good mass and tine length, but one tine was broken off leaving him as a 7 ptr - he might havegrossed 120 and change.

So the potential is there, but at this stage of the rut, I think a buck decoy alone would do the trick...it would be alot less hassle too. Up to today, we had 5 rejections from bucks (4 dinks, one 11 ptr) who showedjust no interest in sorting things out. The does are not happy with the setup at all. The Experiment will continue...

-fsh

10-15-2007, 11:15 PM
RE: 24-Official Team 24 Thread
---
Hey Fsh, sounds like you had a pretty good day too! I went out for an afternoon hunt today at that new property I mentioned in a earlier post. Well at around 5:40 I had 5 does and 2 yearlings under my standing eating. I couldn't move much because more deer kept coming into the area so im looking to my left and watching the deer browse and I can hear the deer to my right but can't move due to the fact that the deer are all around me so I get the chance to turn my head and I see this BIG mature 9 or 10 point, looked to be around 125-130 class buck! He was 30 yards out but cruising to fast for me to get a shot off! If the wind is still right tomorrow I will be out there again looking to drop him!
10-19-2007, 03:55 PM
RE: 24-Official Team 24 Thread
---
I went hunting this morning and could of had us on the board!!! I had a 135"ish 10 pointer at 10-12 yds for about 3 minutes. I tighten the string twice but he had a weak G-4 on the left side. I also saw 2 8 pointers a 100" and a 115". It was a great morning and hopefully I wont regret it. This was on public land and I think I made a good decision even if I dont kill a buck this year. Good luck to all. Waldo
10-21-2007, 10:15 AM
RE: 24-Official Team 24 Thread
---
I got another pic of a nice buck. He looks like a mature deer with a huge neck!!! I am guessing 135"-140". He is in a food plot we just planted. Good luck to everyone. Waldo