Design my hunting plot
12-15-2008, 08:18 PM
Design my hunting plot
---
[hr]
Help me design the perfect hunting plot. I have 85 acres with a long skinny 5 acre field in CRP that I am planting in NWSG this spring. There is another 5 acre T shaped field that I want to turn into the perfect hunting food plot. It is on top of a hill with big hollows and creeks on all sides. Everything is downhill from this field. Last year I didn't have much time to get things done It was plowed up in early August and all I had to work with was the ends of the fields. The rest had big root wads from Sumac that had been growing in it. It has all been disced up now and will be ready to plant in the spring. I planted wheat in the green areas, turnips in the purple and clover in the yellow. The clover pretty much got washed away when IKE came thru with 8 inches of rain. The wheat and turnips have been getting hammered and I want to have some of each next year.
I had lime applied which should have the PH to about 6.5 this summer.
On my topo/aerial the green is where I have wheat, the purple is in turnips, and the yellow was clover, not much left. The deer really approach from almost anywhere, but the trails they use the most are in white. My approach to the field is from 2 trails in orange. The area inside the black is a huge hollow that is my sanctuary. The red dots are stand locations.
I can plant just about anything here from corn to beans and clover or milo and might even put some NWSG or switchgrass in for cover to get to stands. So have at it and build me a plot.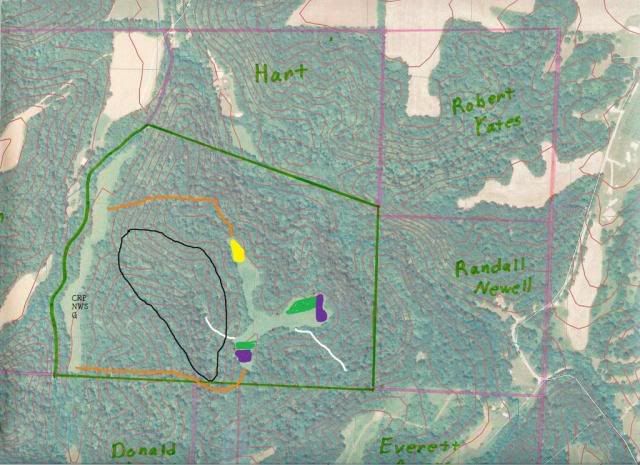 Here is a better aerial for more reference.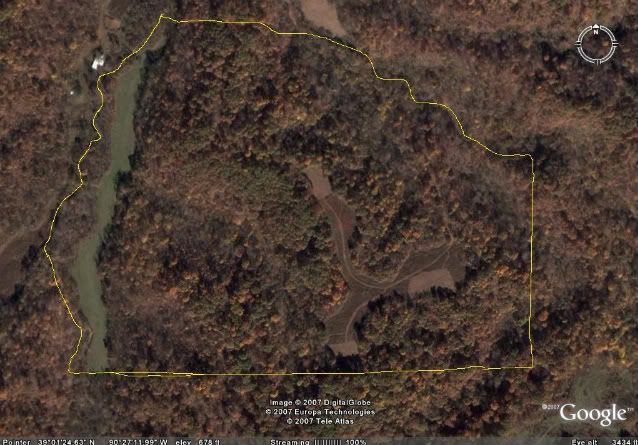 [/align]
12-17-2008, 06:49 AM
Fork Horn
Join Date: Jan 2006
Location:
Posts: 460
RE: Design my hunting plot
---
well first let me ask what agricultural crops (if any) are available in your area. If it is wheat or turnips I would recommend staying away from planting them in your food plots. A big factor in how successful your food plot will be is the diversity it brings to the area. On this note I recommend staying with your clover field and would use Whitetail Institute's blends of clover as they have put lots of research into the best clover (highest protein, and stuff that will grow well in your area). If not much was left of your clover that must mean the deer were really eating it so maybe double the size. You want to give the deer as much quality food as you can. As for the other areas in there that you don't plant food plots try to put in some spots of switchgrass as this is prime area for bedding. You could even plant some on your route to the stand and then mow it before the season with a push mower to give you an easy, hiden entrance to the stand. I am in the process of planning my own food plots and huntings for next year and have been reading all I can at WHitetail Institutes online publications. They are great and informative!
12-17-2008, 03:45 PM
RE: Design my hunting plot
---
ORIGINAL: petrey10

and what google earch maps do you use because any of the ones I can get are horrible quality and very very blurry
Just depends on what area your looking for. Some places are clear and others are not.
12-17-2008, 09:16 PM
RE: Design my hunting plot
---
John

On the land I hunt clover is put in. With all the surrounding fields put in with beans and corn the deer love the clover. Turnips were put in this year with minimal success, but I think I was a little late on planting.

Next year I am planning on getting into some areas and putting small harvest plots (1/2 acre or so). Some will be in clover others will be turnips.

Thread
Thread Starter
Forum
Replies
Last Post
Wildlife Management / Food Plots
Wildlife Management / Food Plots
Wildlife Management / Food Plots
Wildlife Management / Food Plots
Posting Rules
You may not post new threads
You may not post replies
You may not post attachments
You may not edit your posts
---
HTML code is Off
---