Got some private land - need food plot ideas
06-11-2007, 09:04 PM
Got some private land - need food plot ideas
---
Well I finally have some private land to hunt, thank God. No more driving 1-3 hours all the time. The land is really small and their will be 2 of us hunting it. The whole thing is 18 acres, but only about 2 of it is woods, 3 of it is a field, and the other 12 is swamp. We have planted quite a bit of clover in the field. I will hunt on side of the field and my buddy has the other. Most likely we will be using bait to maximize our chances withe area being so tiny.

Do you guys have anything else other than Biologic (and maybe cheaper) that you would put down?

06-11-2007, 09:38 PM
Nontypical Buck
Join Date: Apr 2007
Location:
Posts: 1,438
RE: Got some private land - need food plot ideas
---
Don't know why this is in bowhunting, but congrats on the land.

With a parcel that small you will either need to bring the deer to you (baiting and food plots), or maybe leave 5 acres off limits where they are bedding as a sanctuary. I would use a couple corn feeders. You could mix it up and add chicory, rape, peas, oats, or something else to the clover.

Probably one of the most important things will be to size up the land around you. See what is going on, how people hunt around you or feed around you and hunt appropriately. Go to google earth and get an aerial and topographic map of the property and look for funnels, points, and again, pay attention to the land feeding into yours.

Just a couple of things, good luck.

06-13-2007, 12:09 PM
Spike
Join Date: Apr 2007
Location: Northeast Arkansas
Posts: 33
RE: Got some private land - need food plot ideas
---
Find a
late maturing
Roundup Ready Forage Soybean to plant and follow with broadcasting wheat prior to the leaves falling off. You will have standing soybean for cover and a winter cereal growing at the same time come season.
06-15-2007, 10:53 AM
RE: Got some private land - need food plot ideas
---
Try some Brassica blend. Anything turnip-like would be a great choice especially once the temps drop and it frosts heavily. Bio-Logic makes a very inexpensive blend called Green Patch Plus that will grow nearly anywhere and should be planted in the Fall (late Aug to Sept). It contains assorted Brassica/wheat/oats. It would be my choice for the tiny loaction that you've described. Good luck on your small tract. Also, don't settle for just that one small piece, continue to seek out permission to hunt more. Good luck bud
06-15-2007, 10:55 AM
RE: Got some private land - need food plot ideas
---
I thought I would give ya a pic of what one of my GPP plots looked like last season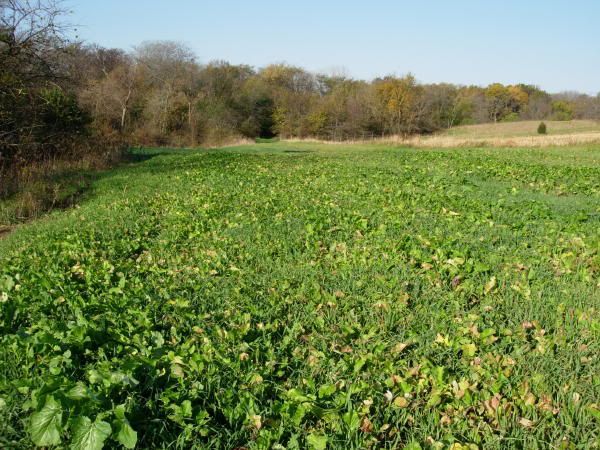 Here's a Buck Forage Oats plot as well, another Fall planting
Thread
Thread Starter
Forum
Replies
Last Post
Wildlife Management / Food Plots
Wildlife Management / Food Plots
Wildlife Management / Food Plots
Wildlife Management / Food Plots
Posting Rules
You may not post new threads
You may not post replies
You may not post attachments
You may not edit your posts
---
HTML code is Off
---