Ultimate deer bait/attractant - PLEASE HELP
08-31-2015, 03:42 AM
---
You can always buy a feeder that distributes the corn at a set time.
Or just buy the spreader with timer and mount on your own barrel of pail. You can set the time so it won't work unless your there.
Fellow next door uses some thing like this.
Amazon
Walley world.
http://www.walmart.com/ip/Wildgame-I...eeder/34954725
http://www.walmart.com/search/?query=deer%20feeders
Al
08-31-2015, 09:37 AM
Fork Horn
Join Date: Aug 2014
Location: MS
Posts: 343
09-01-2015, 04:22 AM
---
Just wondering Is your hunting land in Wayne county or else where?
Yesterday I got the USDA flyer for trees and shrubs. You can buy like 50 white spruce for about $25.00. White spruce grow their branches which are thick close to the ground and make great wild life cover. Yes they are seedlings but in about 5 years they will be 6 foot tall and more. there are other shrubs too like wild dog wood. Had deer eating the berries off ours big time yesterday.
Any way check with your local USDA office for cheap bulk trees and shrubs to improve your hunting land.
Some county extension offices have sales too, Like Delta county.
These are in my front yard and 15 years old. Deer pheasants, rabbits and other game hide in them. So does the deer blind.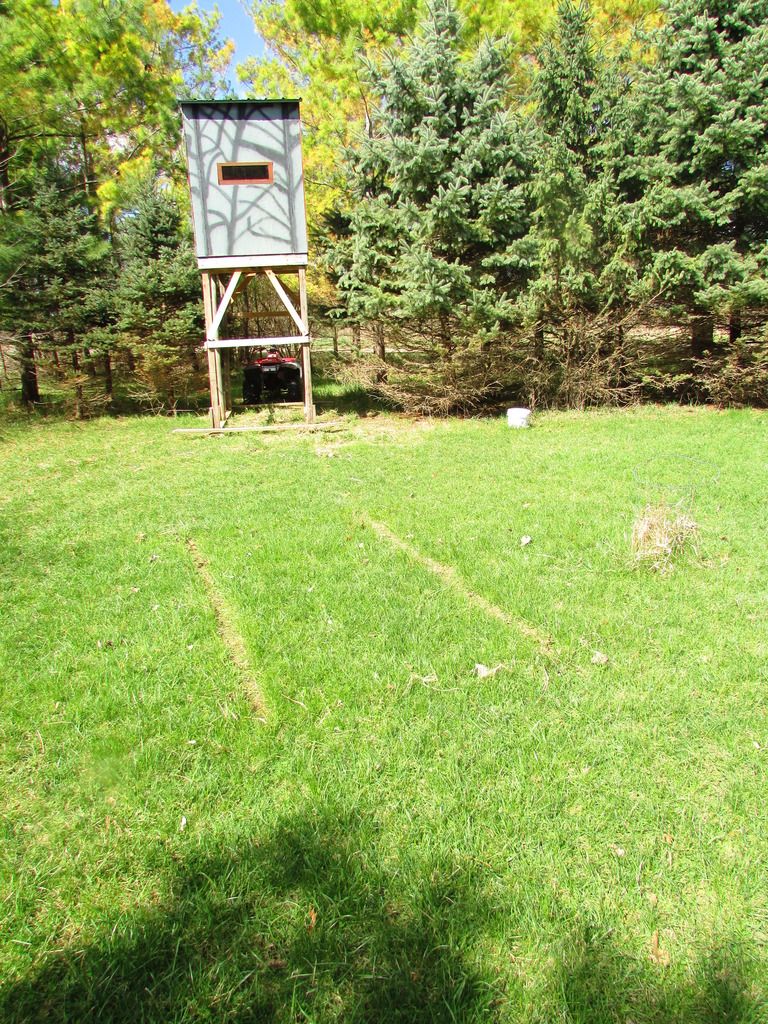 Al
---
Last edited by alleyyooper; 09-01-2015 at

04:25 AM

.
09-02-2015, 04:34 PM
---
Originally Posted by
super_hunt54
You have done about everything possible. Deer rarely read the script. It's why it's called hunting and not shooting! Deer are lazy creatures in all reality. They will almost always take the easiest travel path. It kind of sounds like you have too many easy travel paths! Getting them to take any one of them in particular will be difficult at best. You didn't mention the acreage of this particular place. Would it be feasible to plant maybe an acre or 2 of food plots? It's really too late now for this year but maybe next year get a jump on it. In other words, make your property a food source destination. Early planting of a clover field is fairly inexpensive and really helps in the recovery of deer after a hard winter. Might accidentally get your property to hold a few deer that way. But it will most probably get them traveling in a more established route.
My property is 22 acres. I have two mini-plots. maybe 20 yards square. little to no activity in them. one weird thing is it seems to be a buck hang out. I have owned this place since 09. always 5-10 different bucks using the place and maybe one to three adult does. ive never seen a place with a buck to doe ratio in which the bucks have the lead. maybe that has something to do with it.