Coyote Problems?
01-06-2014, 09:23 AM
---
I brought my cameras home from my hunting spot a few days ago and put one 25 yards behind my house in the woods. Captured this on video in the first 12 hours. Never even seen a coyote here at home in 5 years but there is a lot more around than one would guess .
http://youtu.be/gbhrpk8U2nc
01-06-2014, 10:42 AM
Nontypical Buck
Join Date: Jan 2013
Location: North Idaho
Posts: 1,071
---
Coyotes like deer are very adaptable...

Are you hunting deer or turkey? Sounds like the numbers are far too many if they are pushing deer out. Most places will give you anywhere from $40-$75 for a coyote skin...best thing to do is thin them out IMO otherwise you wont see deer or turkey around much.
01-06-2014, 12:56 PM
Spike
Join Date: Jan 2013
Location: Southwestern, IL
Posts: 3
---
I had 2 in front of me a couple of weekends ago. Of course, i didnt see any whitetail but i was fortunate enough to knock one down. They are good for nothing and certainly don't help out when we are trying to turkey or whitetail hunt.
01-06-2014, 02:57 PM
---
Damn man. Sorry about your dog. I have two dogs outside myself. I guess I'm just gonna have to take a couple of them out. I'll try here in a couple days. It's too cold for me right now.
Thanks for the advice guys. I had a trail cam photo of two of them but I have no idea where that picture is. The problem is that there are very few people that hunt coyotes right in this area and they're getting out of hand. I'll let ya know how it goes. I should have no problem getting them to come to me. It was easy enough during deer season.
Originally Posted by
Lunkerdog
In one sense I can understand yer mind set... What you need to understand is these canines are not yer family pet... In fact if there are enough of them around, as they deplete the natural food sources they'll actually eat yer family pet.
Here's what the wild canines (wolves) did to my old dog in August 2011.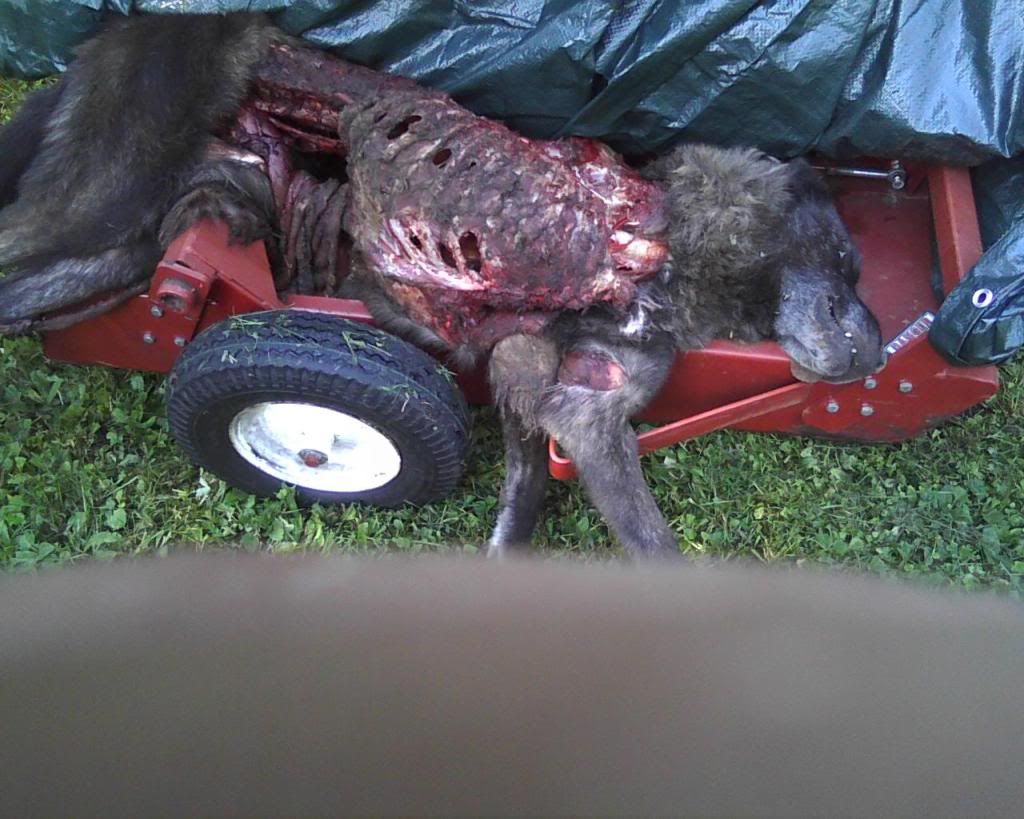 01-06-2014, 03:13 PM
Giant Nontypical
Join Date: Jan 2011
Location: Allegan, MI
Posts: 8,019
---
If they haven't been called or hunted around your area, you may be able to wack a few before they smarten up. If you make a set, remember that they will try to circle downwind as they come in to a call and you can't twitch because they are on alert to any movement. That's why it's good to have a decoy out in front of you, especially one that has movement, to get their attention focused on that. A good trapper is really the best way to go to really take a good number out of an area, but you'll never get rid of all of them because they're just like cockroaches and Cher---they've been around forever, LOL!
01-06-2014, 04:00 PM
---
First time every sit in shotgun season I saw at least one. By the third sit enough was enough and one came in to 60 yards and took its last step. Getting it tanned right now. I think after this trail cam photo last year I realized that I hate coyotes.
I know where we have a den of them so come February or March when I head down for Shed hunting I plan on doing a little calling with my .223 or shotgun in hand. I know how bad of an impact they have on fawns and Illinois deer herd is already hurting.
Lunker, sorry to hear about your dog. That sucks. I would be an a wolf killing spree!
01-06-2014, 06:23 PM
---
Lunker, sorry to hear about your dog. That sucks. I would be an a wolf killing spree!
I actually had my first wolf tag this year, but with the quota cut in half this year, and not being able to get out enough early in the season I was not able to connect before the quotas were reached... Next year is coming fast tho
That said, I was lucky enough to kill a wolf in 2011... That was before they were de-listed here in MN... When I reported the dog kill to the MNDNR they put me in touch with a federal trapper... The trapper was kind enough to let me tend the traps on the weekends... On the last Sunday the traps were in I found the third, and final wolf they caught... Not nearly as sporting as hunting one down, but a little revenge 13 days after they killed my old dog didn't bother me none!!!
---
Last edited by Lunkerdog; 01-06-2014 at

06:32 PM

.
01-06-2014, 06:42 PM
Fork Horn
Join Date: Dec 2013
Location: Illinois
Posts: 150
---
I dont know any way but I would just get some #4 buckshot so there easer to hit runing and sit were you see them, then just start blasting the hole pack!

in my state you dont have to have a stamp or tags for them and its all year season!