Deer horror Stories?
11-18-2013, 05:06 AM
---
I don't know how much of a "horror story" this is, but it was different for sure! I was on my way in to hunt some State Land and while walking a narrow, out of the way woodland trail, I see something that just doesn't look right. It's a color that doesn't belong in the woods, a flesh color. Then, as I get a bit closer, I can hear a woman oohing and aahing. Here, there's this dude banging his girlfriend off the side of the trail!!
I had to go past them to get to my stand. So, I say (in a loud voice) "excuse me, but I need to get past you folks". Dude, who was surprised to say the least, says "give us a minute". They proceed to get dressed and quickly move on their way. Oh, the price you pay to hunt public land!
11-18-2013, 02:06 PM
---
I am.
I changed the name though. I call it "Lawry's Season Salt" and I'm making a killing! I'm ballin' yall!
This is my mascot. His name is Richard but we call him "penis nose" He's a good guy. He lives in a "home" and plays with dull objects. We pay him with BBQ and he lets us take his picture for promos. He kinda thinks he's a cowboy, bbq guy... Seriously this is good for his self esteem.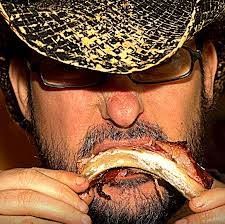 11-18-2013, 04:39 PM
Fork Horn
Join Date: Dec 2003
Location: WISCONSIN
Posts: 482
---
Originally Posted by
Bullcamp82834
Here's a horror story for you.
The guy who owns the land bordering my property found a fresh set of ATV tracks entering his land from mine so he calls me to inquire. I don't know anything but tell him I'll come out and help figure out what's going on.
I get there and locate the tracks, follow them , and find my neighbor doing the same thing. A little while later we find the ATV and a few minutes later see the guy.
He's sitting with his back against a tree dead as a hammer.
An empty pint bottle of vodka on the ground and the top of his head blown off from a self inflicted shot from his 30/06.
Next thing we know there are deputies, EMTs, the coroner, and everyone else all over the place. Roads rutted out by their vehicles, discarded stuff laying everywhere, a big mess.
On the bright side of things, he'll never trespass on your properties again.
---
My worst story is hunting private land which a hunting club has access to the open fields only, my dad, myself, and another family had permission to hunt the entire property - fields, woods, creekbottom. We put my treestand up around 3:00pm the night before opening day in the woods - 75 yards off the field edge. Nightmare was walking into the woods opening morning, to a new spot, looking for a new treestand - which wasn't there.
Called dad, he assured me I was just lost, suggested I just lean against a tree till light and look for it them. I was leaning up against the damned tree the stand was stolen from.
Posting Rules
You may not post new threads
You may not post replies
You may not post attachments
You may not edit your posts
---
HTML code is Off
---