two more PA bucks..long read
12-03-2008, 11:49 PM
two more PA bucks..long read
---
story --> opening day PA gun season. got to my spot around 530am. sat on the edge of a fire trail that i knew deer would be crossing early. day light came, but the deer did not. heard a few shots off in the distance at first light but that was it until about 1030. that's when i heard a shot close enough to know that it was one of my buddies. so i waited for the phone to ring with some good news (knowing that we were only allowed to shoot bucks only for the first 5 days), and it did. i pick up and my buddy says "i got me one". i told him that's awesome and that i was on my way to help drag. on my way over to his spot i had kicked up 2 deer that were behind some thick brush. i kind of ran(3-4y) to where i could see antlers if any. couldnt tell. in the process i dropped my shooting stick without knowing(until later). i get to his spot and congratulate him and guide him through the gutting process. took us about 45min to drag his buck 100 yards through some thick nasty stuff. he went to the processor, we went back for lunch. we got back to the woods around 230. i went back to the same spot i was at in the a.m. this time just a little deeper into the woods. i had this weird feeling that i was in the wrong spot though. my gut told me to go to where my buddy shot his deer because of all the activity he saw that morning. so i decided to take the same route i did to help with his drag and maybe look for my shooting stickalong the way. i start my trek there. i get out to the clearing/water, hang a right, start to look for my stick(looking ahead every few sec. knowing how fast things could happen). i get about 30y down this trail and look up and there he was right where i kicked up them 2 deer earlier. he was standing behind some tall grass and at first i couldnt tell if he was really there or it was some grass blowing in the wind, and it was a little hard to see as i was walking into some pretty stiff windage. the only thing i was focusing on were these two white dots, that ended up being the white fur around his eyes. he then turned his head and thats when i knew i was going to shoot him if given the chance(meaning, when he turned his head, he turned it in that manner they do just before they turn around and run for cover....you know what i mean). then he did what still has me thinking
. he started walking towards the water, whileat the same time i raise my gun and get ready to shoot. all of the sudden he starts off in a full out sprint directly at me. thats when the safety came off.i had my gun on him the whole time but wasnt looking through the scope just yet. just kinda feeling out the whole deal figuring out what my plan was. i decided to wait until he cleared just a bit before i shot. as he was beside me at about roughly 15y i put the scope on his neck (leading a little) and fired. he's hit/down. i didn't hear any thrashing/noises, so i backed away for a little bit. now it was my turn to make the phone call for drag help. i was shaking for atleast 15min. while waiting for my buddy i was thinking how crazy that turned out, and wondered why he did what he did. weird for sure!!! i walk over to him, poke him/he was dead,but didn't notice an entrance wound. i see blood under his head on the ground but thought it came from his mouth. well i pull his head up to get a better look at the rack and i see alot of blood where his head was. i look at the side of his head and what do i see......the exit hole. yup, sure enough i headshot him. the entrance hole ended up being his left ear.[:@]a little mad at myself at this point. and im not making excusesbut the more i think about it, the more i think it could have been a number of things (i.e. wind, landelevation change, and yes a bad shot). bottom line is that i killed a buck on the run in high winds and couldn't be happier with him being my first everbuck.
the good news is there were more buck sightings than our two(for next year, if they survive), and tons of doe for the rest of this year. i've got two doe tags one of which i'll be saving for the late archery season.
the bad news is, when we went back the second day, there was a logging company back in there chopping some trees down. i wont know until this saturday if this area will still be huntable.
i'm on team 14 in the gun contest, but dont know the score yet.
pics....me, i had some wind burn for sure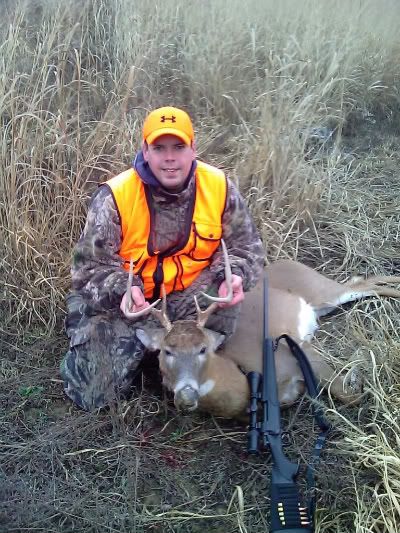 my buddy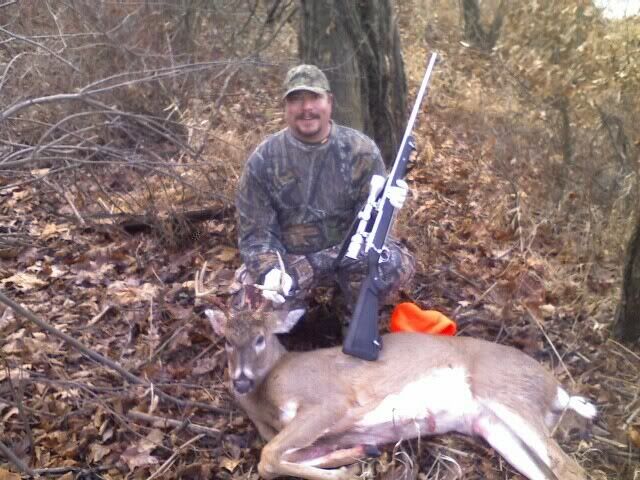 Thread
Thread Starter
Forum
Replies
Last Post
Posting Rules
You may not post new threads
You may not post replies
You may not post attachments
You may not edit your posts
---
HTML code is Off
---