dead deer question.....eh.
12-01-2007, 03:48 PM
Nontypical Buck
Join Date: Feb 2005
Location:
Posts: 1,784
RE: dead deer question.....eh.
---
ORIGINAL: thinktwicez71
ORIGINAL: retrieverman
ORIGINAL: thinktwicez71

To be quite honest , you might as well kiss this years season there goodbye , you might see the ocasional deer here and there , but the deer will smell the death in the woods , as well as all the coyote smell being in there and won't want to be in there.
This is most ignorant post that I have seen in quite awhile.
I have a specific area where I dump my carcasses, and I see deer in the area every time I go through it. Deer and coyotes cohabit the same areas 365 days a year and having them eating on a deer carcass shouldn't adversely effect your hunting at all. I wouldn't hunt right over the carcasses, but with 40 acres, you have plenty of land to hunt.
to each his own , all i was saying was that i would pick another spot rather than close to the dead dear
That is not at all what you were saying, and I will quote you again.
"You might as well kiss this years season there goodbye..."
12-01-2007, 08:14 PM
RE: dead deer question.....eh.
---
To the person that had the original post , good luck , i honestly hope you get a deer , i just didn't feel that with the dead deer in there , and smelling soo bad to you , that it would of scared the deer off. I was going by the same things happeneding around here , my apologies !
12-01-2007, 08:21 PM
RE: dead deer question.....eh.
---
I actually put a deer carcass in front of my trail camera earlier this year just to see what would happen.
Check the time stamps on these pictures.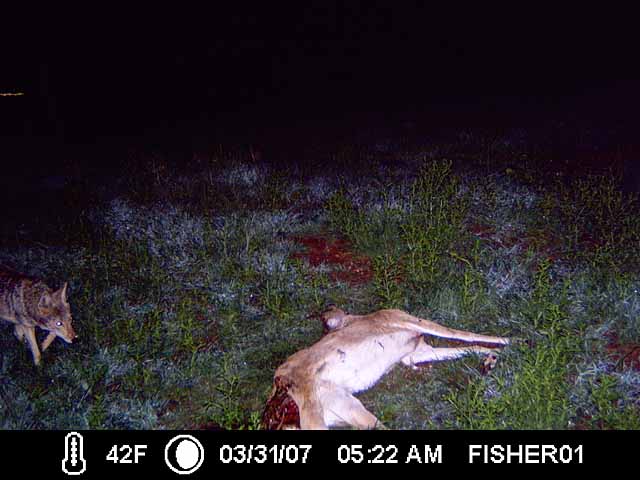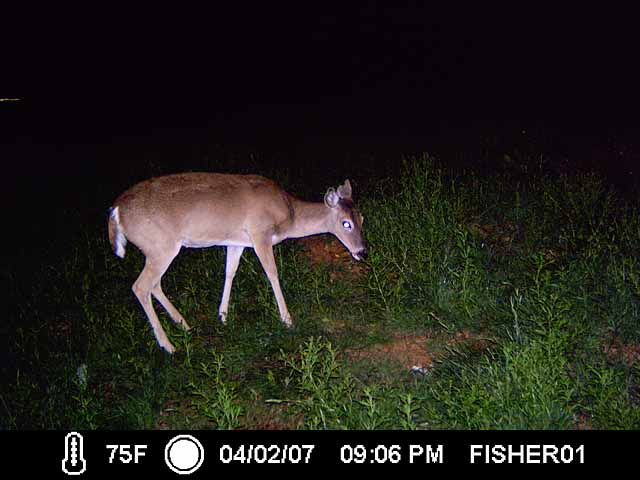 I should have staked the deer down because it was gone without a trace in less than a week. It actually looked like that other deer was sniffing around where the dead deer had been just a couple days after it disappeared.
12-02-2007, 09:35 PM
Join Date: Sep 2004
Location: Iredell Co. North Carolina
Posts: 236
RE: dead deer question.....eh.
---
Thanks for all of your imput you guys, it really makes me appreciate these fourms.

I did a little Sunday scouting today (no Sunday hunting in NC) and as I walked out of the woods up where the deer are I found more deer sign than on any other part of the lot.
the stand closest to the deer is the only one I have not touched since bow season and I believe the hunting pressure may have pushed all the deer into that area.
and I found another thing i would have never expected. a fresh rub and scrape. with a rather big track in the middle of it. didn't have much to compare it to but two quarters and it was about three or so in length.
I think there might just be a good size buck hidding out in that neck of the woods.

Thread
Thread Starter
Forum
Replies
Last Post
Posting Rules
You may not post new threads
You may not post replies
You may not post attachments
You may not edit your posts
---
HTML code is Off
---