When to put out mineral blocks
03-24-2007, 01:12 PM
RE: When to put out mineral blocks
---
The deer start hitting mine in mid April. They hit mine real hard in the spring and summer. Then about September when the fawns are bigger and the racks are slowing down they stop using it. In the six years hunting by my mineral site I have only seen one deer lick it during season, little button buck. Some areas talk like minerals and salt arelike candy for deer, but my area must have enough in the soil cause they don't hit it in the fall. I also never put out salt blocks. I put out a trace mineral block and then last year I started putting out a block for cows. Cant remember the name but it has more calcium and phosphorus and things that are in the deer mixes and they really liked that. But in the fall it all stops. Here is a pic of my mineral site. It may take a season for them to find it a use it hard. When they do it will give you alot of trail cam pics!!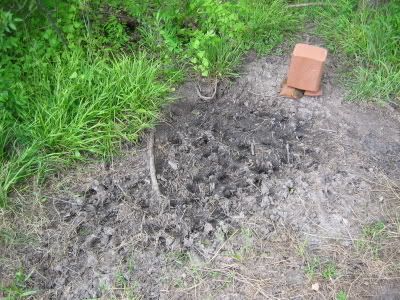 03-24-2007, 01:24 PM
Boone & Crockett
Join Date: Feb 2003
Location: Ponce de Leon Florida USA
Posts: 10,079
RE: When to put out mineral blocks
---
Seems like the deer hit the licks from about now till the middle of the summer for me. I've got one lick that is about the size of a big washtub that has been out for 10 or so years.
03-25-2007, 09:41 AM
RE: When to put out mineral blocks
---
I've been supplimenting in my area for about 5 years. I put one out in the spring every year. Even after the block is gone the deer still dig at the spot. I've got one spot where the hole is 3x3 ft. and is about 6-8 inches deep.
03-28-2007, 07:51 PM
RE: When to put out mineral blocks
---
Reccommended by John Weis is putting out mineral blocks inthe spring and early summer becuase that's when deer's body metabolisms actaully develop a strong craving for minerals, causing bucks and does to repeatedly visit licks every day and each time remain for somtimes extended periods.

Also reccommends one mineral block per 40 acres.Try and go for mineral blocks with highest amounts of sodium, zinc, manganese, phosphorus, calcium, and copper with lower amounts of vitamins A, D, and E, potassium, cobalt, selenium, and iodine. Good Luck.

Thread
Thread Starter
Forum
Replies
Last Post
Wildlife Management / Food Plots
Wildlife Management / Food Plots
Wildlife Management / Food Plots
Posting Rules
You may not post new threads
You may not post replies
You may not post attachments
You may not edit your posts
---
HTML code is Off
---