Whats the best blind covering?
05-25-2008, 10:38 PM
Join Date: Aug 2007
Posts: 93
Whats the best blind covering?
---
i built a duck blind to put out by this pond we hunt and i dont know what to cover it with what do yall recomend i dont want to spend lots of money id like something i can keep out the hole season not fade to bad or rot in the water and rain

i do plan on puttin natural vegotaition around it as well

.243win

05-26-2008, 05:28 PM
RE: Whats the best blind covering?
---
If you're going to use natural vegetation anyway, I'd just paint it. Say it with Krylon!!! We put some max-4 sticky camo on one of our duck blinds last year and couldn't keep the cows off of it. They chewed and ripped it all off. We use 2 nails and a piece of conduit with camo material from sportsmans to cover our bodies and faces. When someone calls the shot we just knock it off as we come up. I wish I had some pics to show you. Good luck!!
05-26-2008, 05:54 PM
RE: Whats the best blind covering?
---
Buy some of that Mossy Oak Cyrex Blind Material from Cabelas. Its light enough to store between hunts and you can put on/take off every time u hunt to supplement the natural vegetation. i use it to cover the poling platform on my Go-Devil and the areas where my Avery Blind does not cover.
05-26-2008, 10:48 PM
Nontypical Buck
Join Date: Jun 2004
Location: NW Ohio , 5 min from Ottawa National / Magee Marsh
Posts: 2,051
RE: Whats the best blind covering?
---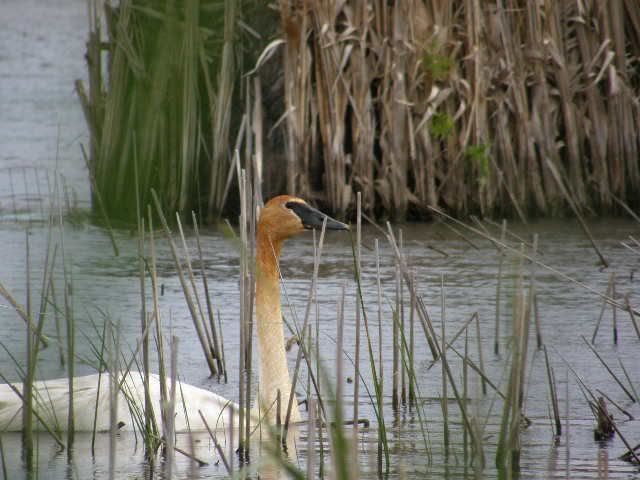 Not the best pic's , but they are the best I had handy
These were taken of the Trumpeter swans
I have a pair nesting on a muskrat mound 20' from the blind
Did you build the blind out of wood ?
If so paint it with up and down stripes of gray / green / tan
Then staple chicken wire loosly to it , if the wire is bright
Paint the blind after putting the wire on
Make 1 1/2" - 2" dia bundles of cattails and or reeds that are taller than the blind
The bundles on the blind are last years and the loose top parts have broken off
I like to have the reeds well above the top of the blind to hide my head
But thin enough to see and shoot thru
Tie the bundles 3 times , bottom , middle and 1 - 2' from the top
Then tie them togeather and tothe chicken wire with a non rotting string , I use light weight tared decoy cord
Leave 1" or so between bundles
The cat tailsaround my blindhave died back , but will soon be emerging
Right now I have the water 12 - 18" higher than it will be during hunting season , so more of the blind will be above water level
I can make the bundles for 4 blinds and install them in a afternoon
It is easy , but you will be suprised how many bundles it will take
In the front
Where you will be shooting thru
Make the bundles with just real flexable cattails above the top rail of the blind
So you can stick your gun/shoulders thru to shoot
Make the bundles full hieght ( a little above head height ) and full
You can always bend some of the stuff down if in the way , to thin it down for easy shooting
But you want it full enough to hide you
John
Posting Rules
You may not post new threads
You may not post replies
You may not post attachments
You may not edit your posts
---
HTML code is Off
---