Filming turkey hunts
01-28-2009, 03:20 PM
Filming turkey hunts
---
Back to back snow days and I got bored. So I did some destructing and reconstruction. Took an old ASAT 3d suit and made a camera cover out of it. Should work great for turkey season. Also going to one of those small wall blinds to set in front of the tripod legs. Those little boogers can see, hopefully this will trick em!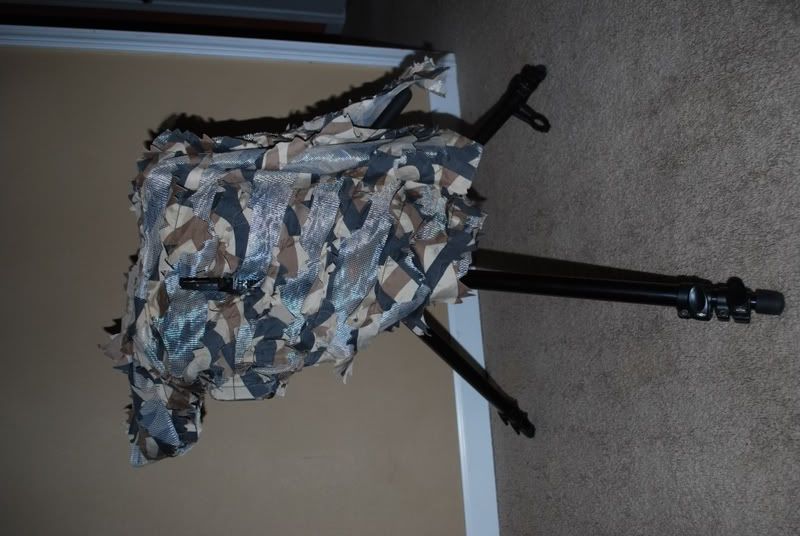 01-28-2009, 05:05 PM
RE: Filming turkey hunts
---
Haven't tested it outside due to the darn weather, but inside it seemed fine. Everything is cinched down and doesn't move. The real test will be when it's windy outside and the cut pieces are moving in the wind. Could be the downfall of it.
01-28-2009, 08:37 PM
RE: Filming turkey hunts
---
I use some bulk camo fabric (can get it at Gander Mtn.) cut enough to cover both the camera and the tripod..........I cut out a hole for the shotgun mic as it will make noise when you pan the camera, also I leave mine loose so I can get at the manual controls on the camera and easily see the LCD screen...........
01-30-2009, 09:26 PM
RE: Filming turkey hunts
---
I pretty much do the same thing with bulk fabric as lungbustersays. I drape it over the camera and let my shotgun mic stick out of the fabric while at the same time covering the legs up. I leave the left side of it so I can see my LCD and work my manual controls as needed. I prefer to shoot through the viewfinder when possible but sometimes if a bird back doors you or makes a big move that's not possible. With this camo "blanket" draped over the camera and me at times I find I can get away with more movement than just a camo camera alone.

I also use a "throw mic" when turkey hunting a lot. Hook a good shotgun mic up to a 25' XLR cable and toss it out in front of you. You'll get that much closer to the bird when it rattles the leaves and the camera noises will not be on your audio track.

01-31-2009, 05:48 AM
RE: Filming turkey hunts
---
Great ideas! I have a slit cut on the side for the LCD to pull out. There is enough excess to be able to run manual controls under the material. Just waiting on a windy day to see how the mic handles the cover. Sounds like it will end up coming off.

Tyge, thats a great idea on the throw out mic. Never heard of it being done, but think its an awesome idea!

01-31-2009, 07:39 AM
RE: Filming turkey hunts
---
Thanks, but I owe that idea to a spring spent filming hunts for the NWTF shows. I learned a lot about getting good turkey footage that year. Got to hunt with some of the big wigs of the org and some really good turkey hunters.
Don't worry about the die cuts on your camo moving in the wind. That's what I've been using for years. When the wind blows all the leaves around you move as well. I think it actually looks worse if everything on your rig is rigid on days like that. On real windy days I do have to use my camo in a way less like a blanket though to keep it from flapping like a flag! LOL Those are the days I tighten things down a little.
I don't understand what you're talking about when it comes to the mic handling the cover. Your mic should be sticking completely out of the cover. If the cover is on the foam or WindCutter in any way you will regret it. Cut a hole for it and have it completely clear of the cover.
Buy
one of these
for your mic and wind will no longer be an enemy. Tell them Tyge Floyd referred you, please.
Posting Rules
You may not post new threads
You may not post replies
You may not post attachments
You may not edit your posts
---
HTML code is Off
---