2nd NC Gobbler with a Bow!
04-14-2005, 03:21 PM
2nd NC Gobbler with a Bow!
---
Got up this morning at 0430. It had finally stopped raining, only to start back up when my ride NC hunter arrived to pick me up. Well we decided to go out anyway. I set up first with a borrowed blind from NC hunter, Thanks Bud, I waited til it had gotten pretty light even though it was cloudy and still raining. I yelped three times and nothing. I yelped three more times adn Gobbbbbbbbbbbbbleeeeeeeee at 60 yards behind me and to the right. I yelped at him again and he cut me off. I waited for a for few minutes and yelped again, only to be cut off by his gobble again. I did that two more times and both times he again cut me off still on the roost though. I kept looking thru the small window in the blind towards where I had heard him. About 3 or 4 minutes after teh last gobble I saw him fly down into the field just on the other side of the fence row. I yelped to him a couple times and saw that white head peak around the end of the fence row. He then disappeared. I yelped again he again peaked around only this time half od his body came around the end of the Fence row, and again disappeared. I yelped one more time and he steppeda round the end of the fence row as if he was agitated with the hen for talking. Once he came around the end though he noticed that there was a jake with the hen that he heard. He layed his neck flat out and went into a 1/4 strutt and ran directly at the decoys. I came to full drawl once he was out of the small window. He appeared in the shooting window but was on the opposite side of the decoy knocking it around. All of a sudden he darted to the front of the decoy as if to sqaure off with it face to face showing me a broadside shot at him at 20yards. I placed the pin adn the base of the wing and released. The arrow struck with the sound of a gun shot. He rolled over onto his back and that was it. He weighed approx. 18-20lbs 1' and a 1 1/4" spurs adn a 9 1/4" beard. I will get a picture posted soon.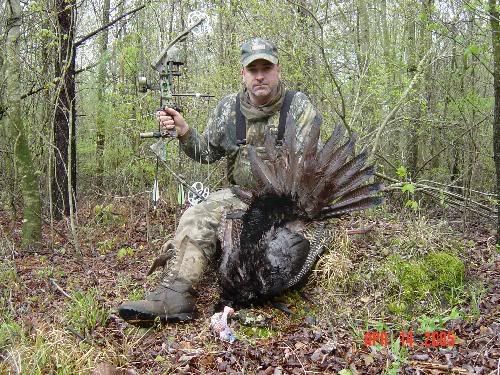 04-14-2005, 03:37 PM
RE: 2nd NC Gobbler with a Bow!
---
Not sure what pop up blind I was using but NC Hunter can probably tell you that since it was his blind. I used my Darton Magnum Extreme with 100 grain muzzy 4 blade. I had actually stepped off the distance and placed the decoysd in the field. I was set up on the edge of the field under an over hanging tree limb. The field was approx. 40 acres. We did know where the birds were roosting so it kinda made it easy as to where to set the blind up and the decoys. I know alot of people say that rainy days aren't worth getting up for but I say the birds are still there they can't come indoors to get out fo the rain. I know a rain jacket to get to the spot and the use of the blind made all of the difference. The blind kept me pretty dry while I was waiting. I shot him around 0650-0700. I was back at the truck and nestled in and napping by 0730 while NC hunter and whiteknight were patiently waiting for another gobbler to come out of the timber. As you can tell it was raining pretty hard he is soaked.
04-15-2005, 07:57 AM
Join Date: Mar 2005
Location: Jackson, OH
Posts: 27
RE: 2nd NC Gobbler with a Bow!
---
NICE JOB! I have yet to take a turkey with a bow but this is only my second season attempting it though. I hunted Alabama and Ohio both real hard last year and never got a shot but I shot one AL and then shot 2 in OH with a shotgun, the areas where these birds were was just so thick that getting an arrow through the brush was going to be impossible. Again, congratulations and keep up the good work!