Limbhangers and otherwise large turkeys
12-27-2004, 01:24 PM
Limbhangers and otherwise large turkeys
---
I'm sure I'm in the company of some pretty accomplished turkey hunters, so I'm just wondering about what y'all have seen/killed in terms of spur/beard length/multiple beards...

I've gotten two real limbhangers in PA - the best had two 1-1/2 inch spurs. He scored really well. He had 11" bears and 23 lb. He now resides on my wall.

The second was a really old, ragged looking bird. He had a really thick, 5 1/2" broken off beard, weighed 23 lb. and had a 1-5/8" spur with a broken-in-half 3/4" one on the other leg.

NWTF lists birds with over 2" spurs!

I wanna hear about everyone's biggest birds. Post Pictures if ya have 'em!
12-27-2004, 07:36 PM
RE: Limbhangers and otherwise large turkeys
---
9 3/16 beard
1 1/8 spur
1 1/16 spur

1 1/8 and 1 3/16 spur
9.5 inch beard

1.25 in. spurs
10 3/8in. beard

there's a couple more but i cant find the stats...all my spurs are an inch or over, the beards of the missing birds were 6 5/8 and 9. something, lol......they might no be limbhangers, but i know for a fact the one was , i have picks, .......shhhhhhhh, not suppose to comment on the tree branch size, lol......but i am happy and i feel blessed with all of my birds.....i ust pray for continued hunts and harvests(just to save my sanity, lol).....
12-27-2004, 08:49 PM
Join Date: Aug 2004
Location: Roanoke, VA
Posts: 730
RE: Limbhangers and otherwise large turkeys
---
Two years ago I bagged the biggest bird of my short turkey hunting career. I hunted him and another bird that could have been his bigger brother. They hung together for two years, but the third year they split apart. I was able to bag the "smaller" of the two. It's funny I almost passed on this bird to try for the bigger one, but took him in full strut at about 8 yards.

When I saw his spurs I could not believe it! I checked him in at the local sporting goods store. He weighed 24 pounds, had an 11" beard, 1 3/8" spur, and 1 5/8" spur. The owners son called his dad to tell him about the big bird, and they informed me that was the first bird they had ever checked in that had a spur longer than 1 1/2". That was the best prize for me to accomplish that feat. They have been in business for over 20 years and are the only sporting goods shop in the area now. They did not believe that this bird had no hens; because there was a bigger bird that had them all.

That bigger bird must have died that winter, and it suited him right to die of old age. He was one tough bird. I have not heard or seen him since then.
12-28-2004, 08:07 PM
RE: Limbhangers and otherwise large turkeys
---
My biggest to date was
27lbs
1 3/8 inch spur
1 1/2 inch spur
11 inch beard
I watched this bird almost every day of season with another about the same size, but they were always in fields and wouldnt come to calls, the last morning, I had him roosted about 100 yards off of the field, the farthest he had been from it, and intercepted him as they went to the field.
I also have a few more over 25 lbs, and several more close to that. We have always had some thumper birds on my farm in Missouri, and this year looks like it is going to be as good as ever!
12-28-2004, 09:10 PM
RE: Limbhangers and otherwise large turkeys
---
I've been lucky enough to take three notable birds so far.
1. 25 1/2 lbs.
9 3/4 " beard
1 1/4" spurs
2. 26 3/4 lbs.
10 1/2" beard
1 3/8" spurs
3. (Spring 2004)
28.6 lbs.
11 7/8" beard
1 1/2" spurs
I'm hoping to clear the 30 pound mark soon. I would have one that big done in a full strut mount, and last years that went over 28 had 14 spur marks on him that looked like he'd been beaten on pretty well. So here's hoping for the 2005 season!
12-29-2004, 12:35 AM
Typical Buck
Join Date: Dec 2003
Location: central Ky
Posts: 601
RE: Limbhangers and otherwise large turkeys
---
My biggest to date is 27lbs, 10 1/4 inch beard and 1 3/8 spurs. I thought I'd killed the king of them all around here, but a buddy of my dads' killed one that went 31lbs, 11 1/2 in beard and had one spur at 1 5/8 and the other was 1 3/4 killed on the same day I took mine. Thats a bird of a lifetime!!!
12-29-2004, 04:10 AM
RE: Limbhangers and otherwise large turkeys
---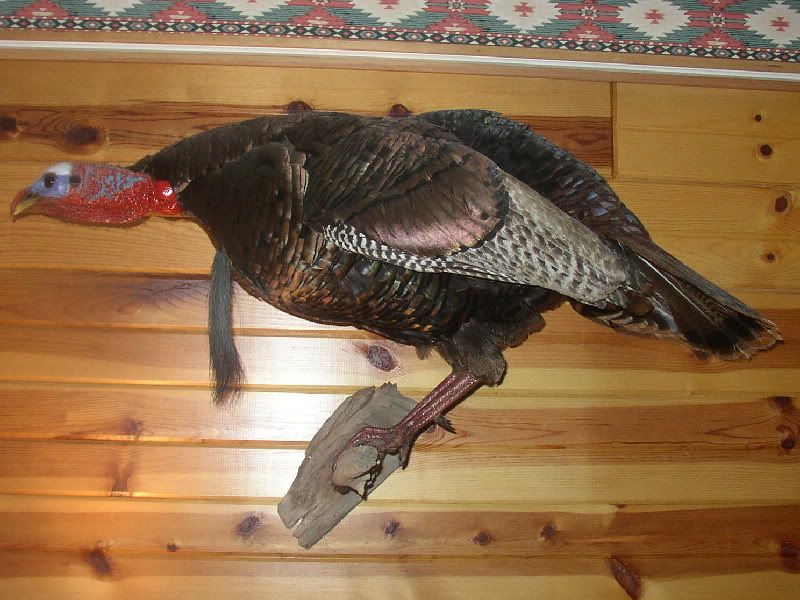 This bird was 22lb with a 10 1/2" beard and 1 1/2" spurs. I've taken a few others about the same size but the best bird I ever shot I really screwed up on.When I saw him commin in I was amazed at the beard which was draggin on the ground.I was so amazed I forgot to shoot till he was within 15 yds.Then I pulled the ultimate boner.I shot where I was lookin and blew the beard off
The wad stuck in his chest and there was a 2 1/2" stub of beard left.I gathered up strands of the beard lyin on the ground and they measured 9 ". That bird weighed 23 lb with an 1 1/2" spur and a 1 9/16" best I can tell the beard had to be at least 11 1/2"
12-30-2004, 12:05 PM
Typical Buck
Join Date: Apr 2003
Location: Cologne, MN
Posts: 510
RE: Limbhangers and otherwise large turkeys
---
I hunt MN and WI and most of the birds we've shot have averaged about 23 lbs. Largest was 25 1/4 lbs with varying spur lengths. Beards have been steady at about 10 to 12 inches. I usually hunt late in the season (May 15th avg) so by then most birds drop in weight from what I've heard. They seem to get some bigger ones in early season but I put in for later so I can hunt every year...
12-31-2004, 12:44 PM
RE: Limbhangers and otherwise large turkeys
---
25lbs
1 7/8" rt spur
2" lt spur
11 1/4" beard

#17 NWTF (unofficially) Did not have it scored by an "official" NWTF member - scorer.

Picture to follow - would not download.
01-02-2005, 05:48 PM
Nontypical Buck
Join Date: Feb 2003
Location: Calif
Posts: 1,894
RE: Limbhangers and otherwise large turkeys
---
This was a pretty nice old monarch I harvested in 93.I've taken quite few birds in the 70 point class but this was one of the few memorable ones that after looking him over believe was at the peek of his maturity!!
11.25 beard
23lb's
1 3/8's needle sharp spurs right and left
Merriam,Rio cross.....P.S nice mount Jimbo,one heck of bird,same goes to the rest you folks!!!
Awesome gobblers!![8D]I will say this though a trophy isn't neccessarily measured by his spurs and beard but often times in my mind by the challenge he put you through on the hunt itself!I can recall many hunts where the gobbler didn't turn out to be the biggest I'd ever harvested but through the ups and downs of the hunt proved himself to be a true trophy!!!