My busy week behind the camera in the turkey woods
04-26-2009, 05:42 AM
My busy week behind the camera in the turkey woods
---
So guys, i haven't been on here much do to the amount of hunting this week. Mon-Wed sucked, Thursday was the best day in the turkey woods of my life, Friday sucked, and Saturday was over before the sun even rose
Ill start with Thursday,
Me and a fellow fire fighter Seth went to one of my buddy Tyler's (also a FF) farms for the morning hunt. We heard about a dozen gobbles before it got light, and after 30 minutes of silence we see a lone strutter appear in the corn at 150 yards or so. A few minutes later, we watched as 4 jakes, a boss tom and a dozen or so hens also enter the corn. We were still a hundred yards away and we had the pretty boy/girl combo set up. The boss tom strutted with his hens for 30 minutes or so, and the satellite tom and the jakes kept their distance from our decoys. I have the hunt on video, but it is not uploaded to the Internet yet. After they left the field, we went for breakfast.
At exactly 10 AM, we slammed the door shut on Seth's truck and headed for a large clearing on his property that he never hunted for turkeys before on. halfway across the clearing, we spook some geese that take off honking. After waiting for them to clear out, i hear some hens going nuts right inside the woods in front of us. I was almost convinced it was a hunter wailing on a slate call until the gobbler sounded off. We ran to the edge and he set out the dekes real fast. i sat down and hit the record button on the camera and he let out a few soft yelps and some putts. The gobbler almost immediately strutted out into the clearing. A few moments later, the bird was down. I checked my phone, 10:06. I had been recording for 1:13 when the gobbler went down. After reviewing the footage, i found that when he pulled the trigger the 3 1/2 inch sent him flying back into the camera missing the impact shot[:@], still an awesome piece of footage.
Here's the video:
April 23rd Turkey Hunt
And some success pics: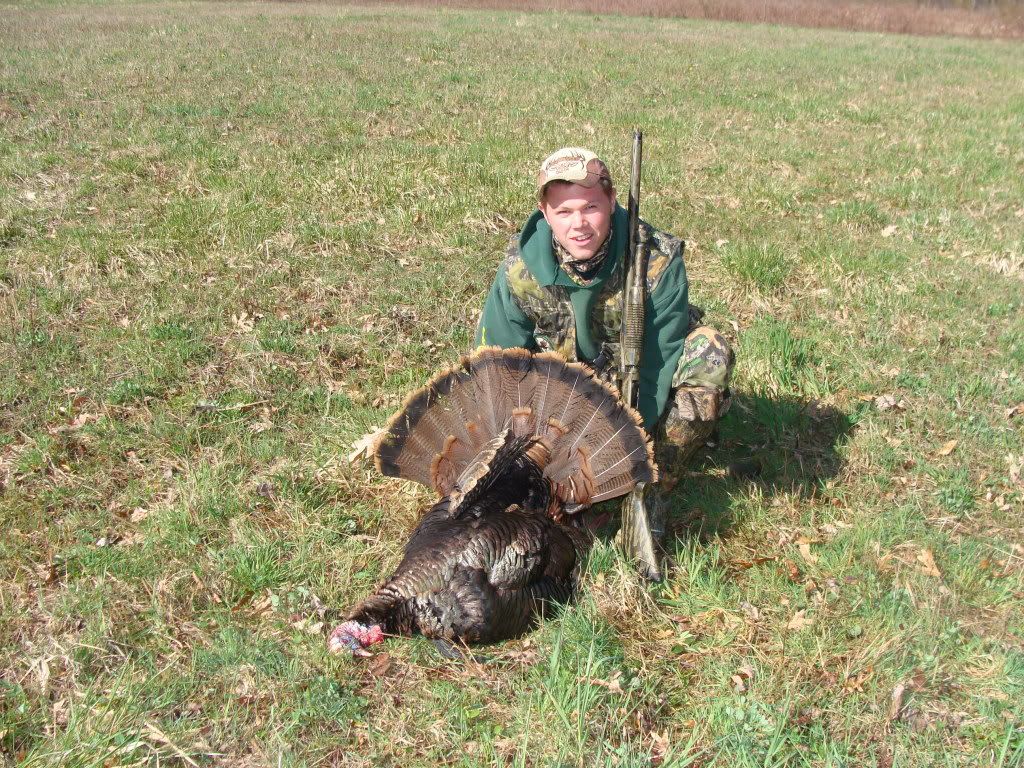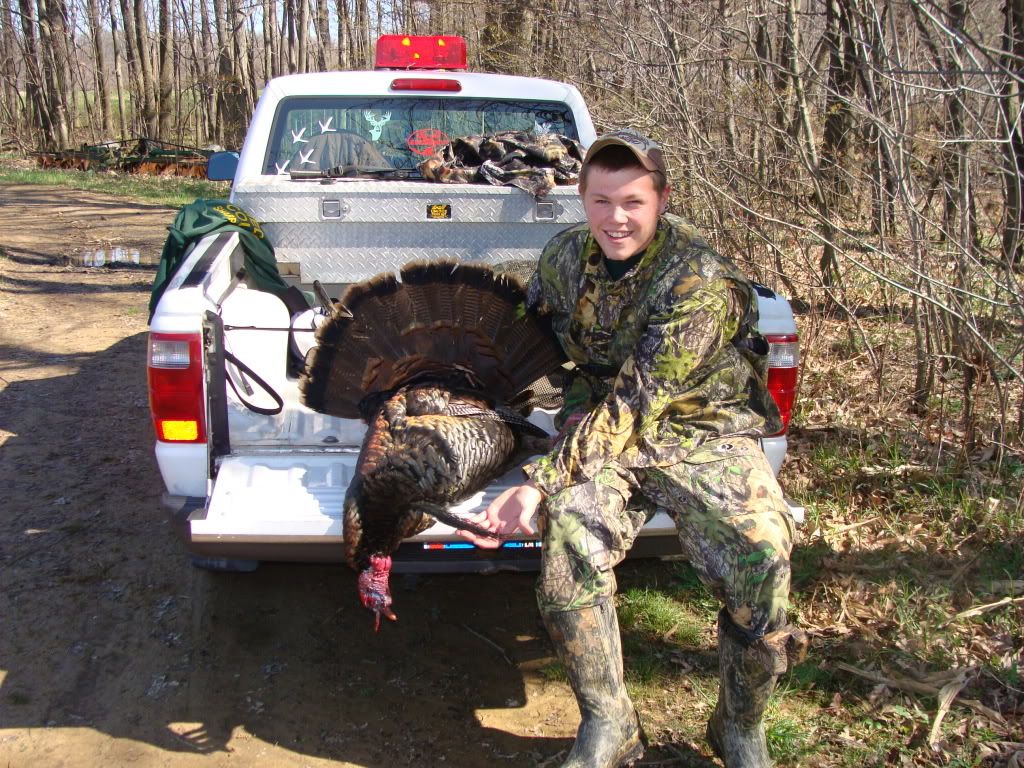 Fast forward to Saturday (Friday was worthless), me and my brother had set up a blind on my buddy Tyler's farm closer to where the turkeys came out into the corn on Thursday. So when Saturday rolled around me and Tyler were in it before first light. We heard a lone gobble off to our left about 25 minutes before legal shooting light, but the entire time we could hear hens going nuts. After keeping an eye on a few deer that have been giving us problems all week, i glance over at tyler and see a strutter out his side window entering the field. I immediately get the camera on him and begin my series of calls. After a few minutes, he had closed the gap to about 45-50 yards. The bird sensed something and started walking away, so Tyler, feeling comfortable with the shot, let him have it. The bird kinda took a step and then started flopping, so i zoomed out and began calling to the other birds who remained in the field. After calling for a few moments, i look over and see Tylers bird GETTING BACK UP!!!!!!!! Tyler quickly blasts off 2 shots at the wounded gobbler, but misses both times. The wounded bird is running in circles around the field! After 2 more shots, the bird is finally dispatched.
Here's the video (WARNING, contains some language):
April 25th Turkey Hunt
And the success pics: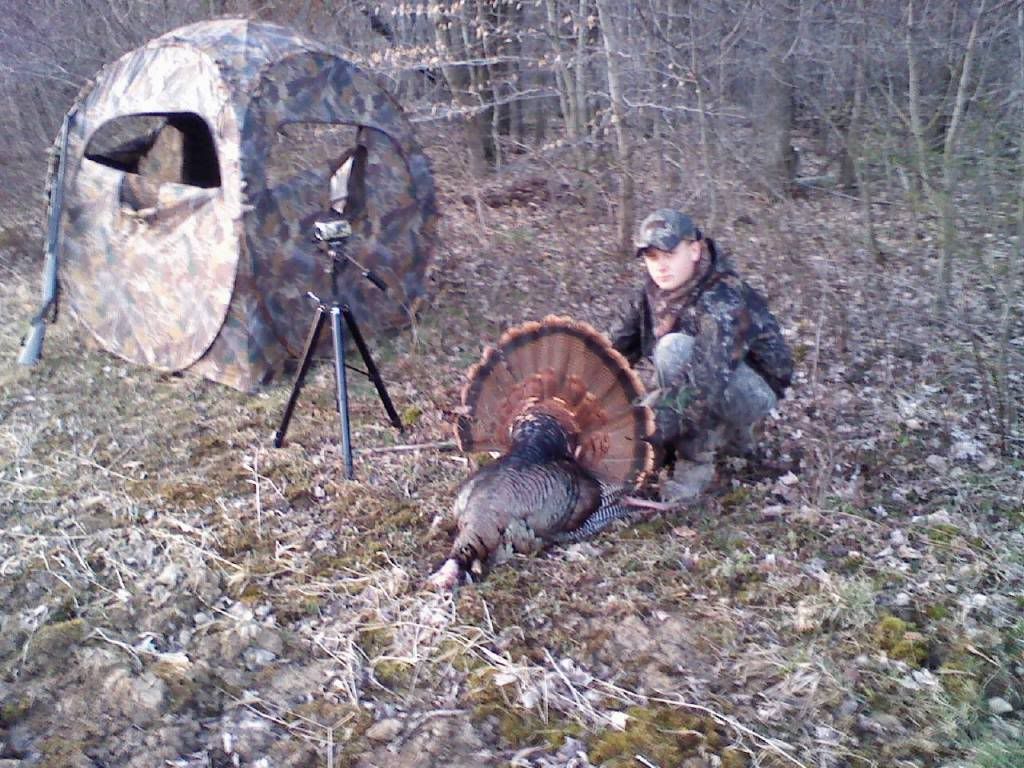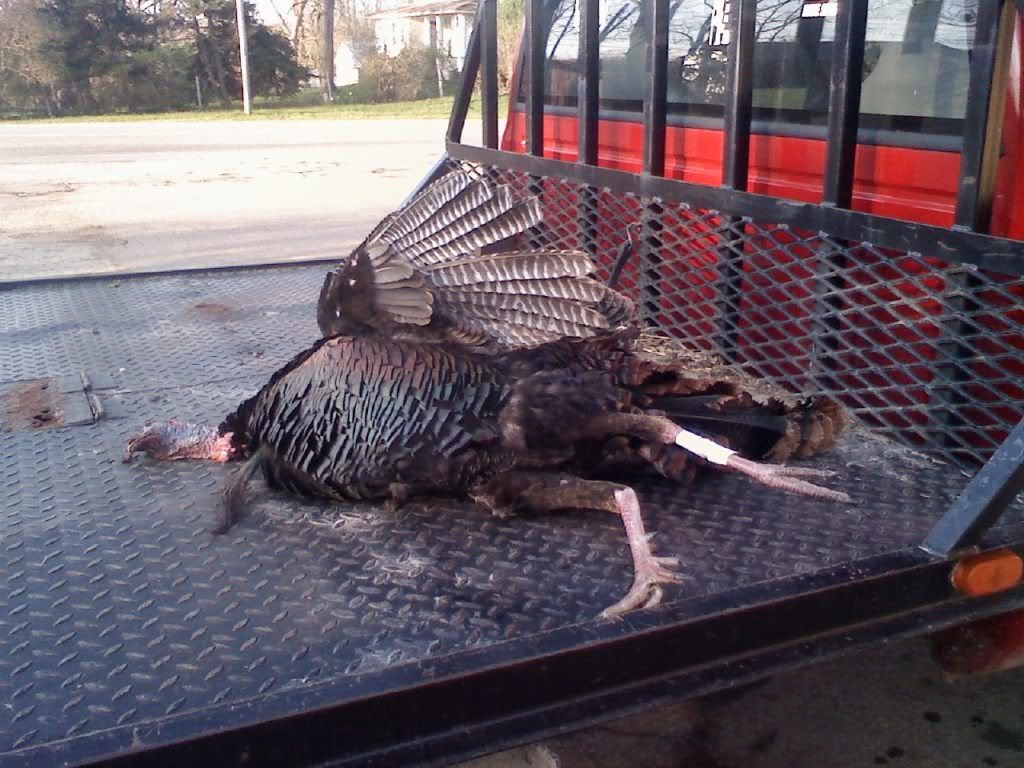 Altogether it was a great week in the blind with my fellow fire fighters, and even though i didn't personally get a bird, im satisfied with the results.
04-27-2009, 01:18 PM
RE: My busy week behind the camera in the turkey woods
---
ORIGINAL: bowmanaj

Congrats again on getting those hunts on film.. Awesome footage, and that second hunt is hilarious... Frankenturkey indeed.
Its a unique hunt, thats for sure. I like how it shows the real raw side of it. Not everything can be perfect (like Seths hunt
). Im gunna have the camera out for all my hunts this year no doubt!
Ohnext year were gunna have to see if we can get together for a hunt Adam
Posting Rules
You may not post new threads
You may not post replies
You may not post attachments
You may not edit your posts
---
HTML code is Off
---