PA Double Bearded Boss
04-27-2009, 01:12 PM
PA Double Bearded Boss
---
I know of this real nicehardwood ridge bordered by Hemlocks... a solo gobble at sunrise... 250 yards +
The birds roostedlow over the weekend, I blame the Saturday opening day pressure. I knew I have to move, and did.
Got the ol' boy firedup on the limb,solid interest at the tree calls. Unknown to me weretwo hens that touched down at his feet when they left the roost.
I heard 'em, so I played up tohis girlfriends while he gobbled behind them... first sighted the trio at about 90 yards.
He really liked the idea of having a third girlfriend, which proved to be really bad for his health.
Double beards...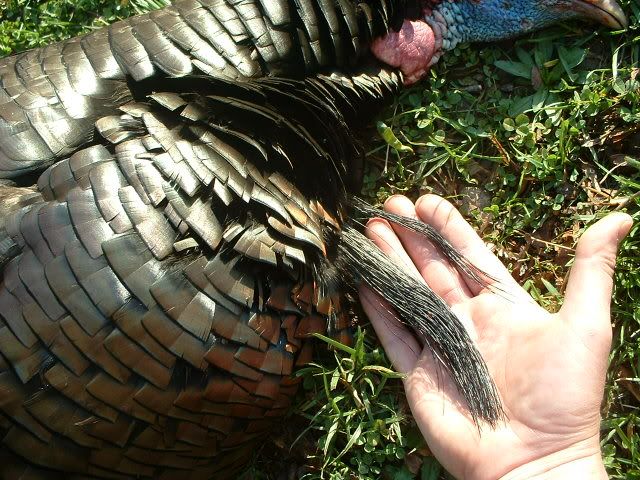 Got 'em togobble 3 times on the groundbefore he didthe maple leaf shuffle at 43 yards. My wife says I'm crazy for patterning my turkey gun...and just plain loopy for shelling out $35 dollars on Hevi-Shot... I say, uh, oh no I ain't.
He weighed in at 20.6 pounds... large beard was 8.5 small beard was 7... spurs were 1 and 1/16 and 1 and 1/8 respectively.
The hardware: Browning BPS 26 inch shotty / Rhino .670 Turkey Tube / 3 inch X-tended Range Winchester #6's /Knight & Halemouth diaphram call. Jolly good stuff!
04-27-2009, 03:32 PM
RE: PA Double Bearded Boss
---
Hey thanks all... I was trying to post one of the bird and my grinnin' mug but it wouldn't upload for some reason?
Lemme try again...
Wow... looking back at a couple years worth of digi pics / hunting memories makes me wanna leave that ice cream sundae alone. LOL I better grow another goatee. [8D]
Thread
Thread Starter
Forum
Replies
Last Post
Posting Rules
You may not post new threads
You may not post replies
You may not post attachments
You may not edit your posts
---
HTML code is Off
---