ALBINO TURKEY
09-30-2007, 07:05 PM
ALBINO TURKEY
---
HEY YALL, I WAS DOWN AT A HORSE FARM IN SOUTHERN NJ AND WAS JUST WALKIN AROUND. I SEEN A FEW DOES, THEN A FEW TURKEY, THEN BOOM AN ALBINO TURKEY. IT WAS FEEDIN ROUND 35 YARDS OUT. IT WAS ALL WHITE EXCEPT THE BANDS ON THE FEATHERS- INSTEAD OF THE BROWNISH COLOR IT WAS A GREYISH. ANYONE EVER SEEN AN ALBINO TURKEY? IT KINDA MAKES ME MAD- FALL TURKEY STARTS NEXT MONTH
10-01-2007, 06:28 AM
RE: ALBINO TURKEY
---
Yes I have but it is not a true albino as you describe. If it is not all white with pink eyes then it is what they call a piebald turkey. Still is a rarity though. Was it a tom or jenny?

Piebalds do have some color variation other than all white and have black eyes.

JW

10-01-2007, 01:27 PM
RE: ALBINO TURKEY
---
i really wish i coulda seen him closer. like i said he was about 35 yards away so i coulndt see the eyes. im lookin to get a job there maybe. if so ill b watchin it every day!! i didnt see a beard (would the beard be white or black?) so im not sure if its a hen or tom, next time im there ill look again
10-01-2007, 03:04 PM
RE: ALBINO TURKEY
---
Smokey grey phase is the correct term for the turkey you describe..................I have video of some hens and have seen hens and gobblers in our area that are this color................Lack of melanin causes this color phase.
10-02-2007, 01:44 PM
RE: ALBINO TURKEY
---
Here's one that I've been seeing for two years now. I'm surprised she wasn't been eateneither bycoyotes or hunters by now. I passed up two chances to hunt herthis season with the bow. Oh, the first year I saw her she was a full grow hen with no poults.Just afew weekends ago when I saw her for the first time since spring, she was with another hen and about 15 to 20 poults. None of them were in her color phase.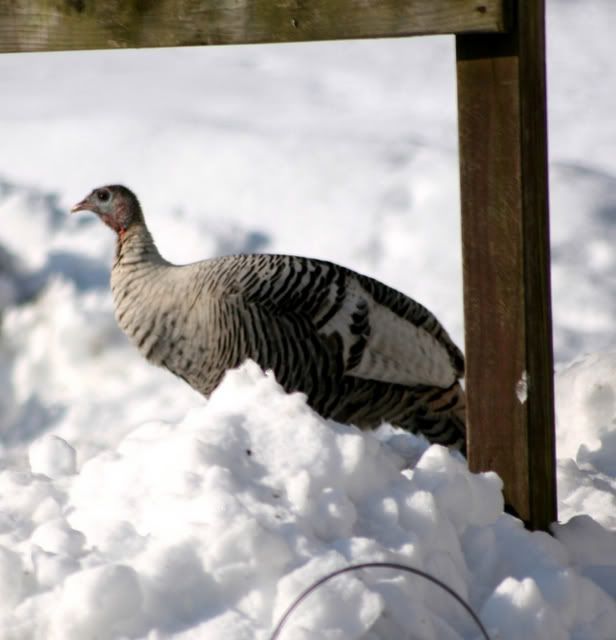 10-03-2007, 02:00 PM
RE: ALBINO TURKEY
---
That's a beautiful turkey, I always thought that it's great when you're able to examine your kill, you just see how beautiful it is, and that the thing that gave you a great hunt is something that pretty is quite something.
Thread
Thread Starter
Forum
Replies
Last Post
Posting Rules
You may not post new threads
You may not post replies
You may not post attachments
You may not edit your posts
---
HTML code is Off
---