single shot
06-29-2006, 07:57 AM
Join Date: Sep 2003
Location: SW GA
Posts: 58
single shot
---
I'm thinking about customizing a single shot for turkey hunting and was wondering how many of you out there use one. Most people turn their noses up at a single shot, but I've never had to shoot more than once at a bird, so why hump around all the extra weight of the pumps and autos?
06-29-2006, 10:45 AM
RE: single shot
---
i see no problem with someone hunting with a single shot. if i didnt find a pump that i love and weighs next to nothing id probably do the same. im just trying to make my pump gun even SMALLER lol. i found a collapsable stock almost identical to the m4 carbine stock. they make it for shotguns now in black and you can get a shell holder that will hold 5rds on it. and a pistol grip..pretty sweet little stock and would be the ultimate turkey stock. mossberg made a gun with it already and camoed it. i emailed the company and they were pleased to tell me that why will be offering camo versions soon. i hope to have one and a set of fiber optic sights on it before next spring. collapsable stock...21 inch barrel...undertaker hevishot tube...thats a bad news turkey gun!! lol..id probably do the same to a single shot
06-29-2006, 03:36 PM
RE: single shot
---
st1,

I just did that very thing, went to a single shot gun for turkey hunting. When I started turkey hunting, I did so with a Stevens 20 (3 in. mag), with a hammer. Then I went to a Rem. 870 in20 ga., 3 in. mag and then to the pump 12's and then auto 12's. I missed the days of the single shot, so I started searching. I wanted a 12 ga., 3 in. mag. without a hammer. The only companies I could find to fit the bill, was a Browning that cost $1300.00 and a gun Remington is importing from Russia (go to Rem. web site and look up their Spartan shotguns, single shot).

This gun, SPR 100, marketed by Rem., retails for about $244.00 for the one's with ventilated rib. They don't havean exposed hammer. I read about them in Buckmasters mag. The article said they didn't have the finish of an American made gun, but the structure was great.

I looked up every place that sold them (on rem. web site) within 60 miles of my home. I called all of them and none had them in stock but would order the gun. I found one store that not only sold them, but had a gunsmith on hand daily. Walmart also sells the cheaper version, which is not ventilated and is blued for $89.00.

I called them (the gun shop) and got them to order the SPR 100 single shot for me, just under $200.00. I had the gunsmith cut the barrel (it comes with a 29 1/2 inch barrel) to 23 1/2 inches and thread the barrel for Winchoke choke tubes. I went with Winchoke threading because most of my guns with replaceable tubes are Winchester. I had them drill and tap for scope and install a scope rail. Had them install studs and swivels for a sling, and also had them install Sims Limb saver recoil pad. Had the trigger pull lightened to 4 lbs. All this work cost $237.00.

I then ordered a Nikon Monarch (shotgun) scope, I believe it's called turkey pro, which was recommended by JW, who is on this web site quite often. I also ordered Weaver rings, both the scope and rings came from Cabelas'. The cost for the scope was $239.00 and the rings $19.99.

I already had a Mad (ventilated) choke tube on my Win. 1300. Counting the choke tube and all of the above, I've got about $750.00 in the gun. But let me tell you a fewthings, it has a crossbolt safety (no exposed hammer), weighs about 6 1/2 lbs with the scope, kicks like a five legged mule, but you don't notice it with the Limb saver recoil pad. At forty yards and #5 Win. turkey loads, it will tear a turkey's head up (using life size targets). I haven't tried it further than 40, but plan to do so soon and with some #4's and 5's.

I can tell you now, had I put the same scope and rings on my 1300 plus recoil pad, I would have had about the same money in the pump. I also could have saved money other ways, but this gun has got my attention, it is performing great at 40 yds, can't wait to see what it will do at 50.

If you will send me your email address, I'll send you a photo of my finished gun. Also go to Rem. web site and look at it.

dog1

06-29-2006, 05:22 PM
Join Date: Jun 2006
Location: Northeast PA
Posts: 633
RE: single shot
---
I don't know who those people are that think a single is so terrible.
Always seem to me as people who don't know how to hunt.
Most of what "we" use are single shots. Dad (one of the big turkey hunters of the family) has gotten a bird just about everyyear as long as I remember and that is all he has every used. Like you said, you just need one shot, and if you miss, you ain't getting another.
I think the single is the "single" best gun for turkey.

06-30-2006, 08:39 AM
Join Date: Sep 2003
Location: SW GA
Posts: 58
RE: single shot
---
dog1 my email is on the way.

wayomic, the folks around here consider a single shot to be something you buy for your kid as their first gun. Most turkey hunters I know would look at you like you have leprosy if you suggest they use a single shot.

The companies that make and market products for turkey hunters have done an excellent job at convincing us that we have to have the latest and greatest, with all the bells and whistles. And if you don't, not only will you not get the bird, but he'll probably beat you up, take your gun, and smack you over the head with it. And even though I know I don't need all of the toys, year end and year out I'mstanding in line with everyone else because what I had last year ain't good enough no more.

06-30-2006, 11:11 AM
Banned
Join Date: Apr 2006
Location: IOWA/25' UP
Posts: 7,145
RE: single shot
---
Singleshots are perfect for turkey hunting. One shot is usually all you are offered and if you can't hit it in one it is over anyway. I hunt with a bow for turkeys though so what do I know.
HCH
06-30-2006, 04:52 PM
Nontypical Buck
Join Date: Feb 2003
Location: Heaven IA USA
Posts: 2,597
RE: single shot
---
For turkeys an inexpensive single shot is the "cat's meow"!!!
For a number of years I used an old hammer single shot, then I went "modern" with a semi-auto. I love the Benelli don't get me wrong; but I just had to have a single shot for old times sake.
I got a Baikal before they became Spartan Arms. As you can see it is the "target" model, hammerless, complete with awide ventilatedrib and ported....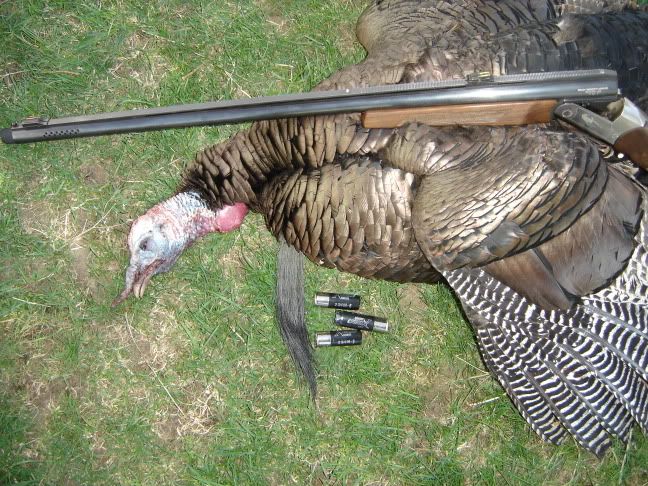 As has been mentioned, it kicks like a mule but one doesn't notice it so bad when a bird is lined up in the sights. It accepts 2 3/4 & 3" shells. I took this tom at about 40 yards with Winchesters 2 3/4" no. 5Extended Range shell (their version of Hevi-shot).
06-30-2006, 08:37 PM
Nontypical Buck
Join Date: Feb 2003
Location: Pa
Posts: 4,647
RE: single shot
---
Back in 2004 I was glad I had a semi auto!!!Missed with the first shot, missed with the second and knocked him out of the air with the third...
I have a NEF 10ga turkey gun also and it patterns great and I love to hunt with it, but 9 times out of 10 I'll have my 870
Posting Rules
You may not post new threads
You may not post replies
You may not post attachments
You may not edit your posts
---
HTML code is Off
---