Coyote or wolf?
09-30-2012, 04:45 PM
Coyote or wolf?
---
Ok guys, I know some have wolves in their state. We are told we do not.. Anyways in this trail cam video I have an animal I would like your opinion on. It is only on it for 4 seconds out of a 30 second video. The branch behind it had a doe walk by it 2 hours earlier. She was equal to the second branch from the bottom.. So let me know what you think... Thank You...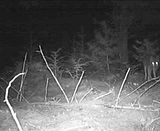 ---
Last edited by Phil from Maine; 10-01-2012 at

12:18 AM

.
10-01-2012, 12:21 AM
---
That is what I was thinking along with the fact our biologists have a limited a mount of dollars. So I think that it would surely be a coyote in their eyes.. We do not need any wolves here so fair game??
10-01-2012, 04:13 PM
---
While I agree with you C.I., I have a hard time understanding why we have a few that gets shot or trapped that are 80% wolf. For being here as long as they have been I have a hard time reconiseing that. Also across the river from here ( in New Brunswick ) one was caught last winter that was 100% wolf.
One was shot in this state around 7 or 8 years ago and a year or 2 later one was caught by a trapper. The one shot was in Western Maine and that guy got a bum wrap. The DNA was sent to 3 different states in order for them to say it was a wolf. The other was caught by accident by a trapper around 75 miles from here. Then the Feds wanted them released here. So whatever happened it came back that the wolves wouldn't survive here because they are breeding with coyotes?? That last line sounds sort of fishy but at least they will not be letting them go?
So it makes one wonder if nothing else. It also makes me wonder what I have on video.
---
Last edited by Phil from Maine; 10-01-2012 at

04:15 PM

.
10-07-2012, 12:38 PM
---
Id say Wolf, look at how wide his shoulders and head are. Coyotes are a little more slender and not as bulky/muscular.

I dont see wolves breeding with coyotes, unless perhaps a male coyote gets a young wolf female. I had a professor that did his doctorate studies in Yellowstone on wolves and say they are mortal enemies. Wolves will kill coyotes for no reason and leave there body to rot.
---
Last edited by OhioNovice; 10-07-2012 at

12:41 PM

.