caught me a trespasser!!!
07-04-2008, 11:09 PM
caught me a trespasser!!!
---

I'm always excited to go check the backyard trail cam and see what the "pet" doe has been up to. Recently she's been hanging out with a couple new friends, a little raccoon and a rabbit. Well today I pulled the card and she was out before dark as usual then I noticed several pics where she was staring up towards the house, as I clicked through, I had 6 or 7 pics just like this. I figured I must have banged around in the yard and drew her attention......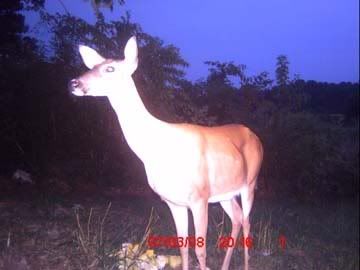 Then I click to the next picture and realize that the neighbor kid had been outside playing and saw the flash. He must have gotten close and saw the deer and she saw him. After a standoff which he won, he decided to get a closer look at the source of the flash. He is quite smart and figured out pretty quick that the flash was a camera so he decided to strike a pose before being called home by his parents! lol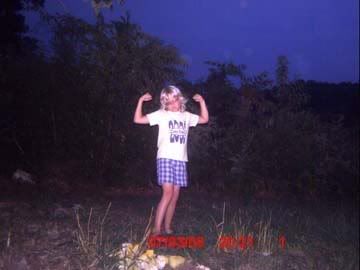 I went over today in uniform with the picture and teased him and told him I had evidence of his little trepassing episode. We all just laughed. This is now my favortie trail cam pic ever!

07-05-2008, 02:44 PM
RE: caught me a trespasser!!!
---
You should have played it up with his folks--You might have got some free yard work,,His punishment for tresspassing on sacred land an scaring the beeswax out of the "Pet Doe"
--Smart youngun''''LOL.
Posting Rules
You may not post new threads
You may not post replies
You may not post attachments
You may not edit your posts
---
HTML code is Off
---