The youngster - PICS - Update 8/20/08
08-02-2004, 08:32 AM
The youngster - PICS - Update 8/20/08
---
Just tought I'd share a few pictures of my son. We usually work on form, but today, I totally let him go and shoot on his own. I really don't want to take the fun out if it. He's always asking me about going to wheels and he always asks when we pass one in the store if he can get one. I keep telling him that's he's still young and really doesn't have to worry about the wheels, and he should just have fun shooting. He does love his longbow though. I figure when he turns 13, he can make his choice. I don't think it will take him more then a year to learn to shoot wheels if that's what he still wants to do for hunting (age 14). At least his roots will start traditional! Here's a few pics.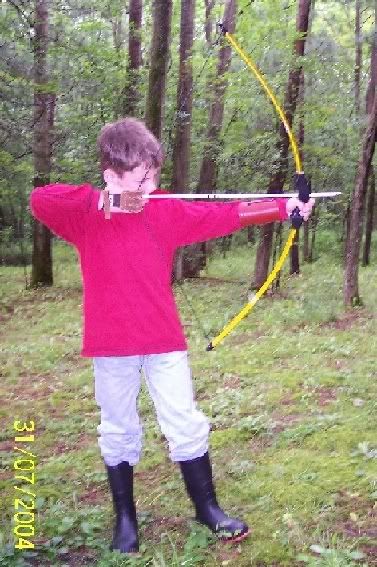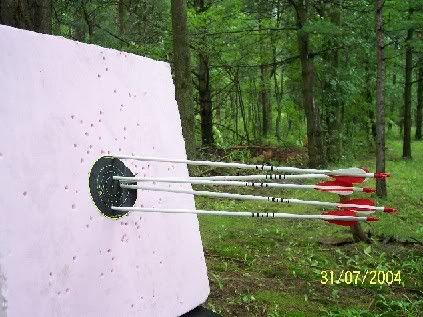 08-02-2004, 09:09 AM
Join Date: Feb 2003
Location: Ogle County IL USA
Posts: 141
RE: The youngster - PICS
---
That kids got better form than me, you wanna come to illinois and help me work on my form. Nice job with him, i'm starting my 3 yr old daughter with a longbow and she loves to shoot it. Hope her form gets that good. Thanks for the pics...
08-03-2004, 12:43 AM
Boone & Crockett
Join Date: Feb 2003
Location: Mississippi USA
Posts: 15,296
RE: The youngster - PICS
---
Great pics! With him stacking them in there like that, he won't ever need anything with sights on it. My son is 9, and has mentioned a compound a time or two. He has been shooting with me since he was 2, and had become an excellent shot. Then came a big growth spurt and glasses--really buggered his shooting for a while. He's gettin it back together though--hopefully before long he'll be back to shooting groups like you posted. Great job! Errrrrr.....you did teach him how to shoot didn't you? [8D]

Chad
08-03-2004, 09:23 AM
RE: The youngster - PICS
---
Great job! Errrrrr.....you did teach him how to shoot didn't you?
Well I'd like to think I did. - It's what I tell myself at least.
Thanks guys.
And I agree about the wheels, if he keeps it up, there will be no need for them. I'm trying to keep him away for a while yet. He will outgrow this bow by next year, and I'll get him a fairly decent youth longbow.
When he started shooting that group in the picture, I could actually feel the shot with him. ---You know how it feels when you make a good shot, how you don't even have to look at the target to know where the arrow went. He put four of them in there, and on the fifth shot I said, you make this one and we take a picture and call it a day. He actually hit the nock on another arrow in the target and deflected the arrow upward (It's the top arrow sticking in the target). BTW He was shooting between 8-10 yards.
This is the third year that he is shooting, he is 9 now. What really impresses me is his relaxed stance. He is starting to really get into the grove now.
Thanks for the kind words mshane. If you ever need help, give me a hollar!
08-03-2004, 11:48 AM
Join Date: Jun 2004
Location: Newburyport MA.
Posts: 28
RE: The youngster - PICS
---
When i first started archery i loved the speed bows and the nice big cams and all. But after reading some articals in my hunting magasins i favored them alittle more. Then i got 2 deer with my bowtech pro38, and after that i read all the articals on the awsome looking black widow bows and the other fine long and recurve bows with a different veiw[&:] i was thinking of it as more of a challenge. i told my grandfather about the no sights and stuff and he said your crazy. Now i want to get a nice looking long bow or a takedown recurve. I bet if you let him get wheels and he gets a deer he to will think of it as a step up in challenge too. But i could be wrong