Cock feather out?
04-26-2006, 02:12 AM
Join Date: Mar 2004
Location:
Posts: 881
RE: Cock feather out?
---
I shoot cock feather in. Basically I feel you have one touching instead of two. Also I quite driving quils into my hand.
I have tried at long range shooting 50/50 in and out and it didn't make a difference. My motto in life iswhy bleed if you don't have too, so I apllied this to shooting a longbow.
04-28-2006, 08:24 AM
RE: Cock feather out?
---
On wood arrows itis important to have the spine of the arrow lined up with the cock feather. Spine is measured across the grain of the shaft and that's the way it needs to bend. The spine position needs to come off thebow the same way. The bowstring needs to run perpendicular to the grain of the shaft. But aluminum arrows pretty much have a uniform spine around the axis of the arrow. I'm not much up on carbon arrows, so maybe someone else could chime in.

But remember that in the case above the cock feather is used as an alignment tool. It doesn't necessarily have anything to do with flight characteristics of the arrow.
BobCo19-65, I have heard that before, butI have also been told it realy doesn't matter? So my question to you is have you tested it and tried it both ways to see for yourself if it makes a difference or not?
04-28-2006, 08:58 AM
RE: Cock feather out?
---
Me personally testing wooded arrow spine alignment position? Nope not me. Don't need to reinvent the wheel or have much interest in that sort of thing.
I will say that the spine in wood arrows is the most pronounced though. Much more so then any other type of arrow. If you want any type of consistancy they will need to be matched. Most decent wooden arrow makers will do this for you though.
It's a lot different from shooting aluminum arrows. On an aluminum, the spine is much more uniform around the axis of the arrow as well as arrow to arrow. - Which BTW, I prefer.
Here is a good diagram that I found which shows why this is important: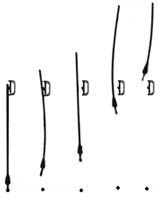 Thread
Thread Starter
Forum
Replies
Last Post
Posting Rules
You may not post new threads
You may not post replies
You may not post attachments
You may not edit your posts
---
HTML code is Off
---