Attach light to bow for hunting hogs at night
08-26-2004, 12:16 PM
Join Date: Aug 2004
Location: Lakeway (Austin), TX
Posts: 16
Attach light to bow for hunting hogs at night
---
I'll be bow hunting hogs at night (legal in TX except possibly not during deer season). Has anybody done this?

I thought I would use cable ties to fasten a 6V (dual CR123 cell) flashlight to the stabilizer and a remote pressure switch for the grip. Only problem is that the pins aren't lit up. I have Trophy Ridge sight, but even with the little gel-cell light installed the pins are too dark. If I could mount the flashlight further back so the light hit the fibes for the pin sight they would be bright, but I haven't figured out how to do this yet.

Some people use headlights, but I would prefer a bow mounted light. Any thoughts/suggestions?
08-26-2004, 12:45 PM
Fork Horn
Join Date: Mar 2004
Posts: 450
RE: Attach light to bow for hunting hogs at night
---
I took a maglight and drilled a hole in the end an put a bolt and nut in it the same size as my stabilizer hole and screwed it on to my bow. It works great. When I guide hunts at night I use it all the time.
08-26-2004, 11:35 PM
RE: Attach light to bow for hunting hogs at night
---
I have done the same as texasaggie.
Changed out the clear lens for a red lens.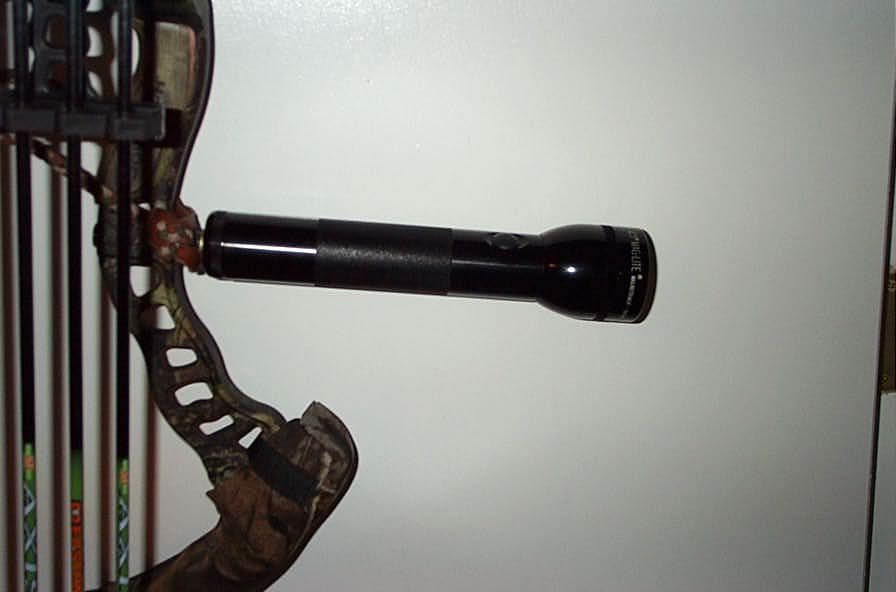 As you can see I have worked it so the switch is at the top of the light for easy on off operation.
I just turn the light on when the pigs come in the red light dont bother them at all.
08-27-2004, 06:31 AM
Typical Buck
Join Date: Feb 2003
Location: USA
Posts: 868
RE: Attach light to bow for hunting hogs at night
---
Whatever you do, don't move the light so far back that it will illuminate your pins from the archer side. The stray light will not only hit the pins but everything else on your sight. This will effectively cause anything beyond the sight to appear totally black (Same principle as the cop putting the light in your eyes when he approaches you.....just not as extreme)
I would opt for one of those smalll battery powered blue or violet lights like this one
Velcro it on your riser shining at the pins. They work great.
If you want a higher end solution, the Pro Light DX by LP archery works great. I have one and for hogs the thing just can't be beat.
Pro Light DX
09-02-2004, 07:03 AM
Join Date: Aug 2004
Location: Lakeway (Austin), TX
Posts: 16
RE: Attach light to bow for hunting hogs at night
---
I got a clamp from Cabelas for mounting a light to a shotgun/rifle and used it to attach a surefire flashlight to the stabilizer on my bow. The idea was to use my little finger to press the rear switch on the flashlight at full draw. It works, but I'm torqueing the bow a little when I actuate the flashlight, I haven't figured that one out yet, I could always just turn on the light before drawing. I also have a red filter for the flashlight on order.
Thread
Thread Starter
Forum
Replies
Last Post
Small Game, Predator and Trapping
Posting Rules
You may not post new threads
You may not post replies
You may not post attachments
You may not edit your posts
---
HTML code is Off
---