Help with Fletchings Hitting Far Right of Field Tips (W/ Pics)
04-17-2012, 05:53 PM
Help with Fletchings Hitting Far Right of Field Tips (W/ Pics)
---
Hey Everyone, I was hoping I could get some help with some probelms I am having with my bow. I purchased a Mathews Drenalin from my buddy last year. Its a 30" Draw and 66 pounds draw weight. I've had my draw length measure many times and always at 30" (I'm 6'6") and the draw weight is more than light enough for me.
Well, thats the background on the bow, here is the background of shooting with the bow. I've always had the inclination that my arrows were coming out crooked from the bow, especailly after I had to move my pins 6 inches right at 20 yards when I put on my Slick Trick Broadheads last year. Well, the other day I finally had time to paper tune my bow and was almost disgusted to what I found. My Field tips were entering the paper about 2 inches to the left of the fletchings (See Pics). Now, I thought that moving my rest left and right would help but no matter how far I moved the rest either way, the arrow still paper tested the same way. I even tried shooting 2 to 15 yards from the paper and the paper was about 6 feet from my target. I really don't know what the problem is. I shoot a drop away rest and have some suspision that the rest is toucing the 2 inch blazer veins I have on (had a little black rubbing on one of the veins on my arrows). I don't think the rest is dropping slow but not sure. My Mathews archery shop told me last year that when I suspected my arrows weren't flying straight he told me not to worry, which I was not very happy with.
Anybody have any thoughts on what would be causing this or anything that I can do to fix it. I live in Downtown Chicago and I'm already not happy with my Mathews guy so any help would be appreciated. I'll put some pictures below so you can see the paper, arrows and Bow. Thanks everyone, I appreciate you the time to help.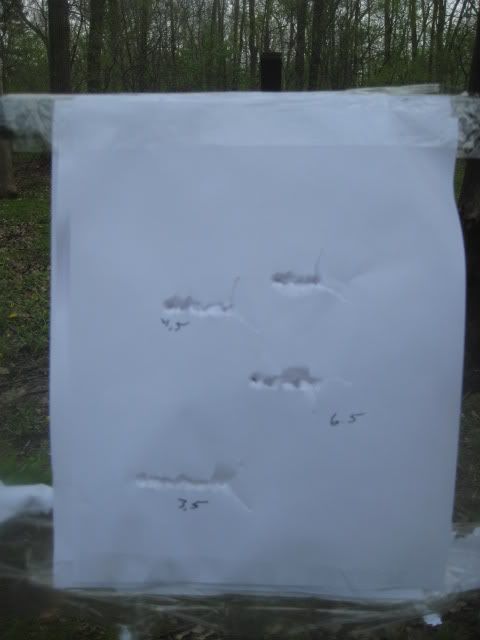 04-19-2012, 04:58 AM
---
I am by no means an expert but I did have a similar problem with my Drenelin a few years back. I don't know anything about Rhino arrows, but I'm thinkig you should try a heavier spined arrow. I was shooting 28.5" draw and about 63# with a Carbon Express 250 and had the same issue. I went to a 350 and solved the problem, basicly just a heavier arrow.
04-19-2012, 07:33 AM
---
There is two possibilities here that I can think of.

The first is that your arrows are underspined. To confirm this try dropping the draw weight to 60# and see if the bow will tune any better. If it does then you pretty much have your answer. Either shoot less draw weight or get stiffer arrows.

The second is that there may be some lean in the idler wheel. If so then you need to correct this. There is a forum on Mathew's website, I believe, and several threads on just what to do to correct it. I would do this first as it should be part ofan initial setup to begin with.

And I agree with your assessment of your present dealer. I think I'd be looking for another one; not necessarily a Mathews dealer, but one who understands that an arrow should leave the bow in a straight line and stay that way.

Hope you get this worked out.
04-21-2012, 10:42 AM
---
Thanks guys, I appreciate the help. I'm going to try what you guys suggested and see if it helps. I have an arrow from my buddy I bought the bow from and I'm going to shoot that and see how it reacts. He switches bows every couple years and his are always tuned perfectly so if that arrow shoots better I'll know that the arrows are probably the problem.

I've been thinking about trying out the Z7 lately and if this becomes too involved I may start leaning that way. I was going to wait anouther year or two but if I have to start spendning lots of money to find the problem I might as well make the shift now. Thanks again guys, I appreciate it!
04-21-2012, 01:21 PM
---
fastetti - I experienced a similar problem with a Martin Bengal a few years ago. It was driving me nuts. And I know my solution is going to probably get me a lot of bunk from some other members but here it is anyway. I had a sneaky suspision that it was the Ripcord arrow rest causing the problem. So I switched to a NAP Apache dropaway rest and the problem went away. And to prove my point, I took the Apache off of my Firecat (which was tuned perfectly) and installed the Ripcord and the problem came back. I believe the older Ripcords (like the one you have) aren't fast enough to get out of the way of the fletching.
Well that was my experience - take it or leave it.
BTW, I don't paper tune anymore. I set up for centershot and then use the walk back method followed by BH tuning.. Works well for me and I have been shooting better in the past 8 or 9 years than I have the other 40+ shooting a bow.
04-23-2012, 06:38 PM
---
Thanks guys, some more great ideas. Bronko. Ive been a little concerned with my rest but I'll admit, Ive only been really into bow hunting a few years so not sure about the drop aways. Been gun hunting since I was 12, so 20 years so am really just getting into bow hunting the last few years. I'm afraid to buy a new rest and have it not be the problem and be stuck with a rest I have no use for.

The bow was perfectly tunes before it had blazer vains and the draws weight was at 62 pds. Im not sure if the added height of the blazer veins and the added speed is effecting it enought to have the vein touch the rest. I'm thinking I may have to hit bass pro (closest archery store around) and pick up a new rest and shoot it there and see if it helps. I'm just not trusting my Mathews dealer enough to have him do any more work to it and I don't know of anymore within a hour of me in Chicago. Plus, if the rest doesn't solve the problem I can return it pretty easy and put the old one on.

First though I am going to try a stiffer arrow that I have and see if it helps but after looking at my bow some more I have a suspicion that it is the rest.

Again guys, thanks for the help. I can't tell you how much I appreciate it. With the Mathews dealer giving me some doubts and not having a great experience with Bows its good to get some feedback from some knowledgable people!
05-01-2012, 11:09 AM
Nontypical Buck
Join Date: Feb 2003
Location: ELK GROVE CA USA
Posts: 1,251
---
1- contact with rest
2- spine of arrow
3- torqueing the bow
4- some people just cannot get a good tear no matter what they do, you can try other methods to get center shot or close to it. (walk back for example)
Posting Rules
You may not post new threads
You may not post replies
You may not post attachments
You may not edit your posts
---
HTML code is Off
---