Anyway to adjust sights side to side?
09-10-2009, 11:47 AM
Nontypical Buck
Join Date: Dec 2007
Posts: 1,517
Anyway to adjust sights side to side?
---
So I'm basically a newb to bows. I've shot them since I was younger but never really gotten into them too much. In my younger days I shot either long bows or a compound bow that didn't have sights on it. I did fine at 10 yards or so and have always been decent at a range like that without using the sites. It's not far at all though. So anyway, I have another bow I bought used for a really good price a few years back. I got it for hardly nothing with a nice case and a a ton of broad heads and a few arrows. It says it's a Golden Eagle on it.
Anyway, I hated the arrow rest part on it so I got a whisper biscuit and put on it. This was a year or two ago and I've maybe shot it 10 times since then. I messed much with the sites just a little. Anyway, I got it out today and shot it some. It was shooting to the left about 6" to a foot. It doesn't seem like you can adjust the sights anymore to the left. I think it's due to the whisper biscuit as it sits farther to the left than the regular arrow holder piece it did have was.
Here is an example of how it's shooting. This was at 15 yards. I shot that holding the end of the pin on the right edge of the blue in the target. So to hit in the middle of the target I have to hold it right on the edge of the blue on the target. As in the outside blue.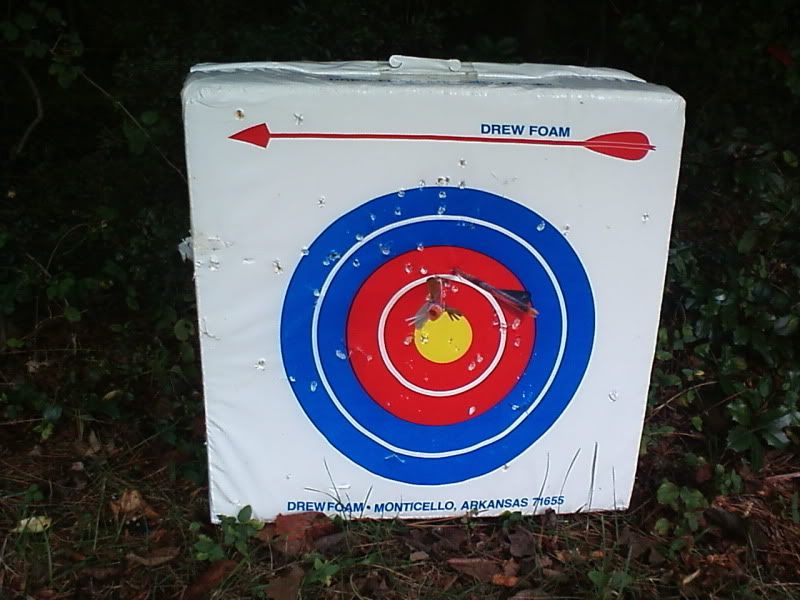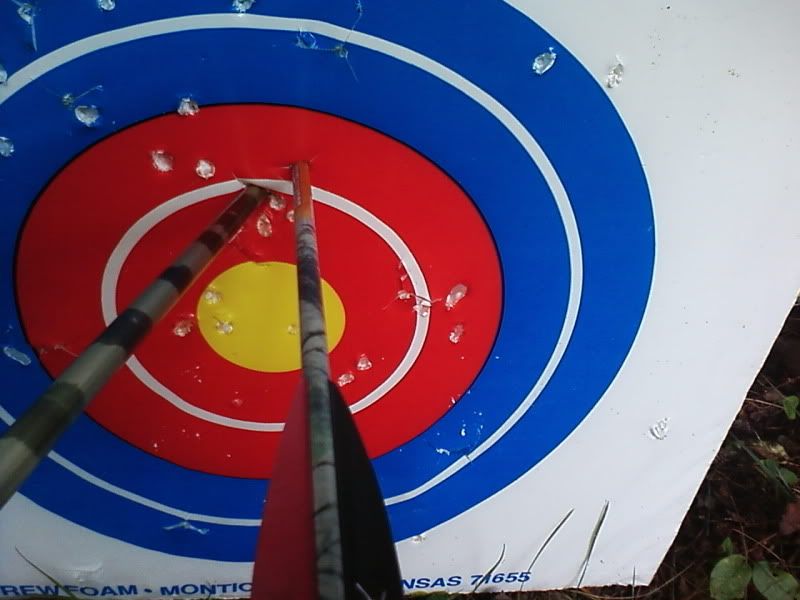 Is there anything I can do here? You can't move the pins can you? Should I try to move the whisper biscuit or what? I can't move it to the right anymore as right now it's as far as it will go without hitting the bow. Any suggestions? Or should I just hold it to the right of where I want to hit?
09-10-2009, 12:00 PM
---
can you slide the whole sight piece to the left. do your arrows fly ok-are they planing or kicking out? if so the whisker biscuit needs to be moved. Are you sure the pins cant be moved? post a pic of the bowsight-that would help.
09-10-2009, 07:46 PM
Spike
Join Date: Feb 2008
Posts: 59
---
Definatly go to a shop and have them center your rest, if you shot those arrows from the same location they are really kicking. After they set the rest...don't move it unless you paper tune. If you decide to shoot through paper don't move the rest, just the sights from then on out. There are some really good books out there that can help you...I have one that is A Bowhunters Guide to Accuracy, another called Setting Up the Perfect Hunting bow...for about 15 bucks off amazon or a bookstore they will really help you shoot and understand your bow better.
09-14-2009, 04:56 AM
---
Actually, I think there are probably a whole lot of other questions that need to be asked and answered first. Such as: Is the bow the proper size for you, particularly the draw length? Is the draw weight something that's appropriate for you?

Are you using "fingers" or a mechanical release with this bow? If fingers, how are they placed on the string? If a release, how is it placed on the string?

What about your anchor points? Where are they, and are you 100% consistent in your use of them?

Maybe you can gather that there are lots of things that support the suggestions that you get yourself and your bow to a good archery shop and ask for help.
Posting Rules
You may not post new threads
You may not post replies
You may not post attachments
You may not edit your posts
---
HTML code is Off
---