Wisconsinites having any luck?-
10-11-2007, 02:41 PM
Join Date: Jul 2007
Posts: 118
Wisconsinites having any luck?-
---
With turkey at all? I've been out to spots that conisistently hold turkeys but havn't seen a single thing! Im not sure whats going on, i guess i have to rethink my tactics a bit. Anyone else having the same bad luck?
10-11-2007, 11:40 PM
RE: Wisconsinites having any luck?-
---
I have been seeing them! I was hunting them with the bow and was full draw on one but couldn't see the body just the head so I didn't shoot! I also missed a big old Tom with the shotgun! He was actually to close and I didn't take the safety off in time, needless to say it was an awesome hunt! I killed 2 Does this season, 1 opening day and the following Sunday! Good luck, should be getting good here real soon! I'm going out in a in the AM to try my luck now that the wind has died!
10-15-2007, 08:39 AM
Fork Horn
Join Date: Sep 2007
Location: Wisconsin
Posts: 239
RE: Wisconsinites having any luck?-
---
having a great time trying to take a turkey with my bow. Been drawn twice with out getting busted but one just walked out of range and the other hung around at about 35 yards and just never gave me a clean look, too much cover. Last spring, my 5 day season lasted 20 minutes. I got a 22 pound Tom with a 10 inch beard and 2/4" spurs.
Deer season has been frustrating. I passed on a 4 pointer who ran off and got shot by my friend. I passed on a doe and fawn wich ran off and the doe got shot by my other friend. The next day the fawn bedded under my stand, I let it walk off toward the neighbors and they wacked it. I counted 18 white spots on that fawns left side, I doubt it weighed 50 lbs. and the nieghbors field dressed it just on our side of the fence.
That was opening weekend, haven't seen a deer since. What kills me is that's an hours drive to hunt and I can look out my back window and see deer like these below that I can NOT hunt. Private land with 2 ponds bordered by Federally protected wetland (cattail marsh) with a strip of woods that sepperate the marsh from corn fields....A deer haven. These two bucks, 10 pointer and 8, are heading back to the cattails to bed after raiding my garden, the chainlink fence doesn't even slow them down.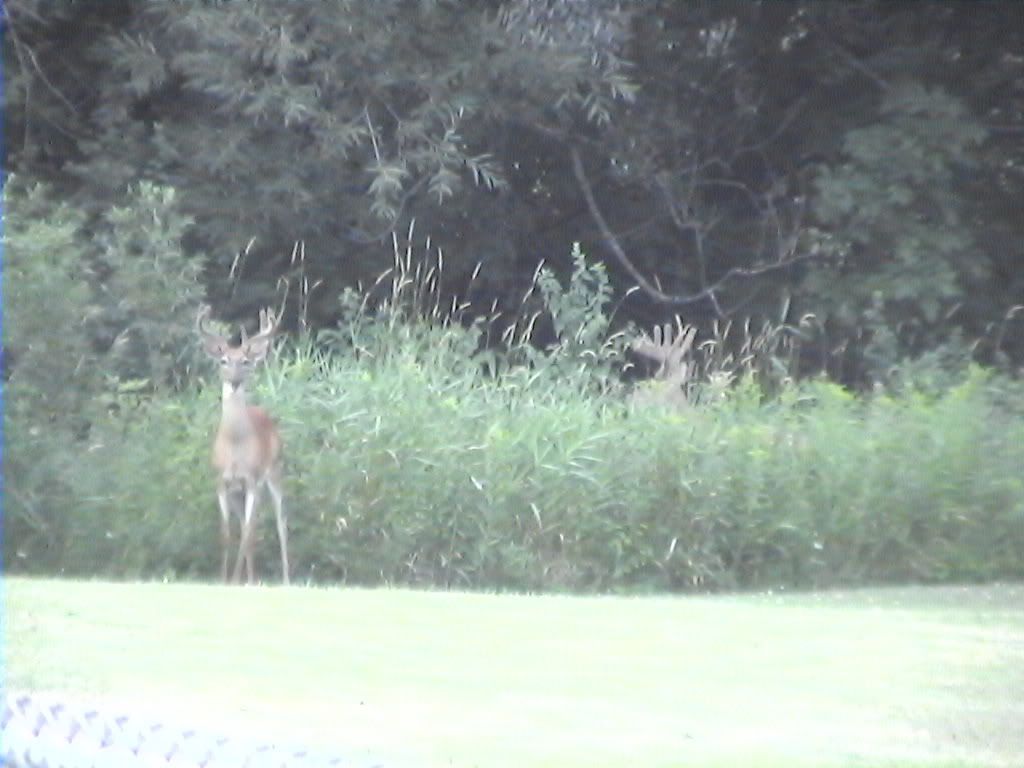 10-15-2007, 09:11 AM
Fork Horn
Join Date: Sep 2007
Location: Wisconsin
Posts: 239
RE: Wisconsinites having any luck?-
---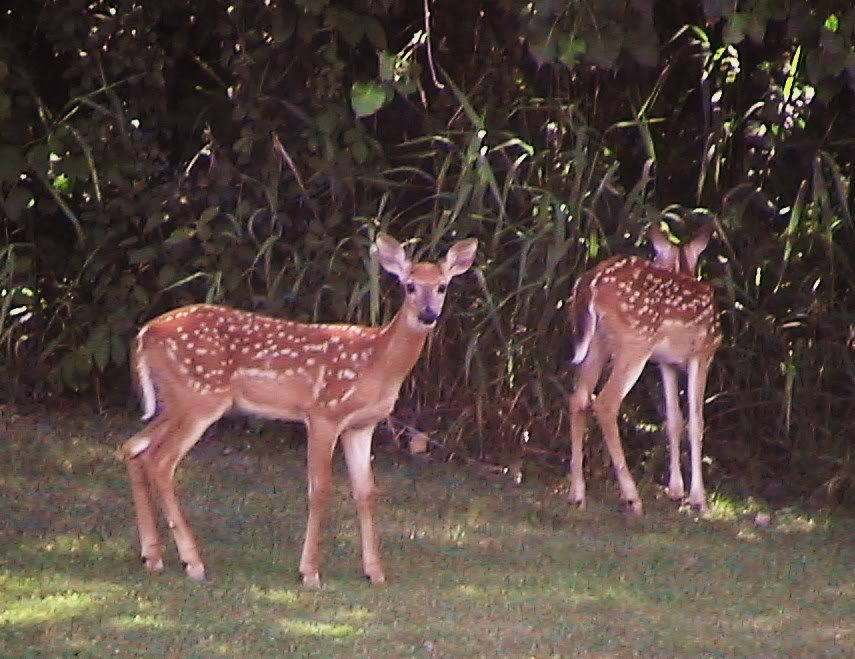 And here's the next generation of garden raiders. This pic was taken the same week as the bucks above, the 1st week in July. I saw the twins yesterday and they're almost as big as mom now. There's no reason that a bow hunter couldn't hunt these deer safely once beyond the property that they are on in the pics. Gun season the deer are thick because they know nobody can hunt there. I've got a 100 x 110 foot back yard completely fenced in (not by choice) with a big garden. I'm tempted to hunt it. lol I think it was mom and twins who got my watermelons last week!
Thread
Thread Starter
Forum
Replies
Last Post
Posting Rules
You may not post new threads
You may not post replies
You may not post attachments
You may not edit your posts
---
HTML code is Off
---