Herter's Shooting Bench opinions?
11-30-2016, 09:47 AM
Fork Horn
Join Date: Mar 2012
Location: Wisconsn
Posts: 406
Herter's Shooting Bench opinions?
---
Has anyone bought or used this product? The current sale price seems pretty good and is right in my Cabela's points budget. Lots of good reviews overall. Curious if anyone here has experience with it and an opinion for the rest of us that might be looking into this type of product? Thanks!
http://www.cabelas.com/product/HERTE...CH/2201557.uts
11-30-2016, 03:54 PM
Fork Horn
Join Date: Dec 2013
Location: Pa.
Posts: 476
---
I was gonna post the same thing.I too seen the ad.I seen some good reviews and bad.One person contacted the Co.about breakin off the support for the rifle and they told him no replacement parts are available.I,m thinkin of just usin a standard table or makin one and just use sand bags as I have been or get a lead sled.
12-01-2016, 07:58 AM
Giant Nontypical
Join Date: Jan 2011
Location: Allegan, MI
Posts: 8,019
---
If anyone wants to order anything from Cabelas with their Cabelas credit card they have a one day free shipping deal going on for today only with no minimum purchase required. The promo code is 16CLUB1
12-03-2016, 03:18 AM
---
I made my own shooting bench from Internet plans for a booger bench. I have about $30.00 into mine. $20.00 were for the folding legs, rest is lumber and stain.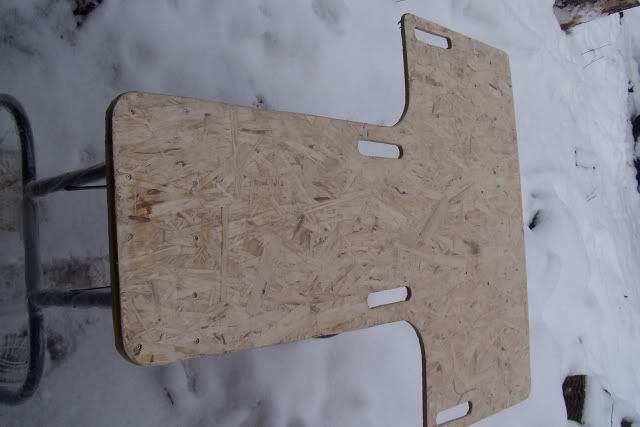 Yes the balance point is really the forward hand holds. I didn't believe the plans when I built it.
Yes I built the rifle rest also.
Al
---
Last edited by alleyyooper; 12-03-2016 at

03:23 AM

.
12-03-2016, 04:04 PM
---
Cal, I have the Herter's bench from Cabelas that is in the op under "you may also like" beneath the one for $179.00. It is shown for $169.00 but I paid less than that on sale. I like it because it is stable, the seat distance from the table is adjustable and it fold flat so I can hang it on my garage wall without taking up a lot of space. The only thing I don't like about it or I would change is the way it opens and closes, it is a bit of a pain, but not enough so I regret buying it.
12-03-2016, 04:39 PM
Giant Nontypical
Join Date: Jan 2011
Location: Allegan, MI
Posts: 8,019
---