ammo. size
07-10-2007, 05:58 AM
RE: ammo. size
---
ORIGINAL: backwood

I have a 223 what grain size do i need to use for hog hunting
The 55 or 62, whichever groups the tightest in your gun. You are shooting for an ear hole, so accuracy is the most important thing.
07-10-2007, 08:41 AM
RE: ammo. size
---
This is BloodbrotherBob a buddy on another Forum and the Rifle he put together.
It is 99% DPMS Panther Arms AR-15 / 223Rem using 55gr standard soft point bullets. It has a Barska 3x9x42mm scope with illuminated recticle and 500 yard bullet drop compensator. The stock is from a colt. It has alot of attitude packed in it as well!
Mine was estimated at
260#

Standard 55gr softpoint which busted his rib on the way in and lodged in the hyde on the far side, it mushroomed nicely.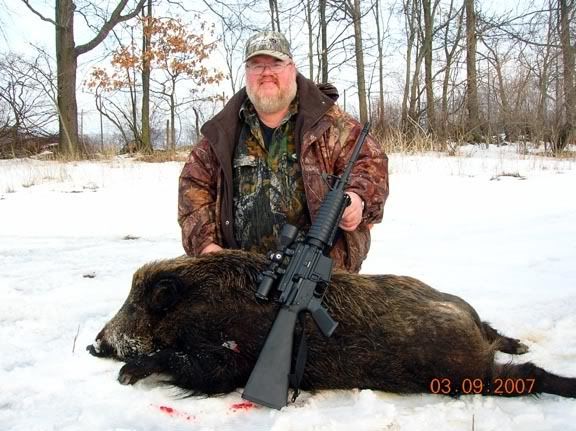 07-12-2007, 04:33 AM
RE: ammo. size
---
That's a very nice Euro! The little bullets will do it if applied properly. To rephrase the real estate people, it's all about precision, precision, precision. Mighty fine looking rifle he's got built there.
07-12-2007, 11:46 AM
Join Date: Feb 2003
Location: Hanalei HI USA
Posts: 44
RE: ammo. size
---
.223 is a little light for hogs. It can be done with proper shot placement but I would recommend using another rifle if you have access to one. Use the biggest bullets available and aim for the brain.
07-13-2007, 05:15 AM
RE: ammo. size
---
Biggest pig I ever killed was a sow, weighed in at 378#. Shot her at around 230 yards.... with a .22 Hornet right behind the ear. It was either the luckiest, or best shot I have ever made. Landowner handed me the rifle and said... shoot that big one. So I did. I was out there to bow hunt... funny how things work out!

Hogs are tough to kill if you hit them in the wrong spot, but they do have a few kinks in their armor.

07-14-2007, 03:05 PM
RE: ammo. size
---
My husband witnessed a 9 year old boy drop a 100# hog with a 17HMR last turkey season. If you put it in the right place they will drop like a rock! I don't have a .223 so I can't say which specific bullet works best other than the one that is placed correctly.
Thread
Thread Starter
Forum
Replies
Last Post
Posting Rules
You may not post new threads
You may not post replies
You may not post attachments
You may not edit your posts
---
HTML code is Off
---