Savannah Ga.
03-02-2006, 04:49 PM
Join Date: Feb 2006
Location: La Salle, Illinois
Posts: 20
RE: Savannah Ga.
---
I will be going to visit my sister and brother in law down in Hilton Head in mid April. I have my brother in law looking into the same thing. I know there are plenty of hogs down there because they both see them everyday on there way to and from work. Now all we need to find is a place to hunt them. Any ideas you here of I would be interested in as well


03-04-2006, 04:50 PM
RE: Savannah Ga.
---
Hog season on Ft.Stewart ends March 15th,and resumesMay 16th,after Turkey season ends on May 15th.Basically year around,besides during Turkey season,andthat short time right before turkey season comes in.High powered Rifles are allowed in firearms areas.There are special archery only areas,and bow,muzzleloader,or shotgun w/slug areas also.I'm 99.9% sure you can use rimfire rifles(.22,.17HMR)in the muzzleloader,shotgun areas.
Hunter Army airfield is also included in the pass you buy,and is in Savannah on Hwy 204.No rifles are allowed there(Bow,shotgun w/slugs,or muzzleloaders only),and hog hunting dates are the same there.
Also Hunter safety certificate is required no matter what age you are or how long you've been hunting.Just a heads up.
Link to Ft.Stewart
http://www.stewart.army.mil/dpw/wildlife/
No other public land is available to my knowledge until August 15th when squirrel season comes back in.To my knowledge.When that comes back,there is a WMA at Richmond Hill,that I have been told has hogs.
There is also Savannah NWR,but I'm not sure of it's hunting dates.It is along I-95 just across the South Carolina line here in Georgia.There are other ways to get to it besides that though.Hope this helps.
03-08-2006, 07:11 PM
Join Date: Jan 2006
Location: southeastern in
Posts: 44
RE: Savannah Ga.
---
i think you guyshave gave me a vacation idea....I was stationed at Ft Stewart in the early to mid 90's . Always wanted to make a trip back I found that a 3 day hunting Lic is only $30 and i assume my hunters saftey is still good
03-08-2006, 07:46 PM
RE: Savannah Ga.
---
Hey platterdr.Shoot me a PM,before you decide to come,and I'll show you around,and do my best to help you get a hog.
I have shown this pic before,buthereare2 sows I shot at Ft.Stewart with 1 shot from my .30-06 Christmas Eve. 2004.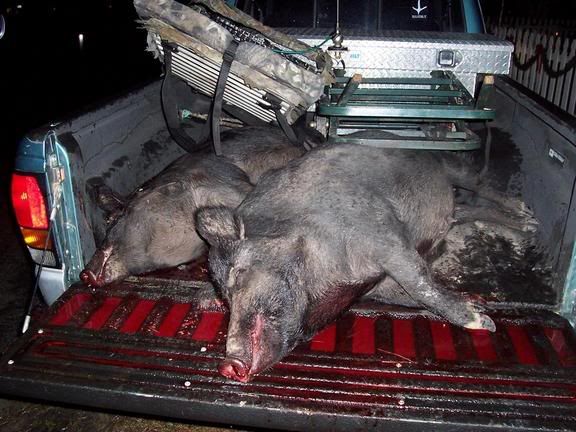 And here is a sow I shot out there July 3rd 2005.Just in time for the 4th of July party.The hunt lasted 10 minutes.
They're not all that easy though.I knew where a favorite wallowing hole was,and went there during mid-day.
I have seen alot of sign pop up in the last few weeks,and saw a few hogs also.They seem to be moving more since most of the deer hunters are gone.I'm going to try and get one more before the cut off date of March 15th.
03-09-2006, 06:00 PM
Join Date: Jan 2006
Location: southeastern in
Posts: 44
RE: Savannah Ga.
---
i will i am seriously considering doing this I have wanted to go to Stewart for a while just to see how things have changed since I left .....I am going to give a call to the DNR there to make sure my hunter saftey is still on file not sure why it wouldn't be though......i will get in touch with you
Thread
Thread Starter
Forum
Replies
Last Post
Posting Rules
You may not post new threads
You may not post replies
You may not post attachments
You may not edit your posts
---
HTML code is Off
---