Trigger adjustment, Ruger 77
04-17-2014, 08:32 AM
Giant Nontypical
Join Date: Jan 2011
Location: Allegan, MI
Posts: 8,019
04-17-2014, 10:52 AM
Typical Buck
Join Date: Apr 2013
Location: Buffalo, WY
Posts: 992
---
You can monkey with that factory Ruger trigger till possums fly and never get it as nice as a SpecTech aftermarket trigger.
About 70 bucks and as easy to install as putting batteries and a new bulb in a flashlight.
Best thing I ever did for my Mod 77 35 Whelen.
04-27-2014, 07:16 AM
Typical Buck
Join Date: Apr 2013
Location: Buffalo, WY
Posts: 992
---

Better than any Rem 700 trigger I've ever shot and just about in the class with a well adjusted Timney or factory Kimber trigger.

To beat an old phrase to death, it breaks like a glass rod. It is also easily adjustable and has held its adjustment through quite a bit of shooting.
Any future Rugers I acquire will be fitted with a SpecTech right away.
05-01-2014, 12:22 PM
---
Sun came out yesterday and I found I didn't have any pressing things to do so took the swift to my back yard range.
New one last fall.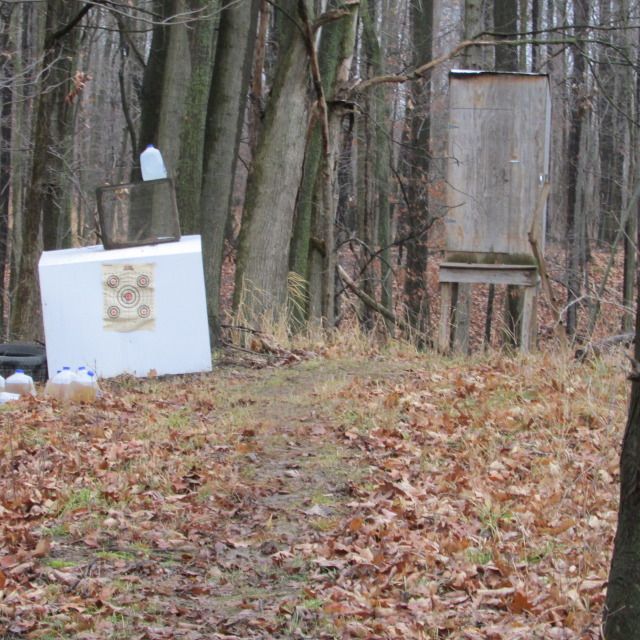 After a bit of 50 yard work (about 10 rounds) since the action had been out of the stock to get it sighted in again for 200 yards I took a trailer load of water filled milk jugs to a cut bank on the creek flood plain. Range was 175 ranged yards. Was a lot of fun watching those jugs explode and the water fly. One I had stapled a chunk of card board to a tree with the jug in front. A 55gr. Hornady A max exploded the jug but not even a tiny bump in the card board that bullet just exploded it seemed.
I also shot some 55gr, Sierra spire points the normal load I had worked up., they exploded the milk jugs but didn't do the damage that the A Maxes did. Finally the rain clouds rolled back in so I packed things up so to get out of the rain. I went back and got the scrap jugs when it cleared in the evening.
Sure like that trigger now and nothing like exploding water jugs for range work. Can't hardly wait to try those A maxes on a coyote.
Al
05-02-2014, 10:07 AM
Spike
Join Date: Dec 2013
Location: n.e. of Houston, Tx
Posts: 21
---
Late to post about what I did to improve the trigger pull on my Ruger Tang Safety 77, but I ended up with a pull well under 2 lbs by installing a Rifle Basix trigger sear for the tang safety for what I recall was less than $50. This is not a complete trigger assembly, just the trigger itself. Been 3 or 4 years ago, so I'm not sure exactly every thing I did. Definitely, readjusted the appropriate screw on the original trigger assembly to lighten pull. May have replaced spring with a lighter one. Did some honing on the Rifle Basix trigger sear and what it contacted on the cocking piece. Used a very fine Arkansas hardstone my father used back in the days of shaving with a straight edge razor blade to hone with.

LOL, after reassembling every thing and trying the trigger for the first time, rather surprised by how lite the pull was. So light, I recocked the rifle and bounced the butt of rifle on top of my workbench and then the floor to see if it would release. It didn't. Slammed shut the bolt a number of times and still trigger wouldn't release. Would shoot the rifle for about a year on a very regular basis at range I'm a member and never a problem with it. However, when I switched shooting from one rifle with a heavier trigger pull to my tang safety rifle, there would be times I'd carelessly put my finger on the trigger before I was finishing sighting my crosshair on the target and due to its light release, the rifle fired. I readjusted the original trigger assembly screw to a heavier pull, which it is where it is still set.
Posting Rules
You may not post new threads
You may not post replies
You may not post attachments
You may not edit your posts
---
HTML code is Off
---