Boyd Stocks
03-04-2011, 03:48 PM
---
Sometimes you might have do some fitting, on my Mod.116, Sav, weather warrior I had to take a bunch out of the barrel Chanel, and some out of the action..you want to make sure the barrel isn't touching..
a dremel tool is a must..good luck
---
Last edited by glockman55; 03-04-2011 at

03:50 PM

.
03-05-2011, 06:14 AM
Nontypical Buck
Join Date: Nov 2008
Posts: 1,143
---
Nice looking rifle Glockman.I didn't get mine yet cause i'm still laidoff.I'm gonna have my gunsmith fit & bed it for me when i get it.
03-05-2011, 06:30 AM
03-05-2011, 07:56 AM
Fork Horn
Join Date: Jun 2009
Location: orygun
Posts: 379
---
got the dakota for my 22-250,ill let ya know when done
03-05-2011, 05:13 PM
---
I bought one last year for my Winchester Mod 70 in a 30-06. It was a finished laminated stock. Nice looking, but I could never get it to fit right. Floor plate wouldn't open, once I got that to work ok, the bolt couldn't open. I put the old stock back on.
03-06-2011, 08:50 AM
Nontypical Buck
Join Date: Nov 2008
Posts: 1,143
---
03-18-2011, 08:59 AM
Spike
Join Date: Mar 2011
Location: SE Kansas
Posts: 9
---
Installed serveral in my shop. Good quality at a very good price. Never had too many issues fitting or finishing their stocks.
04-02-2011, 06:52 PM
---
Jerry,
I just got my Win Model 70 (30-06) back from the gunsmith. Fitted, glass bedded, aluminum pillars, custom crown on the end of the barrel, new Leupold base and rings, and a new Swaro to top it off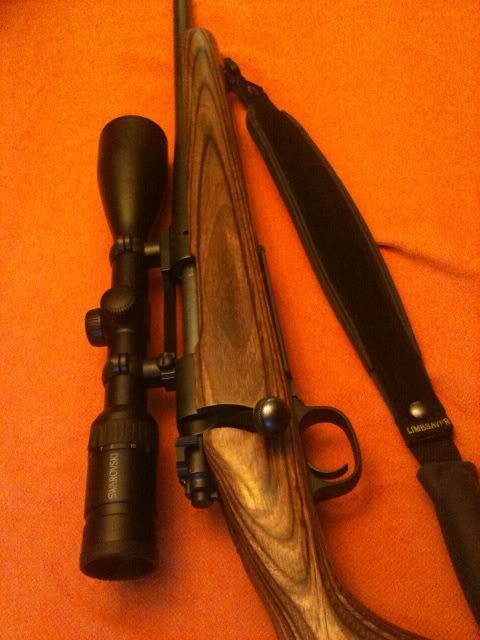 04-03-2011, 06:28 AM
Nontypical Buck
Join Date: Nov 2008
Posts: 1,143
---
Very nice Rob!!!!! That's the color stock i'm looking to get...nutmeg.Rob if you dont mind me asking what did the smith charge you for the work you had done?
04-03-2011, 07:41 AM
---
Jerry,

Fitted, glass bedded, aluminum pillars, and custom crown on the end of the barrel came to $180. I also bought the Leupold base and rings from him and he mounted and bore sighted the scope for $60.

Hope this helps . . . Rob