6.5x284
05-19-2007, 08:09 AM
RE: 6.5x284
---
It should be a fine deer cartridge. The case is shorter than a 30-06 but much fatter- it holds about 2gr less water than a 30-06 case. 6.5mm bullets especially 120gr and up are superior to .30 bullets in my opinion.

I don't have a 6.5x284, but shoot a cartridge that is a .284 case necked up to .30, which was most likely the original cartridge that gave Winchester the inspiration for the .284 as there isn't another american cartridge like it- 7.5x55 Schmidt-Rubin

05-22-2007, 09:05 AM
Typical Buck
Join Date: Feb 2003
Location: Rocky Mtn. Hse. Alberta
Posts: 823
RE: 6.5x284
---
I just read a bit about the 6.5/284 in a shooting mag. (forget which one). Sounds like a winner. I have used its big (long action) brother the .264 Win. Mag. for a lot of years.

Robin in Rocky

05-22-2007, 09:11 PM
RE: 6.5x284
---
I don`t really gun hunt, but I am building a rifle in 6.5-284 right now. I plan on using it for long range varmint hunting.

I have a buddy who builds customs long guns for a living, and he uses this caliber almost exclusively. He has taken several elk at over 400 yards with it, all one shot kills.

05-22-2007, 11:42 PM
Typical Buck
Join Date: May 2003
Location:
Posts: 920
RE: 6.5x284
---
I recently had Cooper build me one of their M22's in 6.5x284. Having just started load development at 300 yards, it shows promise with several loads shooting 3/4"- 1 1/2" using 140 SMK's. My intended purpose for this rifle is culling does out to 5-600 yards.
05-23-2007, 02:12 PM
Join Date: Apr 2005
Location: Missouri
Posts: 1,429
RE: 6.5x284
---
You betcha!
I built one on a rem 700 action a couple of winters ago. Its a jim dandy.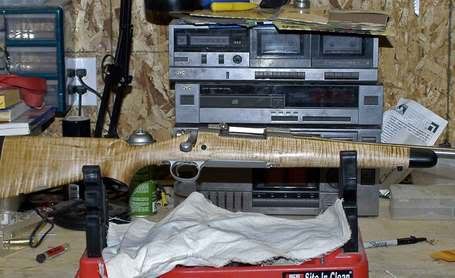 I've shot deer with mine and it is an absolute hammer of thor. My father has shot Red Stag, Himalayin tar, Chamois, Pronghorn, and deer with his. His comment was: "It kicks like a 243, flies like a 7 mag, and hits like a 338; I think I like it!"
One thing though, DO NOT build a 6.5-284 on a short action. If you load 140's you will not be able to chase the lands and utilize the magazine. My father discovered this, so I built mine on a long action.
Thread
Thread Starter
Forum
Replies
Last Post
Posting Rules
You may not post new threads
You may not post replies
You may not post attachments
You may not edit your posts
---
HTML code is Off
---