Name that fish..
03-24-2012, 02:32 PM
Name that fish..
---
Characteristics..
Does not eat any known bait...I snagged it with a crankbait by accident..
Very rough pre historic like scales...
Vegetarian for the most part..
Found in all the central FL lakes..
03-25-2012, 01:19 AM
---
Looks like somethig i have seen before somewhere- looks somewhat familar but cant place it- its a fish "sold" ( at the fish market?)in about every state?
Yes sir..sure is and surprising enough sold in probably every state..(-: that was a hint..
This is a replica of a odd one they catch here( but i have seen diffent fish& picts that made them look a bit diffent then this to)
03-25-2012, 02:27 AM
---
Walmart to eh- must be pretty commen hmmm.
Do ya know the one i put up there?( they get pretty big- pretty commen to in one form or another)
Just a post from the poltical forum i though you might like( nothing to do with poltices tho)
http://www.youtube.com/user/sleepymanbanjoboys
03-25-2012, 07:10 AM
---
Yes jewfish?
500 Pound Goliath Grouper Sea Bass Jewfish Fish
More videos for jewfish Ľ
-i thought you maybe ment grouper... its not that though- nope.They dont get that big here (anyways -the one i posted lol.
Hint-The fish in my pict do look longer of body then that example imo- but i think its just the angle the pict was taken from is all.
Heres the mouth of another of the same kind( as my first pict).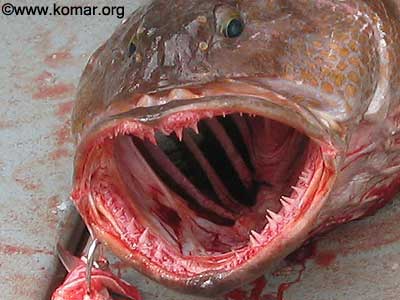 ---
Last edited by Knightia; 03-25-2012 at

07:22 AM

.