Newbie Crossbow Questions
12-04-2007, 09:01 PM
Newbie Crossbow Questions
---
My dad just inherited a Horton Max Impact crossbow first does anyone have one and how do you like it. We were unable to find the manuel yetI might have to order one.The crossbow has a Horton Multi-A-range scope. My first question is there is a dial on the side of the croosbowthat goes from 1-9 is that to change yardage or do you just set it and leave it alonewe got it sighted in at 20 and moved the dial to 3 and tried 30 yards and was way off. I know the scope has lines for 10 to 50 yards but what if you are dead on at 20 but not at 30 how do you adjust that. Also do you guys notice a difference when shooting from a treestand my dad shot a doe dead on at 20 yards and shot under her we are only 15ft upI didnt think there would be a big difference. Last he is shooting carbon express arrows he wants to get lumenoks for it but we cant get the ends out of the arrowsany tips. Well sorry for being long or just confusing and thanks for the help guys.
12-05-2007, 06:52 AM
Nontypical Buck
Join Date: Feb 2006
Location: arkansas
Posts: 3,147
RE: Newbie Crossbow Questions
---
RBH: The dial is called a "Dial-A-Range" system and is designed for singlecrosshair scopes or red dot [1] type sights. It's also been called "Dial-A-Rage" due to rope cockers moving it unbeknownst to the shooter and ruining a shot. W/ a multi aim point scope, it's a redundant system and some guys have had good luck pinning them in one position. Your Horton scope will only be on w/ one speed bow and one arrow weight at the other ranges past 20 yds. It will probably work fine [close enough] for deer hunting. There are some scopes made that will allow you to be dead nuts at all the other ranges regardless of speed [250-350 fps] or arrow weight. Tru-Glow makes one and Excal makes two called a Vari-zone or Lumi-zone. Hope this helps some, good luck!!

12-05-2007, 12:29 PM
Nontypical Buck
Join Date: Feb 2006
Location: arkansas
Posts: 3,147
RE: Newbie Crossbow Questions
---
I don't know the correct number to leave it on. What it does is tilt themount for various ranges. It's possible to tilt the scope beyond it's internal adjustment ranges. If "2" doesn't work, try "1" or "0". Ideally, you want the scope parallel to the rail.
12-05-2007, 07:29 PM
RE: Newbie Crossbow Questions
---
I have never heard of the Max Impact. Sometimes I think Horton changes the names of there CB's just to give the guy in the print department something to do. But The D-A-R is a pain for most. Just like the scope it never seems to be right on at the farther ranges. There must be somebody very high up that came up with the D-A-R because there sure does not seem to be the feed back on it to support it. As far as the scope you are at the same point me and alot of guys have been at with it. Horton says that it is for a average CB and average arrow weight, but I have yet to find a guy that says his 30, 40 and 50 are all right on. I used my Horton Multi Range for one year and then switched to the Excal scopes, they are the best scope sold by CB makers IMO. On both my Varizone and Lumizone it is dead nuts on from 10 to fifty yards. I set the D-A-R on my super max to "0", when I used to have it on two, would think sometimes it needed to be one, LOL, paranoid memory in the field I guess. I plan on Making my D-A-R none adjustable as soon as season is over.
12-06-2007, 11:02 AM
RE: Newbie Crossbow Questions
---
Thanks for the info guys I am just going to set it and leave it alone I did hear that some people grind the DAD down so they dont hit it while loading but I dont think I am going to do that yet. Hasanybody notice a difference from shooting from a tree stand for some reason my dad is shooting lower. Anybody use lumenoks on there arrows how do you like them andhow do you get the ends out of the cabon Expressarrows.
12-06-2007, 12:14 PM
Nontypical Buck
Join Date: Feb 2006
Location: arkansas
Posts: 3,147
RE: Newbie Crossbow Questions
---
If you want to pin the D-A-R, do a search on xbow forum on AT, one way involves a wood dowel and longer screw and takes all the play out of mount. The other way is to drill a small hole through one of the dials and put a screw into the rail. Both are reversable if you sell the bow or decide to use the feature. Can't help ya on luminocks, personally think they are expensive and add weight to back of arrow which lowers FOC. We have alot of rocks here, and while a $10 deer is a deal, $10 squirrels are not, lol.

There's an alternative to lit nocks, cresting and bright vanes. Link to cresting in "resources" thanks to Hotburn. If you burn arrows, you will need a fletcher anyhow, lol. I think a few guys here are into luminocks and can help ya some.

12-06-2007, 03:49 PM
RE: Newbie Crossbow Questions
---
HERES HOW HORTON SAYS TO DO IT. Hope This Helps.
U can also find a Manual @
http://www.crossbow.com/uploads/operations_manual2000.pdf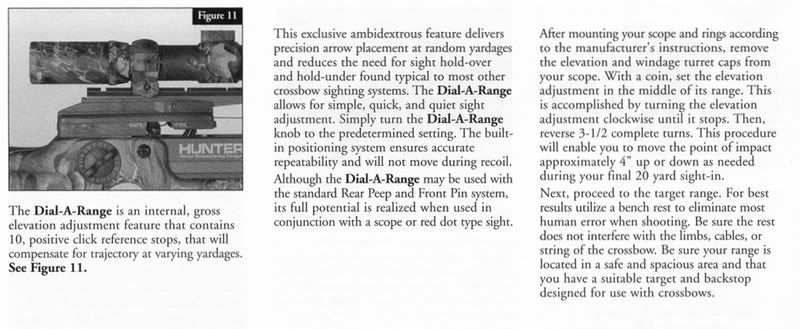 <br>
<br>