back to the range
05-17-2011, 08:29 PM
back to the range
---
Went back to the range today and tried the Barnes TEZ's with 100grs of pyrodex instead of the blackhorn and they shot awful,it was about a 6inch group. I've just come to realize that the barnes T ez's aren't going to shoot good out of my rifle.I've tried 90grs,100grs,110grs and 120grs of blackhorn 209 and 100grs of triple 7 and the best I could get was about 2 to 3 inch groups.So I just went back to what i've been useing for the past 4 years,the Hornady FPB. I've been useing the FPB ever since they came out and have taken 5 deer with them,and have been pretty satisfied.I get great groups with 2 50gr pellets of triple seven.
I wanted to keep useing the blackhorn powder but it just didn't shoot the FPB bullet good,so im off to bass pro to pick up some more FPB's and triple 7. I guess there is no need to try to fix whats not broke. I was just wanting a more "long range" load.The 350gr FPB doesn't seem long range to me.I think im gonna get a pack of the 300gr FPB and see how they shoot. Anyone try the 300gr yet? I wonder if a rifle shoots the 350gr good will it shoot the 300gr FPB good? Anyway,this is what the Hornady FPB has always provided me with,all day every day for the past 4 years.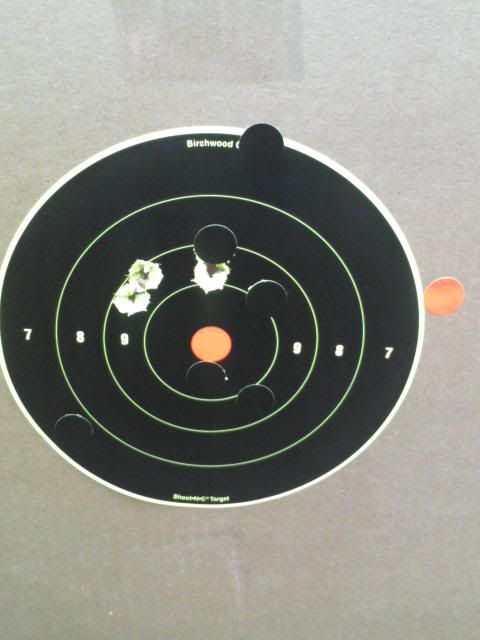 05-18-2011, 05:21 AM
Typical Buck
Join Date: Feb 2011
Location: MD/PA Line
Posts: 598
---
You could drop down in weight and go with the 250gr Barnes T-EZ and then switch out the supplied sabot with Harvester smooth's for under 300gr bullets. 100-110gr BH209 should have them shooting tight. What color are the sabots with the 290gr bullets (yellow or blue) and what primer are you using?
05-18-2011, 05:45 PM
Nontypical Buck
Join Date: Dec 2009
Location: Yucca Valley,Ca
Posts: 2,496
---
Sounds like the FPB's were shooting good for you. if you feel like given the barnes another shot, i would also try the harvester crushed ribs. the supplied blue sabots are mmp-24's.as Omega suggested the .250 TEZ's shoot tight groups in most rifles.. Ray
05-19-2011, 03:22 PM
---
Well friend, IMO if the T7 and Hornadys shoot good for you and the BH209 and Barnes don't then its a no brainer. Shoot more for less and shoot better. Its fun to experiment but like you said - if it ain't broke, don't fix it. But you can always look for a better combo and still have your old reliable to fall back on.
Posting Rules
You may not post new threads
You may not post replies
You may not post attachments
You may not edit your posts
---
HTML code is Off
---