non ml stock stock finishing
02-28-2008, 10:42 PM
non ml stock stock finishing
---
I know I know it is not an muzzleloader. but I flashed this up on another thread.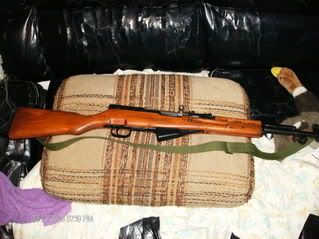 did not refinish my 22 but I like the factory finish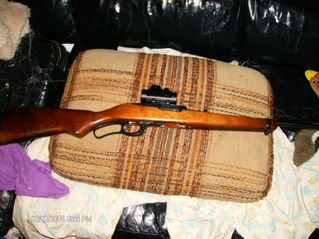 plus I enjoy your thoughts and comments. [8D]
02-29-2008, 10:41 AM
RE: non ml stock stock finishing
---
That is how mine turned out after I scraped it and then hand sanded it. I finished it with tung oil. I also put a see through scope/red dot mount on mine and it is a nice little brush rifle. Just load it and no need to carry any more cartridges with you...
Yours looks real nice there Corey.. You did a real good job. Is that lever gun a Savage?
02-29-2008, 10:47 AM
RE: non ml stock stock finishing
---
it is a ruger 96/22.

I am thinking of selling my scope mount for the sks and getting another style. I like it at first but now I want something more stable.

02-29-2008, 11:01 AM
RE: non ml stock stock finishing
---
A friend of mine used to have a Savage lever rifle a long time ago that I really wanted. He let his brother use it, and that fool sold it. It was a 300 Savage as I remember, and that was a long range deer knocker. It kind of reminded me of that rifle's looks. I always said I wanted another lever rifle. I sold my old model 94 to my brother because he was having a fit over mine. I was going to get a Marlin .444, .450 or 45/70 but never did. And even if I did, I would never shoot the thing probably. I really need to stop hanging out here. I turned into a collector.
I threw a red dot on my SKS one year, tuned it in of course for 50 yards. That year, I let my friends daughter (who had just passed her hunter safety course and was gun poor)use the rifle. She popped a monster eight point at about 40 yards with it. When I asked her where she aimed, she said.. I put the red dot on his shoulder and pulled the trigger twice. She said it did a good job knocking it down. I personally have never shot a deer with it. I bought it because I saw it in a store and next thing you know it came home with me.
02-29-2008, 11:13 AM
RE: non ml stock stock finishing
---
I do that a lot and did that alot too. that is why I ended up with the sks (nomistake) and a 9mm I maybe selling that I ended up not liking and the place I bought it from closed down.
maybe turning my 9 mm into a 45cal sidelock
02-29-2008, 11:59 AM
Boone & Crockett
Join Date: Apr 2007
Location: River Ridge, LA (Suburb of New Orleans)
Posts: 10,906
RE: non ml stock stock finishing
---
I know what you mean about the old Savage 99, Cayugad. I've always wanted one in .250-300 Savage. Passed up a good one about three years ago and kicked myself for months afterward. I like the 99's look and feel - though my brother-in-law says they are the ugliest rifles he's ever seen.
Posting Rules
You may not post new threads
You may not post replies
You may not post attachments
You may not edit your posts
---
HTML code is Off
---