TC Maxi hunter or Maxi ball
12-24-2005, 11:10 AM
RE: TC Maxi hunter or Maxi ball
---
Strutter, pay no attention to those other guys and listen to cayugad (and me). He knows what he is talking about.
Personally, My T/C Hawken with the 1:48 twist shoots the 250 gr R.E.A.L. bullet very well as well as a .490 round ball with a .015" patch, while my other with the Green Mtn. LRH 1:28 just loves the 275 gr Maxi hunters.

12-24-2005, 07:40 PM
Giant Nontypical
Join Date: Dec 2005
Location: PA.
Posts: 5,195
RE: TC Maxi hunter or Maxi ball
---
hello,i guess he can listen to whoever.first, i hope you dont think any of us are not telling it like it is. i have 2, t/c hawkins .50cal flintlocks.1-48 twist.i have been shooting for 36 years.owned guns that long to.paid 119 each, now they are 600,ouch.we tried everything to get them to shoot those MAXI-HUNTERS.finally ,we called t/c in new york.the gun smith said, we make those MAXI-HUNTERS but they will not shoot in the hawkins 1-48 twist.he said , go to the 370 grain MAXI-BALLS .he said our test rifles will shoot in1 inch at 75 yartds and 2 inchs at 100.he said use 2f , 80 or 85 grains.i can now shoot at 75 yards and almost cut holes with 370 gr. MAXI-BALLS.i use 80 grs. roundballs dont shoot to good in the 1-48 also.i never tried those POWERBELTS but i heard at range that the 295 gr ones , is best in 1-48 hawkins.i dont use anything now but the MAXI-BALL ,370 GR.they shoot like dream and will deck a deer. take care
12-24-2005, 08:16 PM
RE: TC Maxi hunter or Maxi ball
---
Strutter.. since you want to shoot a Black Diamond XR might I suggest something totally different in the conical line up. The conicals I shoot and hunt with out of my Black Diamond XR is the 460 grain No Excuse Conicals.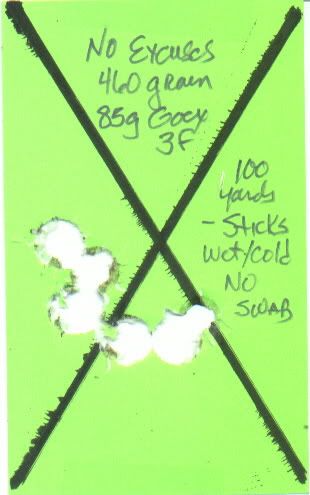 That group was shot off shooting sticks during deer season two years ago. I was going to change hunting locations and was loaded with a 375 grain Buffalo Bullet SSB (smaller hole on the far right) so I shot that off, then fired a couple No Excuse Conicals without swabbing I might add to make sure it would be dead on for the afternoon hunt.
These big conicals will work on deer, elk, bear, you name it and they work. As for which is better or more accurate out of Hawkins, the maxiball or maxihunter, I have better luck with a maxiball. That does not mean the next Hawkins down the line will be the same. It might not even shoot conicals at all very well. That's one thing I learned after many years of shooting black powder rifles.
Today I was shooting minnies and ball-ets out of my .58 caliber 1-70 twist. I was shocked at the poor accuracy the minnies were getting. I really thought they would do better. They were 315 grain which did pretty good, and some 500+ grain things that I have no idea where they were hitting. The 405 grain ball-ets on the other hand did very well. That is the only way I ever found, that I can determine if a projectile will shoot good out of my rifle.
All you can do it try the different projectiles in your rifle and see which one works for you. Try and choose the projectile to match the game animalyou are hunting and you will be fine.
Besides, that give you a good reason to go to the range and shoot a lot. Good luck with your rifle and keek us posted.
12-26-2005, 08:32 PM
Giant Nontypical
Join Date: Dec 2005
Location: PA.
Posts: 5,195
RE: TC Maxi hunter or Maxi ball
---
maxi-hunters are terrible in the hawkins 50cal.even the factory says dont use them in the 1-48 twist.they are too short.maxi-balls are longer.i went throught 3 boxes of MAXI-HUNTERS before i threw them away and called the factory. they said use 370gr maxi-balls.never went back.they shoot fine.take care
Thread
Thread Starter
Forum
Replies
Last Post
Posting Rules
You may not post new threads
You may not post replies
You may not post attachments
You may not edit your posts
---
HTML code is Off
---