Elk hunting with an expandable broadhead?
04-07-2011, 04:36 PM
---
04-13-2011, 01:59 PM
---
I shot an elk with my Wacems and it blew straight thru the elk and into a tree 10 yards behind the elk and buried into the tree a long ways. The broadhead is still in the tree along with the insert. It was probably 28 to 34 yards to the elk and 10 yards further to the tree.
04-15-2011, 04:35 PM
---
No way on the expandables/mechanicals. I'll bet my annual salary you will have a problem with them hunting elk. My bet is anyone who has shot more than 10 elk with an expandable/mechanical has had a problem. I'm guessing a lot will try to forget the times they had problems with them. I actually visited with a manufacturer of one of them. He said its just a matter of time before you have a failure. Every single mechanical/expandable will fail eventually. Thats right from the mouth of one of the manufacturers of them. Why risk that trouble on a possibly once in a life time shot at a big bull.

Oh one more thing to chew on. I went for many years not allowing expandables/mechanicals in camp. (nine wounded animals in one year) Many folks didn't like that and even had some hunters not come because of my no mechanicals policy. However, I became justified very fast when I decided to let folks use them again. I had lots of folks brag up the rage 2 blade. In two seasons I had 4 archers insist on using them because they are so great. I decided to give them a chance and let 4 hunters use them in 2 seasons. Honestly, 2 of the 4 wounded animals and did not recover their game. Thats really bad odds. Worst of it is, 3 of the 4 were professional hunters that were sponsored by rage. Sorry guys, mechanicals get a thumbs down from me.
---
Last edited by turkeyward; 04-15-2011 at

04:47 PM

. Reason: added another piece of info
04-18-2011, 03:47 PM
Nontypical Buck
Join Date: Jun 2008
Posts: 1,526
---
turkeyward; If you like you can pm me so I can get your address to collect your annual salary. I can do a cashiers check, money order, paypal or even a transfer.
In all seriousness, I have never had a broadhead problem, and I have killed a few more than 10 with mechanicals..specifically Grim Reapers.
In addition I have found the majority of hunters try to blame failures on mechanicals...after all there is no way they could have made a bad shot....yeah had to be the broadheads fault.
04-18-2011, 04:29 PM
---
I've watched hunters have problems with their mechanicals while they were still in camp. It's just not worth it to me. There is not a person on this forum that hasn't heard of or experienced a problem with expandables. It's not worth arguing over, everyone should use what they want. But when I go up, I will have 125 grain Muzzys. I have never heard of any hunter having a problem with Muzzys, tried and true.

For what it's worth, Turkeyward runs a good outfit and I believe every single word of what he said. Just saying.....
04-20-2011, 10:55 AM
Spike
Join Date: Mar 2008
Location: Trempealeau, WI
Posts: 6
---
I shot my cow with a rage 2 blade and mathews drenalin set at 70 lbs. The shot was 55 yards and i was up above her on a clay slide. The entry hole in the hide was huge the hole going through the ribs was big enough to fit 2 fingers in, however i had no exit hole and once she threw the arrow the entry hole was so high there was absolutley no blood. she only ran 80 yards but I walked in circles for 2 hours before i found her pilled up in a ditch. The rage did the job but i dont think i will use anything but muzzys from now on. just my .02 cents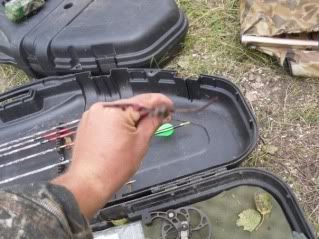 04-20-2011, 01:42 PM
Nontypical Buck
Join Date: Jun 2008
Posts: 1,526
---