"Team All-In" Team 11 Check In Thread
11-21-2011, 08:08 AM
---
Well I am back from my hunting trip. I saw some big deer in Indiana the day before the season started. Then the 30mph winds kicked up and I didn't see a thing. Plus the full moon didn't help my cause what so ever.
For my southern IL hunt I got to bow hunt for 2 days before the gun season and never saw a deer. the rut hadn't even started yet in my area. When the gun season started it was the same thing. The full moon the week before turned them nocturnal and then the wind started in again! this time 20-30mph winds. so any deer that were out bedded down the majority of the time.
I have hunted the same spot in wayne county for 17 years and I have never heard so much silence in my area before. Hardly any gun shots so I think I wasn't the only one with a bad season.

I hope to get back out and bow hunt this weekend.
11-22-2011, 08:38 PM
---
After nearly 2 weeks out of the woods it looks like my son, daughter, and myself will be back at Friday and maybe Saturday. This contest is NOT over yet. C'mon guys !!!!! Let's see some more bone on the ground. Good luck!!!!!
11-24-2011, 04:13 AM
---
While in Missouri, I had zero cell service or internet access. Being in the dark sucked! I so wanted to hear how everyone was doing.
My hunt went pretty well. On the second night and with only three minutes of legal shooting light, I put away the bow and used a rifle to kill a Missouri flattop. I was told to do so by the landowner, Richard Wies. He said, "If you don't kill some of these corn eaters, my share cropper won't plant a crop next year". At that point, I wasn't about to look a gift horse in the mouth. I dumped her with a single shot from 100 yards. It was nice to know I could still handle a gun, and at the same time, helped with a serious problem.
The next morning, a ten pointer walked past me; he was deep into the woods. I waited for a window through the brush and then I cracked him. Cross "a good representation of the species deer" from Missouri off my bucket list! 21 states down and 29 to go (unless I use Obama's 57 states).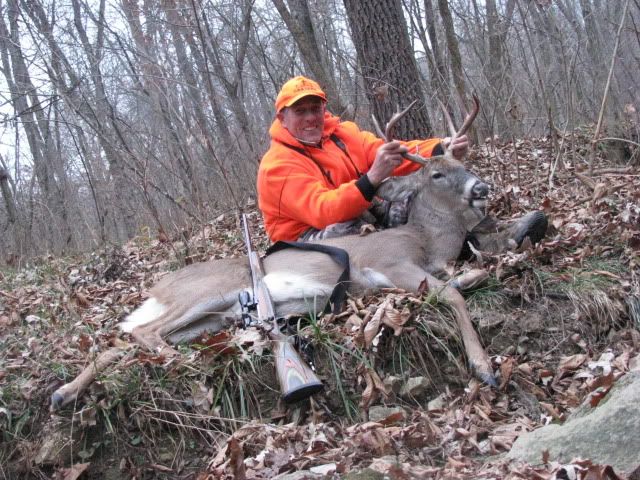 11-24-2011, 09:50 AM
---
Well glad Ill be putting some points on the board, not much tho, shot a 6pt this morning from about 20 yards in some thick oak trees. Ill post a pic and try and get him scored/ submitted. 1st buck Ive ever shot, my Thanksgiving day buck
---
Last edited by louie6014; 11-24-2011 at

09:59 AM

.
11-24-2011, 03:42 PM
---
Nice work Louie! Congrats! That'll be a good one to remember.

Rocky, I started some 36 years ago with a rifle in my hands. My great uncle, Fred, gave me my very first. I, for the most part, put guns away in '84. I took one with me when I went to Missouri. I guess my expectations got the best of me; I thought there would be rifle hunters everywhere, and I would have zero chance with the bow. Although I hunted two sits with bow in hand, I was asked to perform a service-which I did. When I go back to Missouri, now knowing what I know, I will only hunt with the bow. I really feel I can accomplish the same with only the bow.

Life is a game of connect the dots. I'm moving on to the next one.

Good luck up there! Get that big Canada brute, eh!
11-25-2011, 11:34 AM
---
I measured that 6pt, tell me if yall think this is correct, and Ill submit it on the score card
R---------L
Main beams:
11-2/8 ------- 10-5/8
Spread of main beams 9-1/8
g1: 1-5/8 ------- 1-2/8
g2: 2-7/8 ------- 3

h1 2-5/8 ------- 3
h2 2-3/8 ------- 2-4/8
h3 2 ------ 1-5/8
h4 2 ------ 1-5/8

added: 9-1/8 + 24-6/8 + 23-5/8 = 57-4/8
so what score do i roll with.. does this look correct for this 6pt?

lemme know guys lets get him submitted offically
---
Last edited by louie6014; 11-26-2011 at

06:26 AM

.