Official Team #2 Thread
10-19-2010, 08:07 PM
Typical Buck
Join Date: Feb 2003
Location: Grand Forks BC Canada
Posts: 760
---
The deer hunting here is wallowing in the October doldrums. One of my two favorite areas has had the heck beat out of it with the first general open season for does in many years. The ones that are left are living under rocks during daylight hours. In my other area, the coyotes are having conventions and the deer have vacated. I think I'll have to spend a week or so sorting them out and hope the deer return for the rut.
10-27-2010, 06:06 PM
---
hey guys, still doing some bowhunting while waiting for gun to open nov 20th. have seen quite a few bucks, but nothing taken in bow season. hoping to catch up with one from the trail cameras when opener rolls around! here are some recent pics:
Anyone else have pictures??
11-07-2010, 05:03 PM
Spike
Join Date: Jun 2010
Location: Texas
Posts: 56
---
saw a fork and a weird buck with a four point side and a long beam with only one brow tine on the other side. Probably eighteen inches wide, but missing those other two points. Also missed an eight point that was probably nine years old.
11-07-2010, 11:15 PM
Typical Buck
Join Date: Feb 2003
Location: Grand Forks BC Canada
Posts: 760
---
Hey gang. Got some fine eating for the family and points for the team. This buck was with a group of does/fawns and another buck. Spotted them from about 1/2 mile and pulled a sneak to within 100 yards. Always nice to get one when it has no clue you're around.
I couldn't figure out how to activate the self timer, so I had to go with the old arm's-length trick. Do I get a prize for dorkiest picture of the year?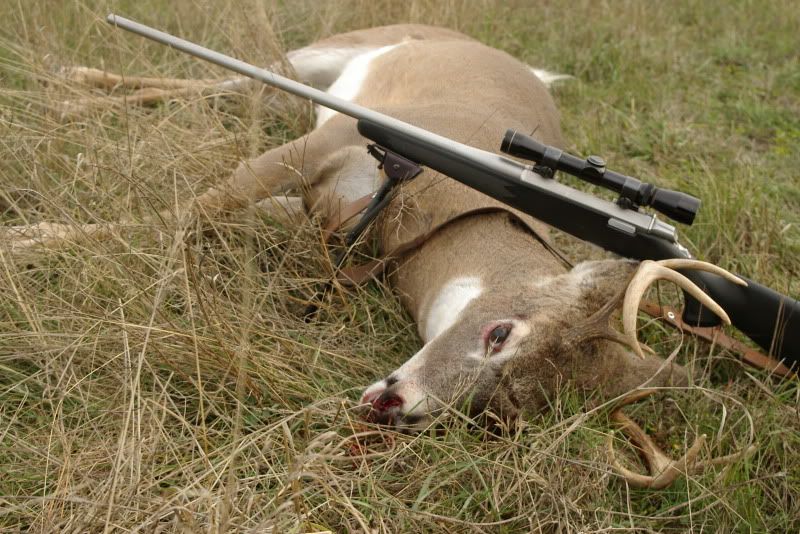 11-10-2010, 01:46 PM
---
Great buck Canuck! great start to get the team on the board - spotting him from that far away and getting close enough for a shot is awesome, especially within 100 yards!

Congrats, and good luck to the rest of the team!!