TEAM 19- Brotherhood of the Bow
11-26-2010, 08:58 AM
---
if you check your PMs I sent you my email address last week or so. You can send them to me or anyone else and we can post it for you.
11-27-2010, 03:56 AM
---
well guys... bow season ends here today in MA... no luck.. glad I could put the one buck on the board for us... couldn't get out today.. fighting off a chest cold...
Will be hunting when I can (which isn't much) until the end of the year w/ the muzzleloader.
I'll keep checking in though... gotta get Yukon's buck posted!
11-28-2010, 01:56 AM
---
Well, I snuck out for the last 2 hours of the Mass bow season yesterday... started snowing pretty hard... w/ about 5 min or so of good shooting light left, a nice 4 pt came into the scrapes. I shot him in a snow storm at about 25 yards quartering away.. he went about 50 yards and piled up... I'll take anything on public land in MA. Checked my camera earlier that day and had 2 hunters on it and a few deer after dark.
What a way to finish up my bow season... i will try to upload pics soon... but cannot find the adaptor to the camera i used...!
11-28-2010, 07:24 AM
---
Nice goin Western! I'm going to be without internet till Tuesday now, so keep 'em coming guys!
11-29-2010, 04:48 AM
---
Good final effort WMH! I pulled my back taking down a stand Friday and thought I was out of action but a bunch of anti-inflamatories seemed to do the trick and I was in my stand with my bow Saturday. Unfortunately all I saw was 5 turkey. That was probably my best shot for the rest of the season. Buck sightings have been way low this year. But you never know.
11-30-2010, 05:07 AM
---
Mass gun opened up yesterday... went up in the middle of nowhere w/ some family and shot this guy at around 11am w/ shotgun... i know it's not a bowkill, but it's a good deer for around here!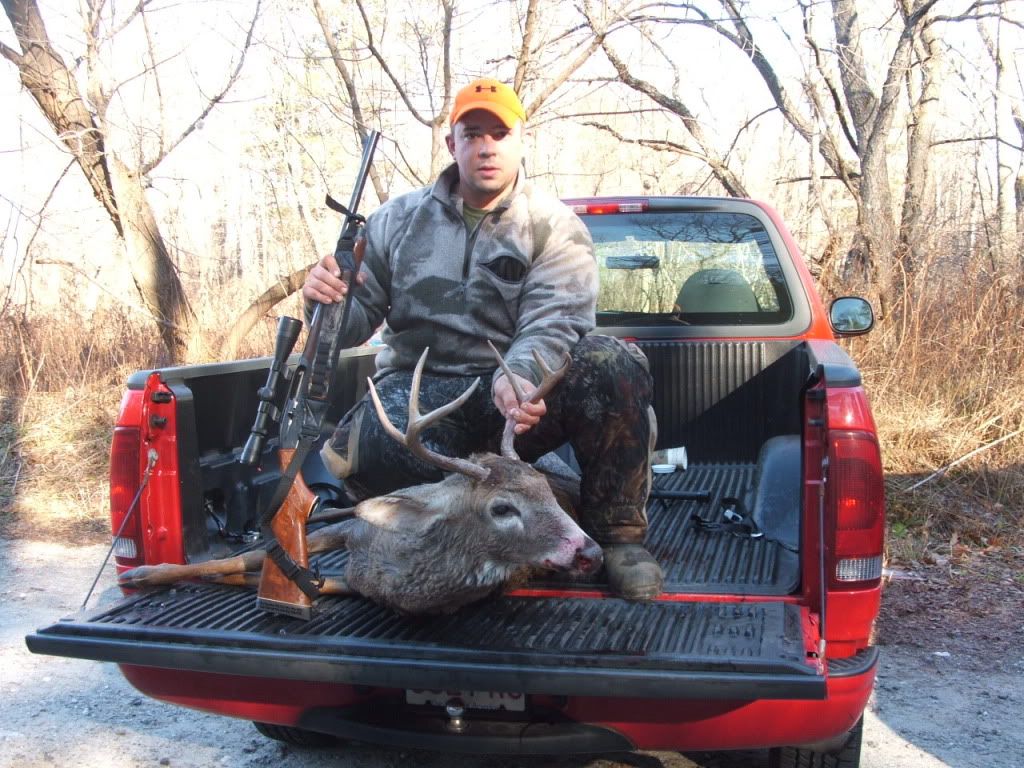 12-01-2010, 05:13 AM
---
Congrats WMH. Looks like you're having a very successful season.
12-01-2010, 07:34 AM
---
5 w/ bow... 1 w/ gun this year... 4 bucks and 2 does...
my best season to date...
12-01-2010, 05:06 PM
---
didnt we have someone else that has killed a buck with his bow for this contest? All we need is about 4 more nice bucks down and we could win this thing! lol
12-02-2010, 03:59 AM
---
yukon has one down... but no pics yet...