Team 3
11-15-2010, 05:26 AM
---
Outdoorcountry....man you are seeing some nice bucks! I hope you can connect...I'm pulling for ya! And Christine....you'll get your chance, I can feel it
Here's the pics of my m/l buck. He's a pretty good one for my area. I've owned and lived on this property for 12yrs....and have only seen about 6-8 bucks that would go over 100" for sure. That includes in season, out of season, driving in and out at prime time each day, etc. We just suck for big bucks in this area, unfortunately - and it kills me. I've passed literally hundreds of young / small bucks over the years, and only killed 4 bucks here total. Never seen one that would go 125", and last time I checked (about 5-6yrs ago) we had only like 5 entries in the P&Y book in my county. LOL, oh well.
So, I know what I am up against and hold out for what I feel is a real good buck in my area. I'm thinking this guy is 3.5, will age him once I do the skull mount. I wish my son would have gotten up that morning...would have loved to see him get this guy.
Good luck guys!
11-15-2010, 08:44 AM
11-15-2010, 06:09 PM
---
Nice Job WV! Nice looking buck!
Canuck...I saw your post over on the LOU forum! Funny how us outdoorsman tend to have the same passions! (I'm "Zebedee" over there).

I wanted to squeeze the trigger on a 6 today so bad! I've never gone this late in the season without a kill! Hopefully tomorrow AM is the day!
11-16-2010, 08:43 AM
---
HA, yup doesn't hurt that we live 30 minutes form each other either
11-24-2010, 05:01 PM
---
Not exactly what I was hoping for, but couldn't pass the opportunity. 115"
11-26-2010, 03:59 PM
---
Congrats WV and jnrbronc!
Sadly..... I suck.
I shot a nice buck this morning but I hit him too far back. Like an idiot I didn't try to stop him as he walked by. It should have been an 18 yard chip shot.
He ran onto the neighboring property and at first it didn't seem like I was going to be able to trail him past the fence. However, the manager of the adjoing property did come and once he looked at the bloodtrail, he let me onto the property and he and I trailed the buck. Unforturnately, as best we can tell.... the buck bedded at the edge of the river and in his death throes (or something) he fell into the river. It's like a five foot drop and he hit some exposed roots on the way down because there's a bunch of blood on them. However there is no sign of the deer in the river. I think he sank. We had a bunch of rain and the river is up and very muddy. ....sniff... cry....
Here's where he went in. You can see the 'kick marks' and the dark liver blood.
I'm going to try and get a canoe in there tomorrow and poke around the river. I'm still holding out some hope (tho' small) that I can recover him.
Not that it matters at this point but I'd guess he'd go at least 140".
11-26-2010, 06:55 PM
---
Sorry I haven't been on here too much guys, but I thought I'd keep you updated. First I'll show you my 8 pointer I got opening morning of rifle season. Then I'll show you some bucks on my hit list
First one's name is Nueve (nine), then wide load, then freak show, then captain hook (got shed from last year). I edited the pic of captain hook so he is easier to see.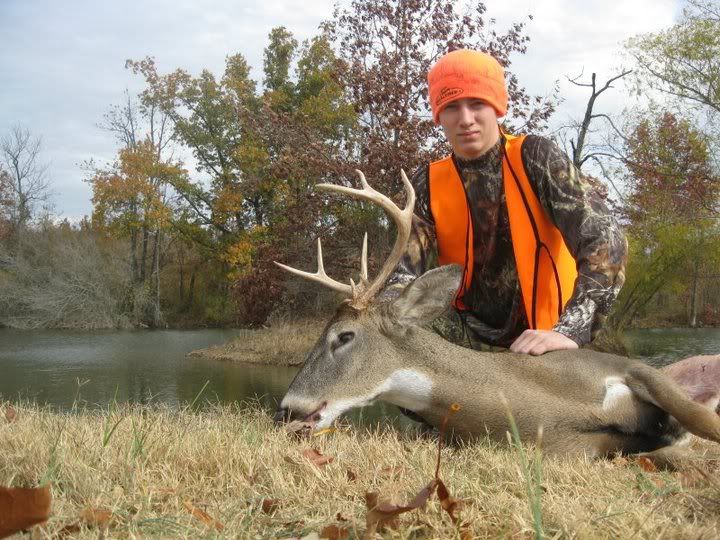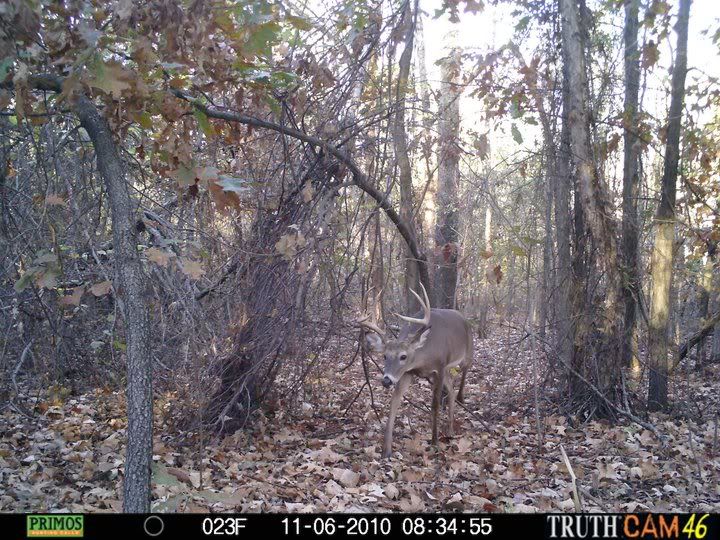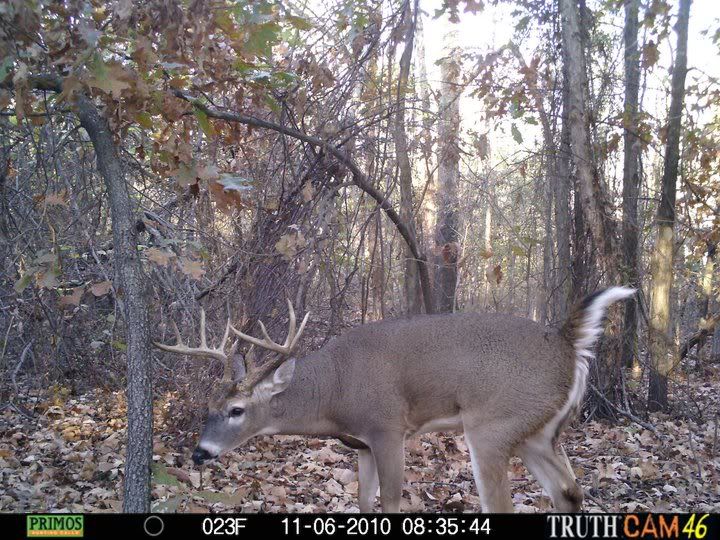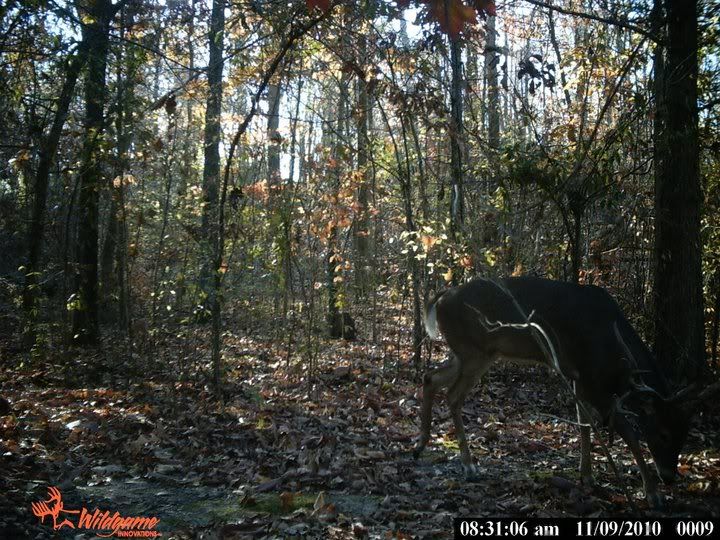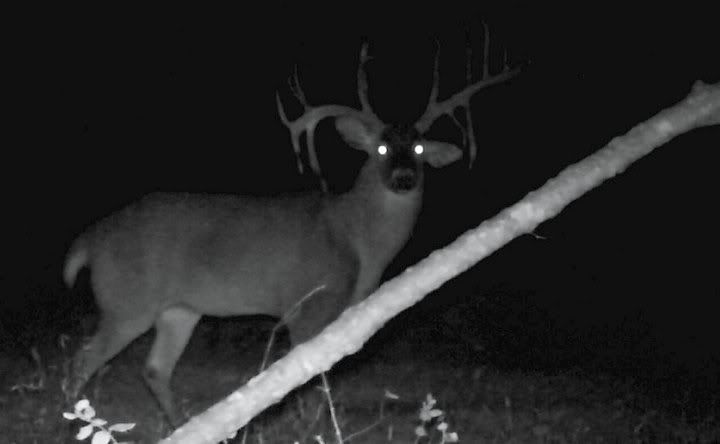 11-29-2010, 04:00 AM
---
Nice deer jnrbronc & kelleno!

Christine....wow, you gotta be kidding. What are the odds? Man, I hope you find him. Sounds like me and you have the same type of luck, LOL. Good luck, I hope he turns up.

I haven't been out with the bow in a week and a half. Was up at our cabin all last week for the WV rifle opener. I only shot a couple does, seen quite a few bucks but no shooters. One of our guys shot a 5.5yr old 7pt, 19" wide...and we saw several that were pretty big by our standards that we didn't get any shots at.

My son shot a huge doe, and passed up 7 small bucks waiting for a "nice one" in his book. Ironically, 6 of the 7 were spikes, one was a 3pt. I was proud of him for holding out, but sorry he didn't even get a chance at a racked buck. He was happy with his doe, so that was good. We shot 16 total, 4 were bucks. Not a bad week. I'll be back to the bow now, and probably do some late season M/L in Dec. Good luck everyone!
11-29-2010, 08:30 AM
---
Congrats Kelleno and man those are neat pictures.
Congrats on your does WV.
Yeah, I can't believe this turned out the way it did. I did go out there with a canoe and tried poking at the bottom and at some logjams in hopes I'd feel a deer body down in the depths. The water is 8-10 ft deep and the under current is very strong. Much stronger than I would have thought. We struggled to keep the canoe in any on place for more than a few seconds. It would have been bad if we had fallen out.
It's raining again today so the river won't be going back down or clearing up anytime soon. If/when it drops down again I'll make another attempt to go out and search it again. The river is bordered by private property so I can't just walk the banks.
I'm majorly bummed......
Oh and we found another hunter's dead buck when we went to trail my buck. It was a nice buck too. We told the guys who hunt the neighboring property about it and the guy who shot it (as best we can tell) came over and tagged it.
It would look better if my tag were on it.
(legally, I could have claimed it... but that would be silly)
11-30-2010, 08:16 AM
---
Looks as if CONGRATS in order for a few of you!! Way to go!!
WV and Jnrbronc and Kelleno!!!

Christine so sorry to hear about your buck he still may be around. I lost my new bow last year when my canoe flipped over just thank goodness I can swim, the currant was strong and boy it was COLD!!! SO BE CAREFUL!! Man the buck you found is a cow Ill bet the owner of that BIG OL BUCK was happy?!!! Maybe someone will find YOURS and do the SAME. I know it can be a real let down. Good luck in finding him.

Good luck and stay safe to all!!!