Team 3
10-25-2010, 08:27 AM
---
Congrats kelleno, Every inch counts and any deer with stick and string is a trophy!

Thanks OC, man sounds like a rough go of it, hope you bounce back and lay one down!
10-26-2010, 09:50 AM
10-26-2010, 12:26 PM
---
Congrats Kelleno!
This weekend I start to get serious!!!
10-26-2010, 12:34 PM
---
Congrats Kelleno!
I've been out four times so far... that's it.
I did get another doe my last trip out. Hopefully I can get out after a buck this weekend. I think the buck movement should really pick up around here soon. (tho' right now with our 45 mph winds, I'm guessing they're sitting tight somewhere)
Here's a pic of the doe I got along with my bestest hunting bud Deb who also got a deer that morning. She's headed to Brown County this week. Sadly I can't make it over there. (this kills me!!)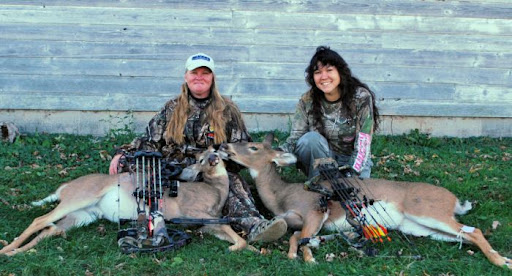 10-27-2010, 06:03 AM
---
BTW Kelleno,
Your buck needs to have all four H measurements. Even a spike gets the four measurements.
10-27-2010, 11:46 AM
---
10-30-2010, 05:27 AM
---
One small 8-point so far this am...come on big bucks!
11-03-2010, 04:55 PM
---
Got blanked again this evening. I had high hopes...was a beautiful evening, just nothing moving. Been cold here of late...25 the last two mornings. They gotta start soon I would think. Haven't seen much by way of rut here yet. Good luck to everyone...the next few weeks should be awesome!
11-04-2010, 06:47 AM
---
Congrats on the does ladies!!!
Just checkin in to see what going on out there? Hows it going team?
The bucks in my neck of the woods are chasing them does. I have had some shots at a few bucks around 125 class but I passed on them hoping that I might get a BIG boy to come see me. But something is going to have to give here. I am seeing lots of chasing, I have been doing a little rattling and calling and they come running in seems as if my woods is full of little bucks, I think they are using my woods as an nursery.

Well GOOD LUCK AND STAY SAFE!!!!!!!
&
HAPPY RUTTING TO ALL
11-04-2010, 07:00 AM
---
I haven't seen any chasing yet but I hear some people are seeing it in the same area where I hunt. I did see a fairly decent ten pointer yesterday but he never came any closer than 60 yards.
Last weekend I hunted on a friend's property and had a nice buck that might have gone 130" at 18 yards. On that property I was hoping for 140" or better tho'.
I'm going to try to get back out in the woods tomorrow. Good luck everyone!!