Team "10" Most Wanted
12-06-2010, 01:38 PM
---
Figured I would touach base as well. Went out for most of the day Saturday and Sunday. Didnt see anything at all. Not even markings on the trails that any deer have been around. Thought for sure once it got cold the deer would start using the Cedar Swamp, but that hasnt came to fruition. Doesnt look as though I will get back out this week because I go to work at dark and get home the same. I will be back in the woods this weekend and I have the following week as vacation, which I plan to hunt everyday.
12-07-2010, 04:35 PM
Fork Horn
Join Date: Nov 2005
Location: Virginia
Posts: 281
---
Hunted yesterday (Monday), left the truck it was 22 degrees, never got above 30...damn it was cold! wind chill had it around 12 degrees. I hung in there though, but only saw 3 doe for the entire day. Walked around a little around noon to get some blood flowing. Saw lots of old abandoned scraps. Moved to another promising spot for the evening and saw nothing. Won't be able to hunt again until next monday and possibly tuesday. BUT...The week after Christmas, I'm on vacation and will be hunting with my son (who I havent seen in 7 months because he's deployed on an aircraft carrier).
12-08-2010, 06:13 PM
---
Checking in here too guys. I have been out and about and seen some nice deer. Nothing close and the deer that were close were just too young. I know where some nice deer and after the last couple of does are bred here I will head to the feed to kill a nice buck cuz that's where they will be. Rifle season is on here in Kansas so I have been bird hunting. I sat Sunday evening and man was it nice and cold. I was perched over some beans and nothing showed up but some long beards and a yote. Shot the yote. No deer though. I was sure something was going to come in. I will be out this weekend for sure. I just bought a Z7 so I'm anxious to get in the woods with it. I am confident that I will kill a nice deer for the team. I have plenty of time left. Keep at it.
---
Last edited by bigsugar; 12-08-2010 at

06:13 PM

. Reason: spelling
12-08-2010, 06:16 PM
---
Also guys I saw that big deer I shot low on. He chased a doe by me Sunday morning about 200 yards out. He was limping a little but still plugging along. I know that he is close to where I'm at. I'll get on him.
12-10-2010, 06:15 AM
---
Gonna be cold in the morning, hopefully stick something early
Good luck guys.
Sugar, glad to hear your buck is still out there!!!!
12-10-2010, 07:34 PM
---
Yet another gun doe only season here in WI , just when the deer
are starting to show up in my small hunting areas after a gun deer season, anothe one starts and the deer go into hideing
again. It takes a good 3-4 days before they calm down and start to show there selfs again. 4 day only gun doe only,9day gun deer season,7 or 9 day muzzle loader season, 4 day gun doe only, was out in my blind today with the bow 3:30 rolls around 2 shots ring out, 4:05 another shot rings out about a 100yrds into the pines.
Pretty sure these deer were going to funnel past my grounblind
to get to the small uncut corn across the road. Guess i will never
know. This gun doe season ends this sunday so I figure they [deer] should come out of hideing about wed or thur. My plant will be down between christmas and newyears so I should get some hunting in then and not be disturbed by the gunners.
goodluck guys
12-11-2010, 04:37 AM
---
Just touching base guys, bigsugar nice to here your buck is still alive and congrats on the z7, you will love that thing. I went to Kansas yesterday, to hunt for my last weekend there and had some success. He is not the biggest thing, but it was the last weekend. I havent scored him, but took some quick measurements, 5" bases, 20" mainbeams and the tallest tine is 10". He came out with six other deer, ran straight to my corn pile at 30yds, quartering to me. i tucked it in right behind the shoulder and complete pass through. He didnt run 40yds and i heard him crash. Z7 & G5 striker does it again...
good luck to all of you, lets put some more on the ground.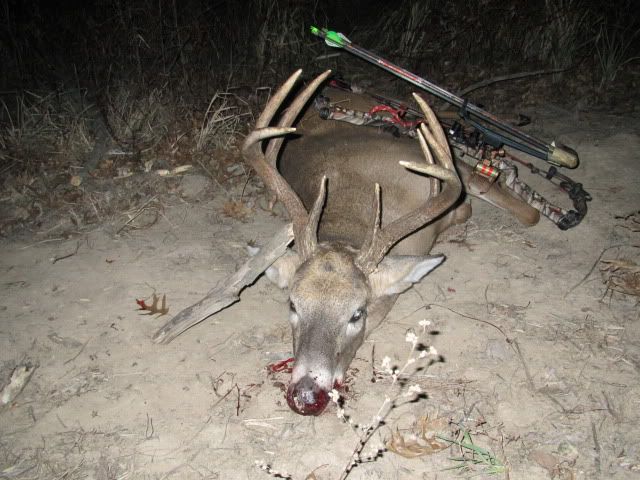 12-11-2010, 03:38 PM
---
Ended up being 130-1/4" ... over 34" in just mass alone....
12-11-2010, 06:16 PM
---
Nice buck 22, lot of snow here in midwest wi at least 14" in the last 24 hours and still coming down. Gonna be 25 below zero with wind chill for the next few days. Once it stops snowing and warms up the deer should be moving again and I will go out.
12-11-2010, 11:35 PM
---
Howdy all, checking in...

BigSug - glad to hear your buck is still alive...

TH - Sweet looking buck, that's awesome!

Well, I was suppose to have a nice long weekend of hunting - but we had a nasty storm blow through (interstate and many of roads are even closed) so now not going to be able to make it out... Technically I've got through the end of the year so we'll see what happens....