Official Team Death From Above Thread (4)
09-06-2009, 11:03 AM
---
He finally showed himself. Had a bunch of picss from last year, hasn't changed much but is def. on my hitlist. Guessing 4 or 5 1/2 yrs old.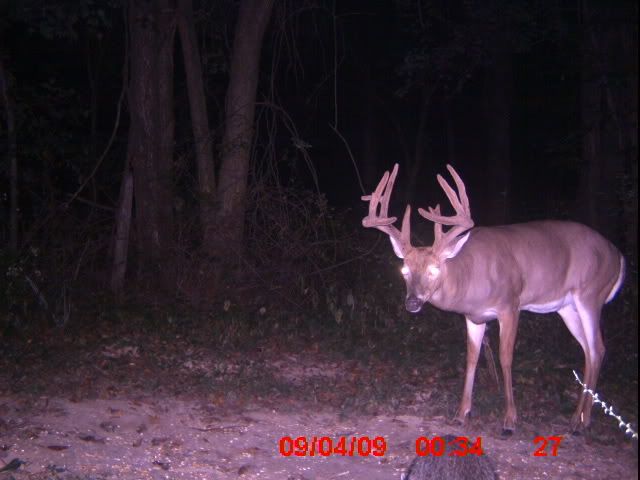 09-06-2009, 11:05 AM
---
A pic from last year for comparison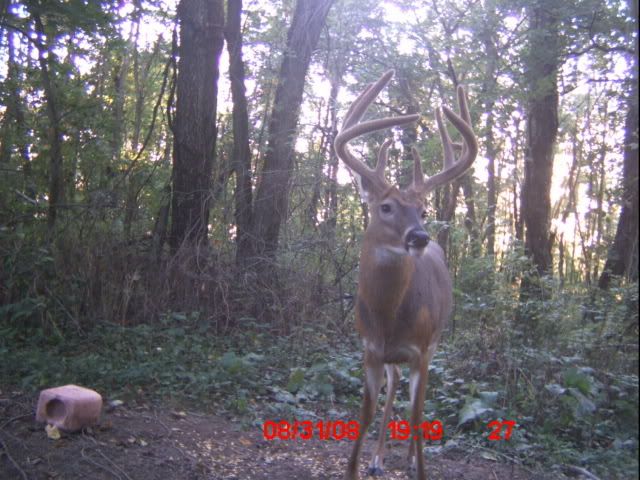 09-06-2009, 04:17 PM
09-07-2009, 04:39 AM
---
Nice one, definitely a shooter!
09-07-2009, 12:29 PM
---
That's a good looking buck right there man, the only thing i see different is his brow split on one side. And he has a couple more kickers off the right side. Good luck with him, hope to see him on the ground and enters for the contest.
09-07-2009, 01:13 PM
---
That is a beauty good luck with him
09-07-2009, 03:21 PM
---
look close u see the kicker on the left side g2 last year and this year it change side to the right g2
09-07-2009, 04:13 PM
---
thats a awsome buck..lets hope u can put him on the ground!
09-07-2009, 11:03 PM
---
Hey guys, in the morning I will be posting a few pics of a couple nice bucks I got on my cam. One is a 9 point I hadn't seen before. In a 2 day period he came back to this one spot probably 10-15 times. I'm really torn if I should take this one early on if I see him. My opinion is he would go between 120-130. The problem is I have several nicer bucks on this property that I have seen. The other one you will see is taken from the same location is a 10 point with 3 kickers on it. I'm guessing he would go 130-140. The real problem I have here is I think the 9 point may just be 2 1/2 years old, and I know in another year or two he will be a real brute. Let's hear your opinions on score and age of these 2 bucks. Especially the 9 point.
09-08-2009, 03:45 AM
---
Great buck!!! Hope you put him down. Thats weird that his kicker would go fromt he left side to the right side....never saw anything like that. I wonder if its actually not a set of twins and the only difference is the location of the kicker....