Rule Question for Rob & Team Captains
11-17-2008, 03:02 PM
Rule Question for Rob & Team Captains
---
I've been hanging around this board since early 2001 under several different handles over the years. I spend most of my time here lurking and reading more than posting. However, when i do post i always try to be as honest and upfront as possible even when it makes me look bad. I am hoping with that merit you guys will grant me a pass on a rule infraction for my contest entry (for my team's sake more than anything). Some of you know or may not know i was due to leave for a 2 week trip to bowhunt Iowa on Novemeber 4th. With an unexpected death in my hunting partners family we ended up leaving later than expected. Already having the time off work i decided to sneak out for a short hunt here in PA. Well to make a long story short, I scored on this small buck that morning and in a rush to leave that night never got a chance to get it posted and had no way of notifying anyone that it occured. It's been more than ten days since i shot the buck (shot him on 11/05) as i just gained internet access today. Also, my dad didn't quite get the whole bow in the picture as you can only see the ends of the arrows. These are it, it's the only shoddy photo i possess of the deer and i am sure i will get accussed of waiting to see if i got a bigger buck while in Iowa (which i did but thats another thread for another time). So its up to you guys, if you will allow my entry i will procede with scoring him, if not sorry to everybody on my team.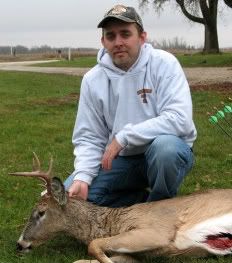 11-17-2008, 04:39 PM
RE: Rule Question for Rob & Team Captains
---
I'm not the captain of my team, but if this does go to a vote, I REALLY hope they let the buck stand. ESPECIALLY since you DID get a bigger buck and could have easily swept this one under the rug.

So where's the story of the Iowa buck? And this one for that matter. Congrats on downing 2 this year!

Thread
Thread Starter
Forum
Replies
Last Post
2006 HNI Gun Deer Contest
2006 Deer Hunting Contest
Posting Rules
You may not post new threads
You may not post replies
You may not post attachments
You may not edit your posts
---
HTML code is Off
---