Official Team The Rack Pack Thread (7)
11-04-2008, 07:45 AM
RE: Official Team 7 Hangout
---
Wow, this is not looking good. Two reports of buck down and still no scores. I had a really nice 8 pt less than 20 yards from my blind on Friday. Unfortunately, it was about 15 minutes after legal shooting time. Well, at least I know he is still around!
11-09-2008, 03:33 PM
RE: Official Team 7 Hangout
---
Buck down guys. Shot him about 4:00 on Nov 8th and recovered him around 11:00 a.m. on the 9th. I'm working on getting the pictures loaded on here and I've got some scoring questions for ya. He has a split G3. He's a 10 point but the one little crab claw part doesn't reach an inch so tech. a 9 pointer. I'm guessing will score a little over a hundred. Bare with me here on the pics.
11-09-2008, 04:23 PM
RE: Official Team The Rack Pack Thread (7)
---
Well here he is 19 hours after the shot. I'll need some help under standing the scoring. I have everything measured. When do you add in the spread? He has a second G3 on the Right side so how does that score?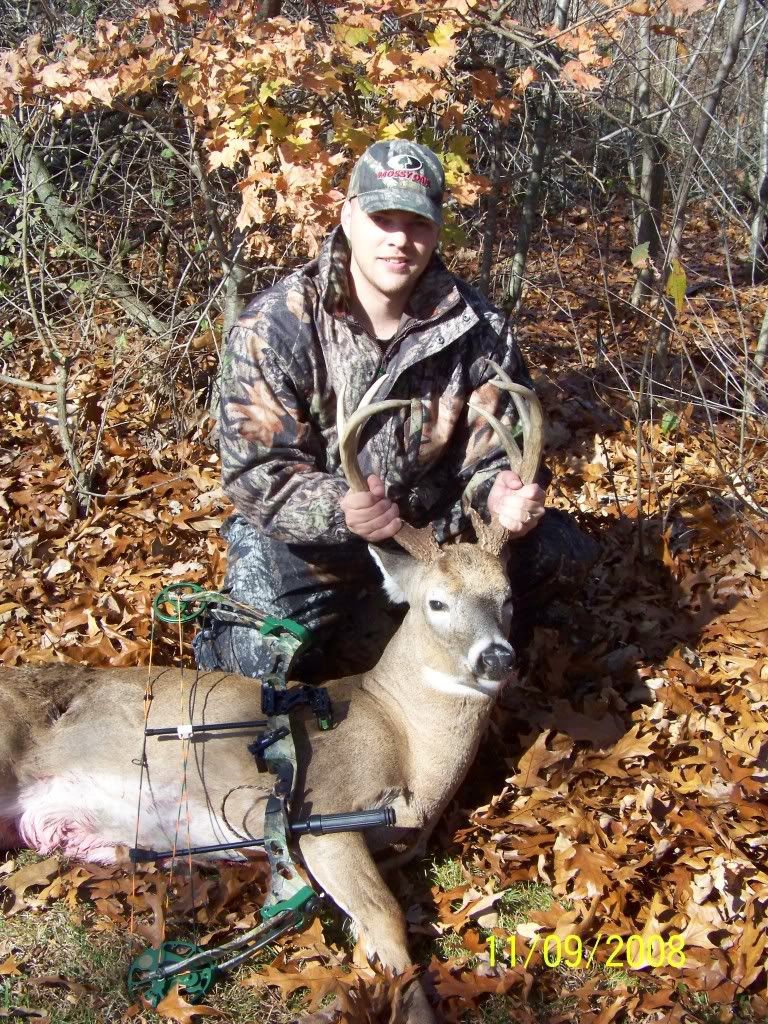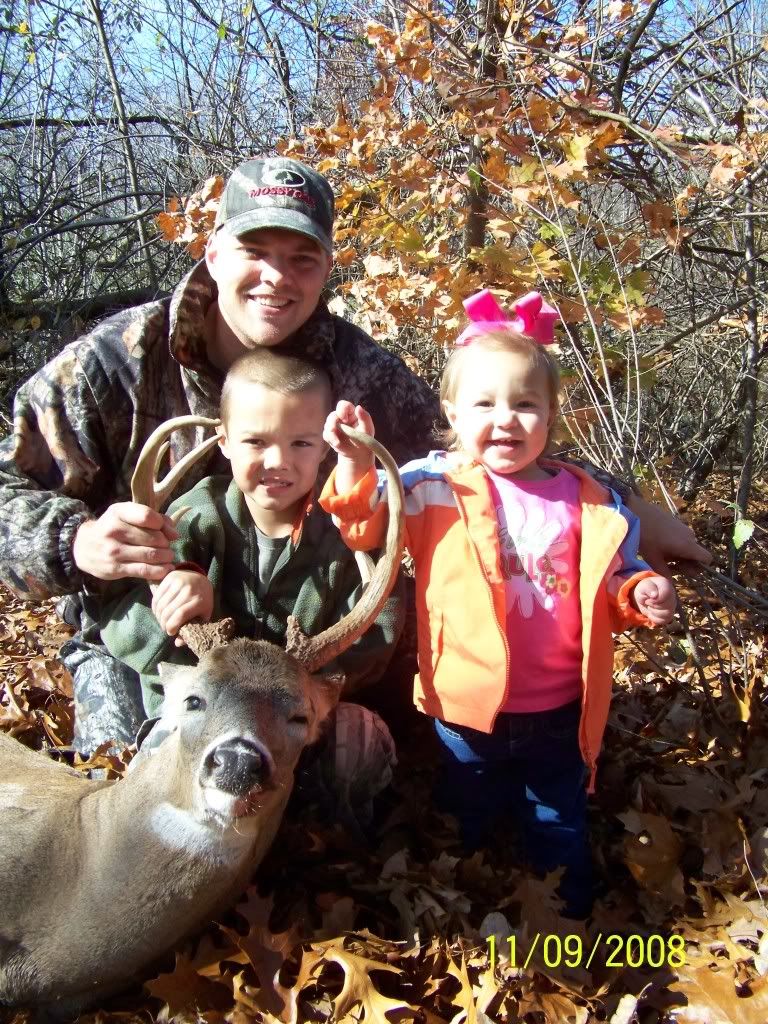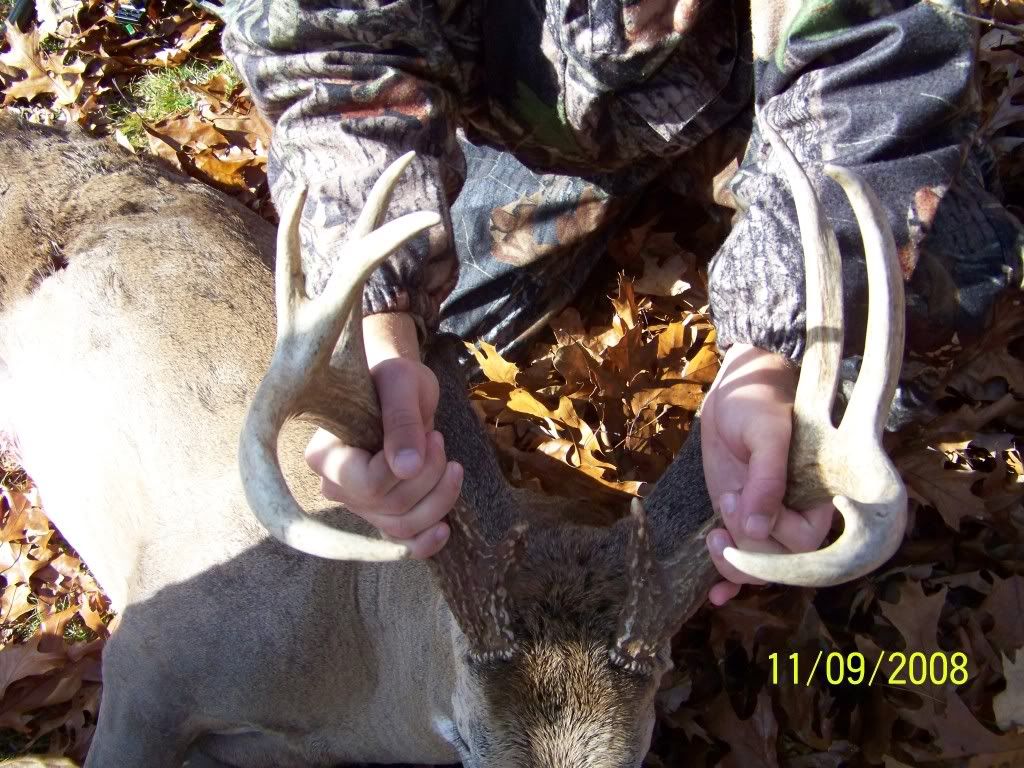 11-10-2008, 05:45 PM
RE: Official Team The Rack Pack Thread (7)
---
Wykoff checking in.

I knew it was going to be a good weekend but I had no idea what was about to happen. Saturday morning couldn't come early enough. I went to the same stand as always. This has been a great stand with 6 wall hangers taken in the last 4 years. I had a small 6 pt. come through at 6:45, then nothing until 9:15 I look to my right and there he was broadside at 30 yds. I WISH I HAD MY BOW. Thats right I took him with the 12 gauge. He has 14pt., 18 4/8 inch spread, weighted 262, and scored a 153". I still have my buck tag because we can party hunt in MN. I believe that I am eleminated from entering any deer for this team but if you know more let me know. I also don't know if I can put the picture on this thread, but you will be able to find it in team 11 gun hunters. Good luck to all of you and congrats on the deer taken.

11-11-2008, 05:36 AM
RE: Official Team The Rack Pack Thread (7)
---
Hi guys, just got back from Ill. for the last ten days. Sounds like every one had a fun week. I got the score back from the taxidermistand he said my buck is a 105 but I am not sure if he did it right so I will post score when a get it back. I am just getting a European mount. I have to say this past week in ILL. was the most fun in the woods I have every had. I saw more bucks in ten days then I have seen my entire life. Say six shooters ranging from 120-170 inch. Sat. morning I was walking a CRP field and spotted two does bedded down on the side of a hill, One was a shooter so I started a sneek attack
wind was perfect. So I was on the edge just over top of them and a Hot doe run's by and there is a 6 pointer and a little 4 on her behind. So my attention turns to them and as I am watching them I think I bet more bucks will be following, and when I take my glasses down there standing 43 yards to my right is a 135-145 ten point. I almost passed out[8D] He turns and I go to full draw. then he starts to walk right at me. The only shot I could take is a neck shot and I am not very comfortable with that.
by now he is 30 yards right in front of me and my knees are shaking. TURN I am thinking, know he is quartering
towards me hard and then I fell the wind on the back of my neck[:@] It swirled the buck blows and is out of my life
forever. One of the best experience's hunting in my life.