Team 16 - Widow Makers
11-03-2008, 04:14 PM
RE: Team 16 Thread.
---
Well, I ended up getting the buck that was #1 on my hit list on the second evening of rifle season. I'd been watching 2 spikes and a forkhorn coming and going and was a little discouraged. I passed on a nice 2 1/2 year old 8 point that has some really good potential down the road. He probably is pushing 110" at 2 1/2 with some nice TALL tines. Okay, enough of that.
Doublewide is dead. Out of all the bucks I've seen on my property, he has the least potential to be bigger next year and that is why he was #1 on my hit list, I just didn't think he would mess up. He came up out of the creek bottom following a spike buck about 1/2 hour before sunset. About 5 minutes later he was on the ground. He is actually so old his antlers are regressing. He had a pretty nice rack last year and that's when he got the nickname "Doublewide." This year he lost about 4" in spread and about 10" in tine length and some mass as well. He actually is fairly small bodied for a buck in my area, so it madehis rack look a little bigger than itactually was also.
Heweighed 172lbs on the hoof and ended up scoring 112 2/8.
Here's a few pictures: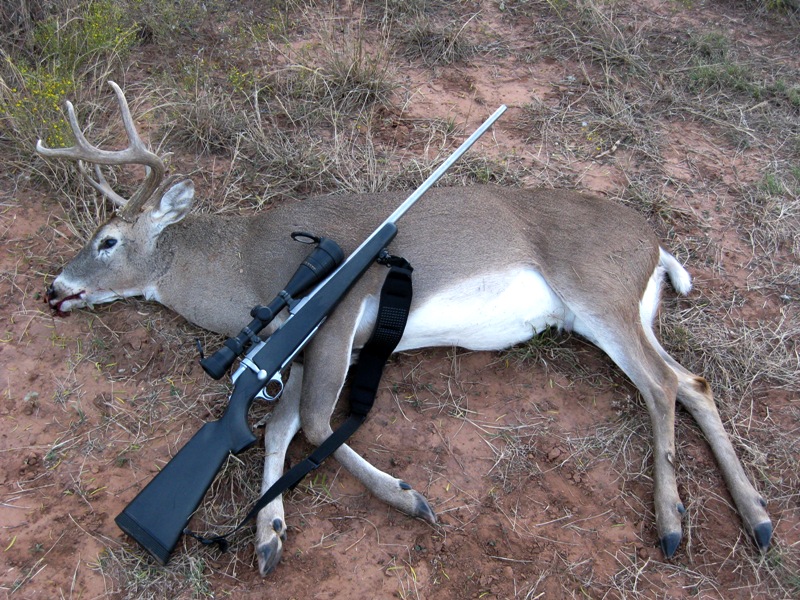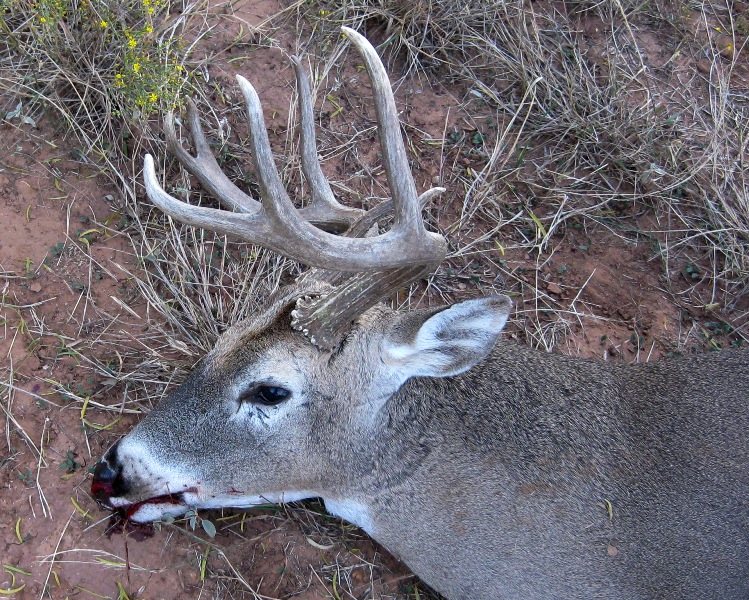 Self portrait with a timed camera on the backpack: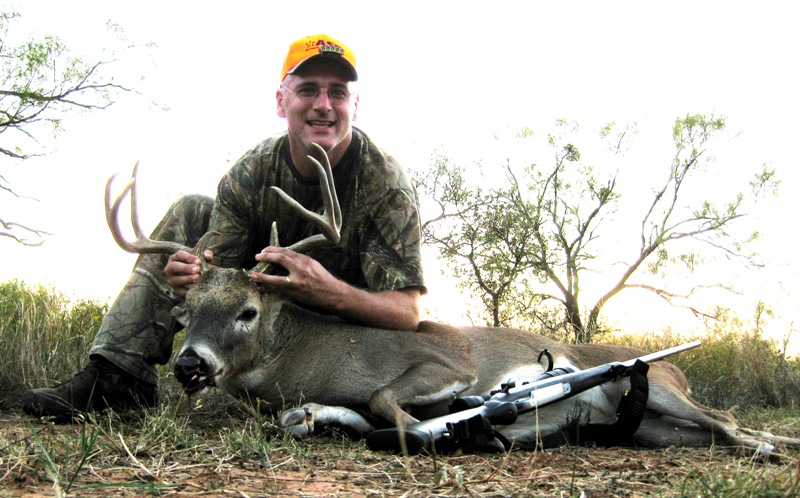 And lastly, if you are into that kind of thing here is his jawbone.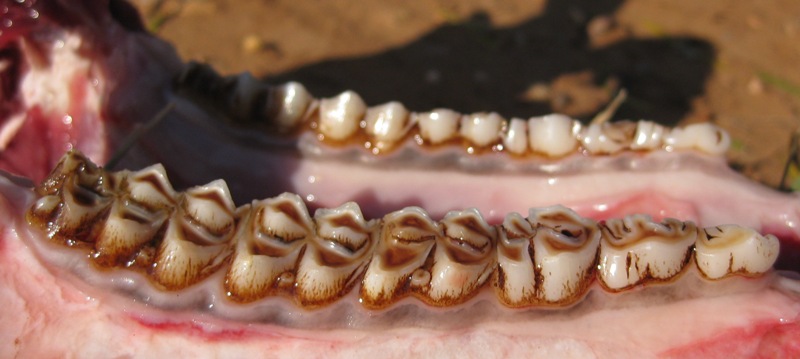 The jawbone agingtools I've seen only go to 5 1/2 andhe is at least that old. I have the jawbone of a 2 1/2 year old buck from last year and it is amazing howworn histeeth were in comparision to the 2 1/2 year old. They were worn down to the nubs!
I shot 3 coyotes over the weekend too so thatshould help the fawns and turkey poults a little next spring.
I think that will be it for the contest for me. I'm in a 1 buck county so unless I get an invite to hunt somewhere else I'm done for this year. I'll enter him in the scoring thread for the team.
Nathan
11-04-2008, 07:39 PM
RE: Team 16 Thread.
---
Nathan~~ Way to go man nice buck!!! It's a shame he shrunk THAT much in the course of a year, but if there was ever a mangement buck to take that would have been him!! Congrats Man!!
11-05-2008, 05:44 PM
Fork Horn
Join Date: Nov 2005
Location: Virginia
Posts: 281
RE: Team 16 Thread.
---
Nice one Nathan...Congrats!!

Virginia's blackpowder opened last Saturday, but I haven't been able to get out yet. HOWEVER, I'm taking all next week off and plan on being one with the woods. Took 3 doe with the bow...so far and 14 have been taken from the QDM property. Four of us hunting it and have not taken any bucks. Actually, nobodys been seeing anything larger than 6 points. I know this prop holds some large deer and next week I'll find one. Historically, the rut here usually swings in around the 2nd week of Nov. I just put a Nikon Omega on my ML, should be able to sight in tomorrow if the weather approves.

11-09-2008, 06:55 AM
Fork Horn
Join Date: Nov 2005
Location: Virginia
Posts: 281
RE: Team 16 Thread.
---
Had a 115yd shot at an 8pt yesterday, but decided to pass. Just didn't have the mass I was looking for. Decided to shoot the doe near him, but both vanished when I was ready to shoot. Heading back to the same spot tomorrow.
11-09-2008, 03:11 PM
RE: Team 16 Thread.
---
Everyone please be aware that they changed the rules and you are now allowed to enter a doe in the contest if you don't shoot a buck. All the rules are still the same with you, the deer and the gun in the picture.

You can only enter one or the other though, either a buck or a doe. Does will count as a flat 25 points toward the team score.