Contest trash talk
05-26-2009, 07:09 PM
RE: Contest trash talk
---
LOL,
hey if'n your that close to hootnscoot why so few birds when he got so many?
If you ever get upset with me and come looking for some of my hide you'll have to deal with this:
05-27-2009, 03:31 AM
RE: Contest trash talk
---
Aweeeeeeeeee....wut a cutie.....oh and I am a dog judge and know how to deal with any type of dog!
and why did hooter shoot more? he went to a few more states -
I have footage of 5 others I let go - like catch and release - I have shoot and release.......so...........short story long...........my total could have been 10.
And ya know hooter and I could team up and take ya all on! Together our total alone puts us in 1st with 715 on the head.
JW
JW
05-27-2009, 04:06 AM
RE: Contest trash talk
---
If you appreciate good dogs check this out.
The pic above was 8 months ago, now hes the chocolate on the left. With no training whatsoever he retrieves ducks like a champ, it just in his blood.
The black one on the right is build like a brick. He's solid and once retrieved a deer from a pond! No kidding, after the shot a deer tried to swim a pond and didn't make it all the way across before expiring, Dewey went out and pulled him to shore!
05-27-2009, 04:16 PM
RE: Contest trash talk
---
You guys have great looking companions!
Truth be told I don't own a dog because I work on the road, I never know if I'll be coming home or getting a Hotel somewhere. But, I keep treats in my truck and cupboards and all my friends/hunting buddies dogs know and love me
.
This one helped me find this deer and she loves it when I'm around because her dad doesn't hunt;
05-27-2009, 06:26 PM
RE: Contest trash talk
---
ORIGINAL: hunting junkie
ORIGINAL: Arrowmaster
Ok if ya come lookin for me you have to deal with my mean dog. Shes 6 months old in this pic...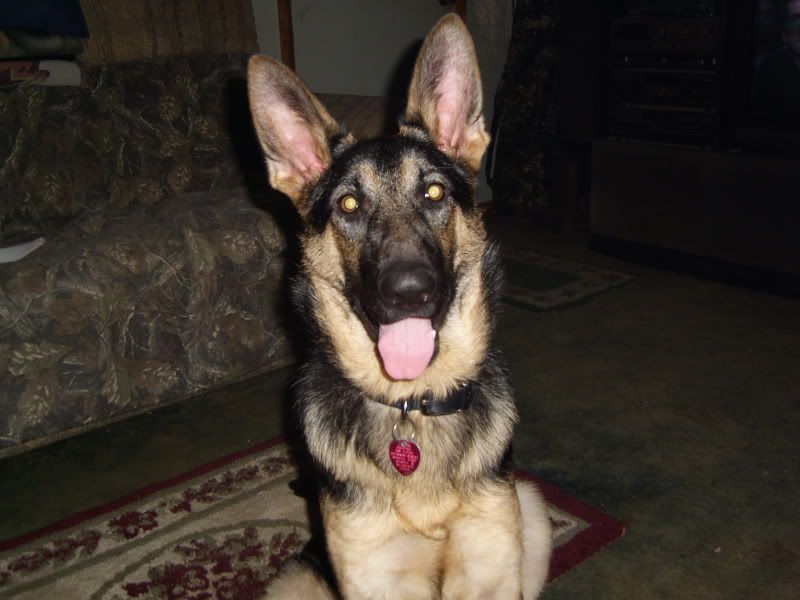 Dang arrow your dog is better looking than you.[8D]
hahahaha yes I have to agree HJ. Me and her are buddys. She gets whatever she wants.