Another Turkey Down!
04-26-2009, 11:26 AM
Another Turkey Down!
---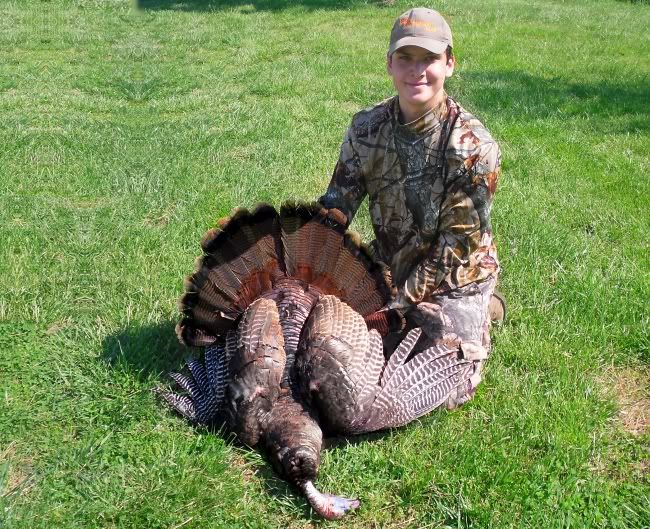 This morning we all got up early, (Airborne Willie, Thor, and I). We were trying to get Thor, a.k.a. (Davey) his first turkey. We got to our hunting spot right at daybreak. Davey and I setup along a trail were I've been seeing a lot of turkeys, while Airborne Willie headed up the trail.
I called and nothing happened. Then about 5 minutes later...
*GOBBLE* *GOBBLE*
Five minutes later a nice tom emerged from a thicket 50 yards away. I told Davey not to take the shot because that was really pushing the limits of the little 20 gauge. The tom walked past us just out of range
and then proceeded to gobble it's head off behind us...
After waiting another 15 minutes(grrr) we heard gobbling behind us down a ridge. The gobbles seemed to be getting fainter and fainter, and moving away from us. I knew where they were going so I decided to try cutting them off.
Once we got to our new location I hit my call followed by a few gobbles. This continued for 45 minutes then nothing, no response. It was obvious that these turkey weren't going to come any closer. Dave wanted to go home so we packed up and moved out...
After I dropped Dave off, I returned to the woods. I hit my call again and, got an immediate response. (The gobble was from the same direction that I heard when I was here with Dave earlier. I quickly headed in the direction of the gobble and then hit my call again.... nothing.... I continued to slowly walk to where I had last heard the gobbles.
Then.......... just as I was scanning the woods, I saw 3 jakes and a hen looking at me... :shock: They all saw me but they couldn't tell what I was! I held perfectly still. They kept on walking back and forth at 30 yards trying to figure out what I was. I slowly raised my gun and took aim at the biggest birds head.....Boom......Bird down! What a way to end the season...
(I filled my quota.)
Not bad for my first year of turkey hunting...
Next Year if when I get the hang of my back tension release I may try to fill my quota the HARD (er) way!! He He
Thread
Thread Starter
Forum
Replies
Last Post
Posting Rules
You may not post new threads
You may not post replies
You may not post attachments
You may not edit your posts
---
HTML code is Off
---