Turkey Down!
03-22-2009, 02:27 PM
Turkey Down!
---
Turkey Down!
This morning I went turkey hunting with John, (a turkey hunting master!) and killed this nice jake. (We think he was about 1.5 years old.)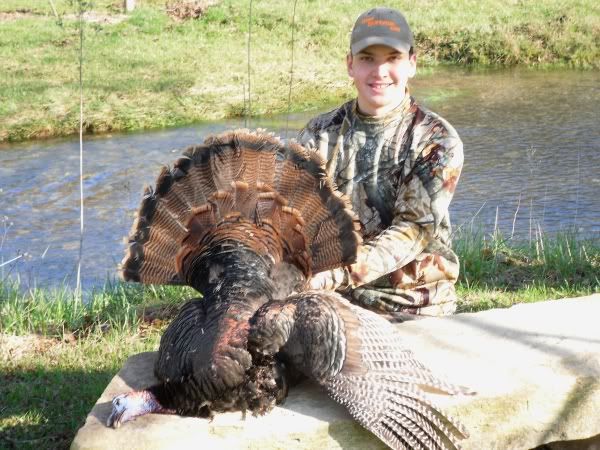 Story: John, Larry, "Shorty" & I got to our hunting spot at the break of dawn and setup in a tree line with a field to our back and a field in front of us. We setup the decoys in the field in front of us.
After we got settled down John started calling and got about 20 turkeys gobbling! At this point I was pretty excited about this hunt. After about 15 minutes 3 turkeys came flying in overhead. The 3 hens landed about 100 yards from us but didn't come any closer.
Ten minutes later 3 more hens came walking in from the field behind us and walked by within 15 yards! Still no toms or jakes.
After about 20 minutes of nothing happening John decides to go ahead and scout the other fields where we heard some turkeys gobbling. About five minutes after he left, Larry looks behind us, (in the field that was to our back) when he spotted 10 turkeys heading our way! We quickly turned around and got ready for the incoming turkeys. A couple of them were toms and Jakes! Woo-Hoo!
When we finally got in position and all settled down. The turkeys were only 100 yards away and closing the distance fast! When the turkeys got within 30 yards I got ready to shoot. I asked Larry, (who was filming) if he was on the tom to the right that was strutting. He replied he was, but there was a tree in the way, so therefore I couldn't shoot, Then finally Larry could see the Turkey but I couldn't! He was now behind a tree in front of me so AGAIN I couldn't shoot!
(Keep in mind this Jake is with 9 other turkeys who are only 20 yards from us and all walking right at us!) When the Jake reached 15 yards, I got the O.K. from Larry.......BANG!........ Turkey down! As soon as I pulled the trigger, the Jake hit the ground and never moved again!
What a great way to start the turkey season! I would like to thank John for taking me out there and guiding me on this awesome turkey hunt!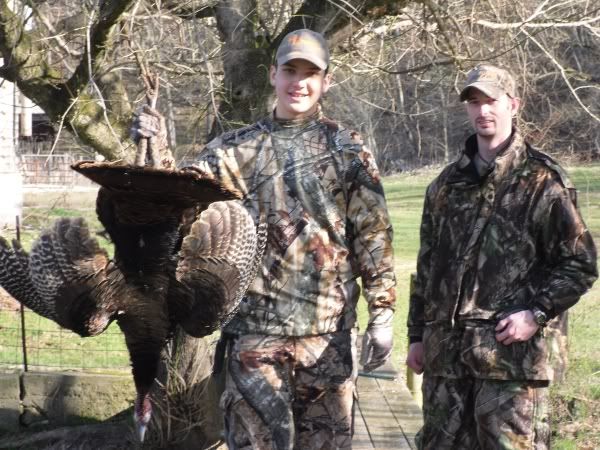 (Mike left, Larry right)
So what are you guys eating tonight?
Thread
Thread Starter
Forum
Replies
Last Post
Posting Rules
You may not post new threads
You may not post replies
You may not post attachments
You may not edit your posts
---
HTML code is Off
---